I'm A Psychologist & Yoga Teacher: This Is The Pose I Turn To When Stressed

mbg Social Media Associate
By Olivia Giacomo
mbg Social Media Associate
Olivia Giacomo is mbg's Social Media Associate. A recent graduate from Georgetown University, she has previously written for LLM Law Review.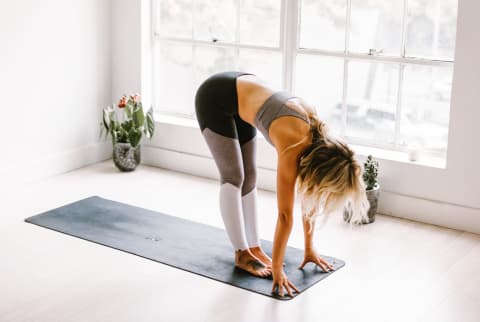 Image by Danny Pellissier / Stocksy
November 14, 2021
Licensed clinical psychologist Chloe Carmichael, Ph.D., has a ton of underrated tricks up her sleeve when it comes to easing nervous energy. A worry-time technique, a mind-mapping practice, and the list goes on (check 'em out here, if you're curious!). But sometimes? A little yoga goes a very long way—she is a former yoga instructor, after all.
And when she's having a particularly bad day, Carmichael tells us on the mindbodygreen podcast, she turns to one specific sequence to dispel those uncomfortable emotions. Below, she shares the flow that she turns to whenever she's feeling stressed.
A yoga flow to cope with anxiousness.
Now, you might immediately think of child's pose to relieve tension in the neck and back, or perhaps tree pose to ground yourself to the earth. But according to Carmichael, the sun salutation is the perfect yoga sequence to meet feelings of anxiousness.
"It's almost like the alphabet for those of us who do yoga," she says. Meaning, she knows the sun salutation so well that even if she's "totally frazzled" or having an off day, she can get into that flow and know exactly where she's going. "It's a way of just having that body routine," she continues. "Once you get yourself back into that familiar path, it's very centering."
She likens the physical practice to a mental anchoring statements technique, or simple phrases that can facilitate grounding during moments of unease. "Anchoring statements are for when you're just so stressed that it's almost like you've become nonverbal," she explains. "It would bore you to tears in your normal life, but when you're in that compromised moment where you're not verbal, it's just what you need to hear."
For example, some people like to repeat to themselves: My head is above my shoulders; my shoulders are above my waist; my waist is above my hips; and my hips are above my feet. "It's a nice, simple reset tool for when you're feeling like the ship is adrift and you need that anchor to anchor you back down," says Carmichael. "I think of the sun salutation as the same thing for me."
The takeaway.
According to Carmichael, sun salutations can be an effective way to re-center during moments of stress, as it's easy for her to get into flow no matter how frazzled she might feel. If you're looking for a sequence to practice, here's a quick tutorial to follow along.