Older & Wiser: Grandparents With A Combined 336 Years On Why They Love CBD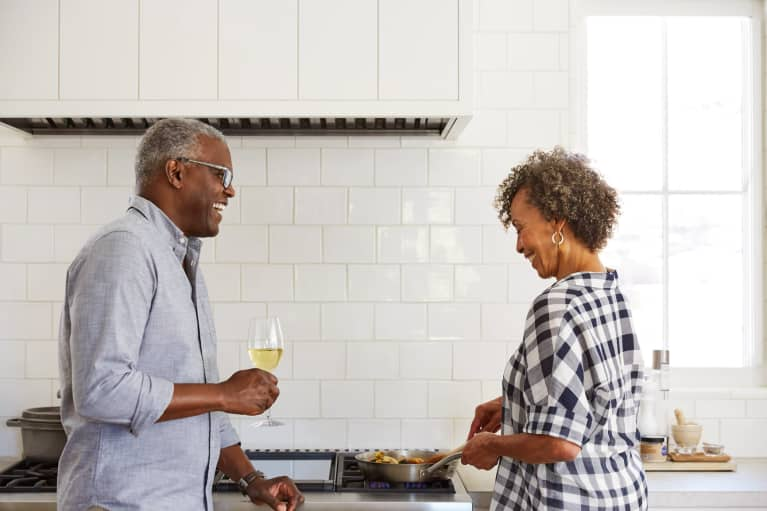 Our editors have independently chosen the products listed on this page. If you purchase something mentioned in this article, we may
earn a small commission
.
Last updated on November 19, 2020
There's so much interest in CBD and hemp oil right now, people you never would expect have heard of it, tried it, or even use it regularly. Case in point: Seniors are increasingly turning to cannabis-based therapies as an all natural alternative to pharmaceutical drugs or as a complementary therapy to use alongside their traditional medical treatments.
According to Perry Solomon, M.D., physician and former chief medical officer at HelloMD, an online cannabis education platform "The 65-plus age group is part of the fastest growing demographic that we are seeing when it comes to cannabis utilization. This older crowd seem to be the ones that are most curious, and willing to try, new methods to contribute to their health and wellness."
This comes as a surprise to many at first, but when you learn that therapies derived from the cannabis plant (which includes both marijuana and hemp) are showing promise for pain, digestion, and inflammation, you can see why the appeal is so broad.*
Why the benefits are for everyone.
According to Will Cole, D.C., IFMCP, a functional medicine expert and mindbodygreen Collective member, "While these therapies are great for any age group, older generations specifically can benefit from its power to relieve pain—a problem often associated with aging."*
"The cannabinoid content in these therapies has the ability to down-regulate inflammatory cytokines and upregulate T-regulatory cells to soothe chronic inflammation," Cole explains.* "Not only these remedies can be taken orally, but topical creams are also available for arthritis-related pain and can be easier for older people to implement into their daily lives."*
5 grandparents on why they love CBD.
In that spirit, we thought we'd ask a few grandmas and grandpas about their love for CBD. Here's why they've come to rely on it:
1. As a reliable sleep aid and mood-booster
"First, I must confess I live in a state where I can buy my cannabis sublingual solution with some ratio of THC that I believe is beneficial. I have also experimented with a 4:1 and 2:1 solution and with an alcohol tincture and with coconut oil—I far prefer the coconut oil! I find that it helps give me full confidence that I can readily get back to sleep at night, allowing me to voluntarily get up for a while if I want to for any reason. I think that it has also led to a more positive daytime attitude and I really believe that my eyesight and sense of color has been enhanced." —Otto, 77
2. For anxiety relief after a cancer diagnosis
"I have been taking CBD regularly for just over a year since I was diagnosed with stage 4 lung cancer. I don't just like it but I LOVE it! It's a huge help to me in terms of easing my anxiety and helping me relax and ultimately sleep better. I am so grateful to have it to use instead of prescription anti-anxiety and sleeping pills." —Mary, 57
3. To help me get to sleep—and help my patients reduce anxiety.
"As a psychologist, I've been enjoying experimenting with CBD. I use it myself when I wake up in the middle of the night due to stress, and I regularly recommend it to patients who struggle with anxiety issues. I find the droppers the best for consistent dosage." —Zack, 67
"Actually, I'm not just saying this so to speak, but I've I learned a lot about CBD through mindbodygreen. It's becoming so much more mainstream. I used it one year ago for the first time when I was having a really bad sciatic episode. I went to a dispensary and I got a vape pen with no THC. I used it, along with over-the-counter pain relievers, and the next morning I had no pain when I woke up. I don't use it every day now, but if I feel something coming on I definitely use it. This comes from someone who has never smoked marijuana." —Jean, 67
5. As a side-effect-free remedy for arthritis
"Last year when I saw Phyllis try CBD—she was in severe pain and the next day it was gone—I said shoot, I'm going to try this too. I officiate high school sports and the arthritis in my hands was really bothering me. I didn't care for the taste of the vape pen so decided to try the oil and the cream. Every morning I do the oil and sometimes in the afternoon, too. I also put the cream on my hands at night and when I wake up, they feel great and I generally don't have a problem. It really does work well and there are no side effects." —Sid, 68 (married to Jean).
If you still have some hesitation about a member of your family trying a remedy that is so close in proximity to psychoactive forms of cannabis (AKA: marijuana), you're not alone.
As with most remedies, there are some safety concerns to be aware of. But according to Dr. Solomon, "For the most part there are no issues with it being safe for use. There are, as always, exceptions to this. Since CBD is metabolized in the liver using the same enzyme system that some medications utilize, it is important to tell your healthcare professional you are using other medications."