Why Dermatologists Want You To Add An Antioxidant To Your Routine By 35
mbg Beauty Director
By Alexandra Engler
mbg Beauty Director
Alexandra Engler is the Beauty Director. Previously she worked at Harper's Bazaar, Marie Claire, SELF, and Cosmopolitan; her byline has appeared in Esquire, Sports Illustrated, and Allure.com.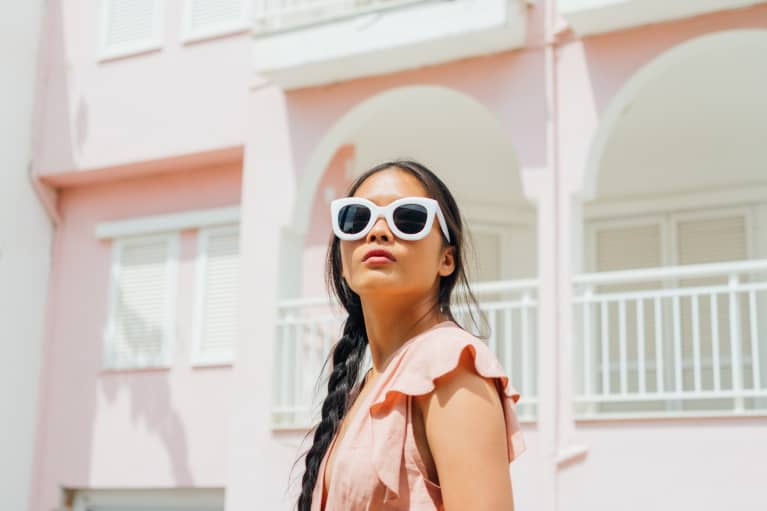 When it comes to skin care by the ages, there are a few basics we all come to understand. You should always be applying sunscreen, so as to avoid the serious health repercussions that may come from years of unprotected sun exposure—not to mention the photodamage that comes with it. Starting in your teens, you should get into the habit of washing your face nightly and following up with a hydrator. Individuals experiencing menopause should expect some changes in their skin and likely will need to switch to more hydrating options.
But all those years in between? Well, it tends to be less clear. That's because we all have such different skin types, concerns, and lifestyles—so there's no perfect skin care regimen that professionals recommend across the board. Read: A 40-something with dull and sensitive skin is going to have a very different regimen than a 30-something dealing with her first bout of adult acne.
However, there is something two derms recommend for those reaching 35: An antioxidant serum or step. Why? Well, it can help deal with melasma and dark spots that are all too common for those around this age.
The one tip these derms want you to add to your routine. 
Dark spots or melasma are characterized by discolored patches. They come about for several reasons: Trauma to the area (like in the case of acne), UV damage, pollution, and notably, hormone imbalances like cortisol (the stress hormone). They often show up on your forehead, nose, or cheekbones).
"Around the age of 35, I always advise patients to add antioxidants like vitamin C in the morning," says board-certified dermatologist Zenovia Gabriel, M.D., who specializes in hormone-related skin care. She goes on to explain that due to hormonal changes in your 30s—two examples being pregnancy or increased stress—many women are more likely to develop melasma.
But that's not the only trigger for why women see darker patches during this time: Cumulative years of sun damage, pollution, and skin stressors often start to show up in your 30s and 40s. "It isn't painful and doesn't present any health risks but can cause significant emotional distress for the estimated 6 million American women who develop these dark patches on their faces," says board-certified dermatologist Keira Barr, M.D., who also specializes in hormone issues. "Because it can be difficult to treat, minimizing triggers, like sun damage, is important."
Antioxidants are pros at helping the situation because they neutralize free radical damage, which is actually what is triggering the excess pigment production. See, when your body is dealing with chronic stress, UV damage, pollution, hormone disruptors, or other irritations, it's less able to deal with the increase in free radicals—so by adding in a topical to tend to these pesky molecules, you're helping your skin perform its function better. A few favorites to look for are vitamins C and E, azelaic acid, niacinamide, and beta-carotenes.
Everyone's skin care routines will (and should!) look different—but there are always a few tried-and-true tips that we can all benefit from. Antioxidants are one of them—and if you can, you should try adding them to your routine by the time you're 35.