I Have Sparse, Sensitive Brows: This Is The Only Product That Helps Them Look Full

mbg Beauty & Wellness Editor
By Jamie Schneider
mbg Beauty & Wellness Editor
Jamie Schneider is the Beauty & Wellness Editor at mindbodygreen. She has a B.A. in Organizational Studies and English from the University of Michigan, and her work has appeared in Coveteur, The Chill Times, and Wyld Skincare.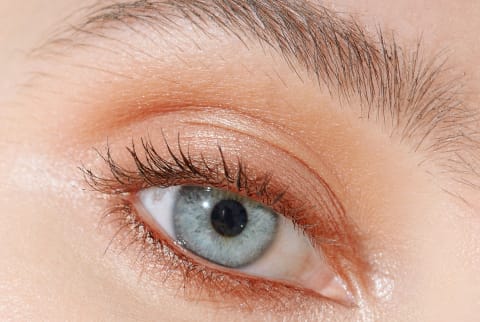 Image by ohlamour studio / Stocksy
September 8, 2021
Our editors have independently chosen the products listed on this page. If you purchase something mentioned in this article, we may
earn a small commission
.
There I was, sitting vulnerably in a salon chair looking like Groucho Marx. Of course, the caterpillar-like arches were only temporary—in just five minutes, my brow stylist would wipe off the thick dye and reveal my freshly tinted set of arches. But until then, it was your run-of-the-mill brow talk: I started to number off the products I use on the daily, silently rejoicing at her swift nods of approval. A swipe of castor oil at night. Check. A nourishing brow gel during the day. Yup. A pencil to fill in gaps. Wait a minute.
"Don't use a pencil on fine hairs like yours," she told me. "You can yank out the hairs and create gaps." As someone with already sparse, thin brows, I was hungry for more info.
Advertisement
This ad is displayed using third party content and we do not control its accessibility features.
Why brow pencil is not the best for fine, sparse brows.
Don't get me wrong, pencils are top-notch for creating tiny, hairlike wisps—just perfect for filling in sparser areas without creating any shadows. But if, like me, you have superfine and sensitive brows, even the softest-tipped pencils can grab onto the hairs and tug against the follicle.
Most pencils contain waxes (candelilla, carnauba, etc.) that help the pigment adhere to the brows and hold shape, but they can also grip the fine hairs while you create precise strokes. Yes, brow gels also typically contain these same waxes (it's what helps tame the arches all day long, after all), but running a spoolie through the brows tends to be much gentler on the hairs than prodding them with a pencil, especially if you wield the tool with firmer pressure.
And if your brow hairs are already dehydrated and on the brittle side? You can actually pluck out those delicate strands. As a result, my brow stylist told me, I'd only be scheduling more and more tints, wondering why my poor brows won't appear full.
What to use instead. 
That's not to say you must forgo your favorite brow pencil—if it works for you, by all means, carry on! But if you're noticing your brows looking gappier of late (and you're doing all the right things in the name of brow care), you may want to swap makeup products. You could try an eyebrow pen with a felt tip—it's similar to a pencil, as you can create tiny wisps—or opt for eyebrow powder: a common product of choice for fine, sensitive brows.
With brow powder, you're building up a soft shadow to help the brows appear fuller, rather than mimicking actual wisps of hair. And because powder itself is soft and pillowy, it lends a gentler application with more of a diffused finish. After depositing the powder, my brows look their fluffiest, but, most importantly, they feel soft and full: no raw, irritated areas from repeatedly poking a pencil on the fragile skin.
Advertisement
This ad is displayed using third party content and we do not control its accessibility features.
How to use it:
To use an eyebrow powder, grab a loosely packed angled brush, dip the brush into your pigmented powder, and sweep it on with soft, feathery strokes. You can use this Brow Powder from RMS Beauty, or I personally repurpose the matte brown eyeshadow shade from this PYT Beauty palette. Then, for more staying power, you can run a brow gel through the strands to help them hold shape. (See here for our full brow powder guide.)
The takeaway. 
If you have fine brow hairs, you might want to rethink the pencil. The tool is great for fashioning precise strokes, but even a soft-tipped pencil can potentially tug out the sensitive hairs. To put those fears to bed, you might want to use a brow powder—I find it a much gentler application.
Advertisement
This ad is displayed using third party content and we do not control its accessibility features.