Is The Whoop Worth Its Monthly Fee? I Tested It To Find Out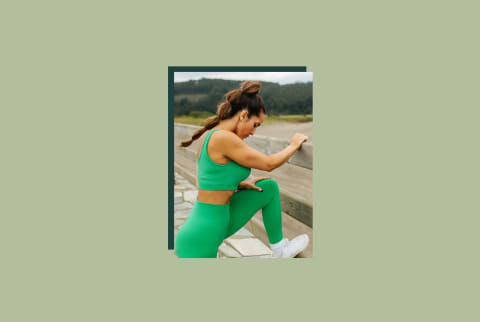 August 20, 2023
We carefully vet all products and services featured on mindbodygreen using our
commerce guidelines.
Our selections are never influenced by the commissions earned from our links.
Sure, tracking steps is a great way to stay accountable to your goals—but so there's so much more to health and longevity than movement alone. As an athlete who really cares about recovery, I'm partial to fitness trackers with a more holistic approach. Enter: the Whoop 4.0, a sleek wearable that's gotten a lot of airtime over the past few years.
Athletes and wellness enthusiasts alike have raved about the Whoop's ability to provide comprehensive, actionable data with a heavy emphasis on (you guessed it) recovery. I've tested many of the best wearables, so I jumped at the chance to do my own Whoop review and determine whether this screenless wrist band is worth the buzz (and the space it takes up on my Instagram feed).
What is Whoop?
As mentioned, I care just as much about recovery as I do staying active. Off the bat, I love that Whoop looks at the full picture. After all, you're not going to perform your best physically if you aren't paying attention to your mental health, sleep quality, and overall well-being.
Whoop hones in on biometric data points that have been scientifically-shown to play a role in physical and mental health.
The device tracks metrics such as heart rate, resting heart rate, heart rate variability (HRV), body temperature, and blood oxygen levels to develop baseline metrics for every user. It then measures these in real-time, providing scores to show how far you're deviating from your body's standard metrics.
What Whoop tracks
Heart rate
Resting heart rate
Heart rate variability (HRV)
Body temperature
Blood oxygen levels
Whoop's main focus is on recovery, cardiovascular strain, and sleep. Each day, you'll see an in-depth view of how your body is performing in these areas—and you can use these insights to decide how much energy you want to put into a workout, or whether you'd be better off in the long run with a rest day.
Within the Whoop app, you can log daily behaviors, such as caffeine consumption, hydration, nursing an infant, or wearing blue light glasses. The device takes these activities into account when measuring your biometric data, in order to determine how each habit impacts your health (and which habits you continue to integrate into your routine).
In addition to its core pillars (sleep, strain, and recovery), Whoop also acts as a stress monitor. The device works to identify stressors in realtime, based on your heart rate and heart rate variability (research-backed indicators of stress) as it compares to your baseline.
Whoop's stress monitor then gives you a score from 0 (low) to 3 (peak) to identify how stressed you are. The brand even partnered with Stanford neuroscientist Andrew Huberman, Ph.D, to provide breathwork sessions for when you do feel those stress symptoms start to creep in.
Arguably one of the coolest things about the Whoop is that it's meant to be a long-term tool. The device continues to learn more about you over time, providing a holistic view of how your health and fitness evolve—and Whoop itself is constantly evolving, too. The latest iteration, the Whoop 4.0, is the brand's sleekest, most comprehensive device yet.
Whoop specs
Battery life: 4 to 5 days
Waterproof: Up to 10 meters
Warranty: 1-year limited warranty
Cost: $30 per month (annual plans available with savings)
Measures: Sleep, performance, recovery (metrics such as HRV, heart rate, body temperature, blood oxygen levels)
How much does the Whoop 4.0 cost?
To get access to all the Whoop data, you'll need a monthly membership. You can choose from no-commitment, annual, and 24-month plans, which start at $30 per month. See below for a full cost breakdown.
Monthly membership: $30 per month
Anual membership: $239 upfront (equal to $20 per month)
Two-year membership: $399 upfront (equal to $17 per month)
No matter which plan you choose, you'll get your first month (and the device itself) free.
The Whoop 4.0 comes with an onyx wristband with black hardware, or you can pay extra for another color. There are 35 colorways to choose from (ranging from $49 to $99), or you can use Whoop Your Way for a fully customizable design. There's also an option to add a personalized engraving for $25.
There's a lifetime warranty on the band and the devices battery, and those with a membership can choose to upgrade when a new iteration comes out.
Is Whoop worth it?
I won't sugarcoat it: At $30 per month, the Whoop isn't cheap. That said, it's less than my monthly matcha latte bill or my favorite bottle of wine—and it's already doing way more for my health.
While, yes, it does come with a cost, I do believe the Whoop is a valuable asset.
Of course, it's only as valuable as the attention you pay to it. There's a ton of information to sift through, and taking the time to understand that information will pay off in the long run.
Science backs this, too. Wearable fitness trackers have been linked with increased physical activity1, and there's no shortage of research on the importance of recovery and sleep for your overall health and longevity.
What we like about the Whoop 4.0
If you have a low recovery score, you can take that as a sign to focus more on rest than activity. Alternatively, if your sleep and recovery scores are high, you'll feel more motivated to hit the gym or head out for a longer walk.
The comprehensive sleep data is also a huge pro for me, too. The device actually calculates the amount of sleep it recommends based on your long term patterns, along with recent strain scores.
Whoop even allows you to set daily wake-up times, if desired, and will vibrate gently for a more enjoyable wakeup than a glaring alarm.
While I do find the Whoop to be a bit annoying on my wrist while I sleep, the wristband is soft and generally comfortable throughout the day—and I love how unassuming it is.
Whoop pros
Sleek, unassuming design
Wristband itself is soft and comfortable
Whoop offers multiple wear options (can clip the device on your clothing or wear it on the wrist, arm, torso, or leg)
Accurate data
Focuses on recovery and sleep as much as activity and strain
Data is easy to interpret
Offers stress tracking and breathwork
What we don't like about the Whoop 4.0
The cost is definitely a turnoff, but we think it's worth it. Price aside, there are a few things I'd change about the Whoop.
I admittedly have five bands that I planned to swap out regularly (depending on my outfit, of course), but I find the whole process incredibly frustrating. It's honestly so tedious that I've wound up just keeping it on the same band.
Personally, I like that the Whoop doesn't track steps. I love to get my daily movement in, but find the number of steps to be quite arbitrary at times and would rather focus on more in-depth data. Still, others may want a device that tracks steps—so this could be a con for some people.
The app itself, while incredibly comprehensive and user-friendly, can be a bit glitchy. I've had mine crash a few times and it often logs me out between uses, which can be annoying.
Whoop cons
Swapping out the strap is not easy (I personally get frustrated every time I do this)
The app can be a bit slow and seems to crash easily
While comfortable throughout the day, the device is not the most enjoyable for sleeping (depending on your sleep position)
Some may wish it had a screen to view metrics on the device itself
Some may wish it tracked steps and/or calories
Membership required to view data
Who should try the Whoop 4.0?
When Whoop hit the scene in 2015, it was mainly geared toward professional athletes. Today, you'll spot these unassuming wristbands on people of all fitness levels.
The wealth of data can point you toward actionable steps to optimize your health. Whether or not the Whoop (or any tracker, for that matter) is right for you really comes down to how you plan to use it and how willing you are to make changes to your lifestyle based on your findings.
Who should skip the Whoop 4.0?
On an obvious note, you won't enjoy using the Whoop if you're looking for a smartwatch or a device with a screen. If the thought of going into the app to view your metrics is a turn off, this isn't the device for you.
If you live and die by your daily step count, you'll want to look elsewhere. Whoop does provide a ton of data points—but steps is not one of them.
The takeaway
As sleek and simple as the device looks, the data it provides is anything but. If you're serious about optimizing your health, the Whoop 4.0 can help you get there. I test a lot of products in the space, and I won't keep up with anything that doesn't truly add value to my well-being. This wearable tracker offers a holistic view into how well your body is performing, and what you can do to optimize it.

Carleigh Ferrante
mbg Commerce Editor
Carleigh Ferrante is the Commerce Editor at mindbodygreen. She is a certified Health & Nutrition Coach and a born and raised New Yorker with a B.A. in Creative Writing and Psychology. Her work has appeared in Bustle, The Zoe Report, PureWow, The Everygirl, and more, covering topics such as fitness, travel, home, fashion, beauty, and dating, sex, and relationships. When she's not testing and reviewing products and services, you can find Carleigh training for her next World Major marathon, planning her next vacation, or interviewing experts on her dating podcast, Mostly Balanced.