An MD & PhD Say This One Social Habit Can Transform Your Health

mbg Social Media Associate
By Olivia Giacomo
mbg Social Media Associate
Olivia Giacomo is mbg's Social Media Associate. A recent graduate from Georgetown University, she has previously written for LLM Law Review.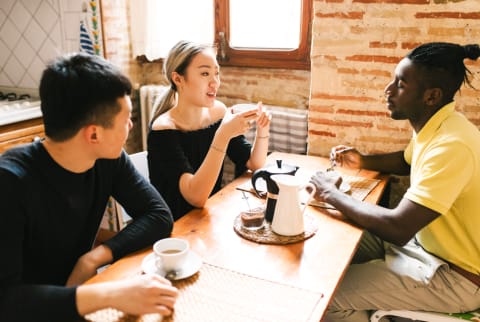 Image by Javier Díez / Stocksy
September 21, 2021
Our editors have independently chosen the products listed on this page. If you purchase something mentioned in this article, we may
earn a small commission
.
When it comes to supporting your health and well-being, it can be so easy to narrow your perspective. Your own health is personal, after all, and not everyone sees successful results with the exact same advice. But let's not forget: We are all connected. And just like your own body needs to be in balance, our community at large needs to function optimally for everyone to thrive.
Internal medicine physician Rupa Marya, M.D., and political economist and New York Times bestselling author Raj Patel, Ph.D., (who co-authored the recent release Inflamed) are quite familiar with this mindset. On the mindbodygreen podcast, they even offer a philosophical concept that can help us all reach the fullest version of health—an African principle known as Ubuntu.
Advertisement
This ad is displayed using third party content and we do not control its accessibility features.
How Ubuntu can transform your health.
"Ubuntu is a Bantu word (Bantu is the language group that many people in the southern half of Africa use), and it's the idea that I am because you are," says Patel. "It's an idea of mutuality that recognizes with gratitude that we could never become were it not for the gifts that other people have given us." This concept, he explains, is key to nourishing the health of your communities and, therefore, your own health.
Specifically, connecting to your community has been associated with a lower mortality risk1, and according to Marya and Patel, it actually isn't good for your health to solely focus on yourself. There's a reason a connection to community is one of Maslow's hierarchy of needs—we are social creatures, and we need to connect to something greater than ourselves.
But this deep recognition of interconnectedness includes more than just your interpersonal relationships: "That idea of a really deep understanding [encompasses] not just who's in the room but who they are connected to and the places that they're from... There's an idea of history and biology of the soil and of our relationships to one another right now, they're all bound together with the idea of Ubuntu," says Patel.
In other words: Ubuntu is a deep caring and acknowledgment of the other people around you, and if we all care for each other as deeply as we care for our loved ones, we can uplift the community—which may have health benefits for us all.
How to incorporate Ubuntu into your life.
According to Patel, Ubuntu manifests in your everyday interactions. For example, "If you're having a meeting in South Africa, you've got to budget about half an hour, depending on the number of people there, for you to just go around and shake everyone's hand," he says. "It's considered unthinkable that you would spend time in the same room with someone and not get to know them and not seriously ask how their family is doing and whether they are well." The rationale, he continues, is simple: "If you're not taking care of the people in the room, it's unlikely that they're going to take care of you."
In our American society, it's common to toss out a how are you? and simply move along with your day—so rather than asking the question as a formality, a filler phrase to break the ice, Patel urges you to think deeper. "In South Africa, that's a very serious political, ecological, nutritional, and health question, because so much depends on answering that question honestly and at length," he says.
Marya also wants us to look critically at our definition of community: "Who do we ascribe as inside the community and outside the community?" she poses. It's time we expand the scope—that way, Marya explains, we will be prepared to encourage healing for as many people as possible, in a fashion that does not leave behind those who are consistently excluded today: "That philosophy of reciprocity really serves us well in these times," she adds.
Advertisement
This ad is displayed using third party content and we do not control its accessibility features.
The takeaway.
According to Marya and Patel, Ubuntu is central to a truly holistic vision of health—by showing deep understanding and care for others, you can ultimately transform your own well-being, too.
Advertisement
This ad is displayed using third party content and we do not control its accessibility features.