Students Are More Stressed Out Than Ever. Here's How Colleges Are Designing Campuses To Fix That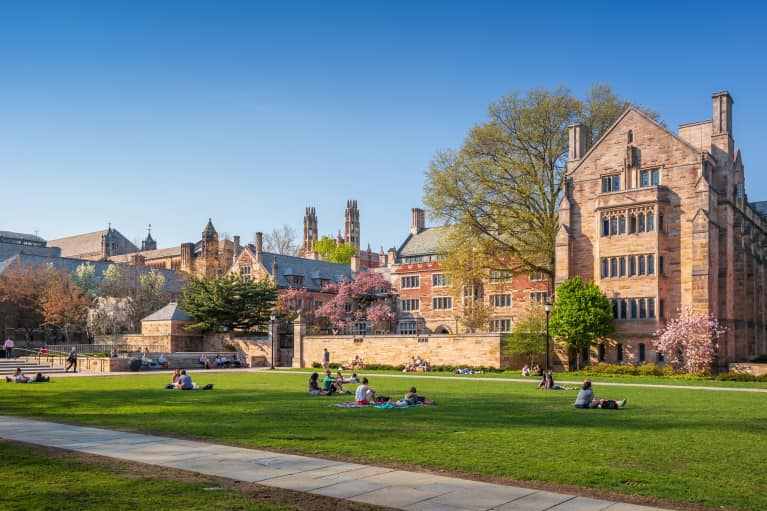 College: A time for learning, exploring your interests, meeting new people, and doing a fair amount of stressing out. A recent survey found that 73.1 percent of counselors across 500 public and private colleges around the world are reporting an increase in the severity of student mental health concerns on their campuses lately. Anxiety continues to be the biggest burden on college students who seek counseling, followed by depression and relationship concerns.
Part of the problem is the heavy course load, change in scenery, competition, and uncertainty about the future that many college kids have to grapple with, and the increasing prevalence of social media probably doesn't help, either. "Part of their distress is because of something wonderful about our young adults: They no longer want to be successful—they want to succeed in something meaningful to them. But the competition for those meaningful opportunities has never been more fierce," says Kelly Crace, VP of the Health and Wellness Department at the College of William & Mary. "We have also seen a theme of stress glorification among young adults to where pushing oneself to the limit becomes a badge of honor and distinction."
It's no wonder that curriculums like Yale University's "Psychology and the Good Life," which teaches techniques for finding and fueling real happiness, have gone gangbusters (a quarter of the undergraduate student body enrolled in the course last semester, and it's now offered online). In addition to offering more classes like these, expanding counseling services, and destigmatizing mental health on campuses, colleges across the United States are also starting to revamp their physical environments in an effort to promote happiness.
What does "wellness architecture" look like on college campuses?
Leigh Stringer, a wellness-obsessed architect and workplace strategy expert, has seen firsthand how physical environments can help students find calm. She's consulted on a number of projects across public and private universities in the United States and found that a few thoughtful design touches make a big difference—namely, forging plenty of places to gather, combining wellness offerings into central hubs, increasing access to green space, and adding a hearty dose of biophilia, or design that is inspired by the natural world.
"One strategy planners are using is to build integrated wellness centers, which may be a combination of traditional health clinic services, psychological counseling, fitness center amenities, spa facilities, meditation rooms, financial counseling, and healthy food provisioning," she says. "It's not just a place to get iced coffee." Here's how a few progressive schools across the United States are working to design physical spaces for well-being:
1. They build space for mindful (tech-free) moments.
Building breaks into the work schedule is a proven way to reduce stress, and campuses are prompting students to take more of them by building spaces reserved for rest. "Students can program reflective moments into their day by visiting meditation spaces, interfaith or prayer rooms, chapels, napping pods, or yoga studios that are overtly designed for taking a break," Stringer says. At Stanford University, this refuge takes the form of an indoor-outdoor art museum and seating area that is totally tech-free and prompts students to "re-establish balance and find tranquility."
2. They make room for community.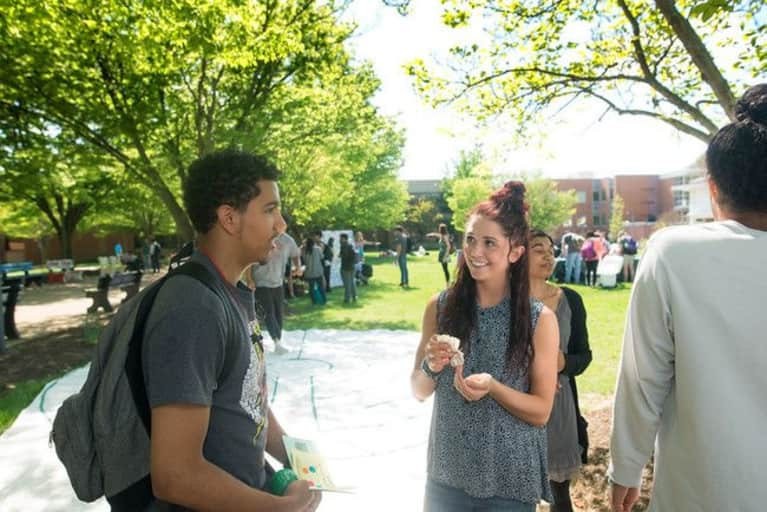 According to Stringer, simply making a space's furniture moveable can help promote more face-to-face interaction—a precursor to health and happiness. "One of the most powerful tools for improving well-being is to build a sense of community among students," she says.
To put this very You. We. All sentiment into action, some campuses are going a step further by building live-learn communities. These give students the opportunity to live and study alongside a group of peers who share a common interest. George Mason University in Virginia, for example, now offers a Mindful Living live-learn that explores topics like positive psychology, mindfulness, compassion, meaning, life purpose, and self-awareness throughout the year through classroom lectures, as well as group activities like guided meditation, journaling, and yoga.
3. They are strategic about the placement and promotion of mental health services.
"Often students with anxiety or depression won't seek out treatment, so college and university leaders are shifting their focus to bringing treatment and support directly to students," Stringer says. By moving mental health services away from siloed buildings and into high-traffic gathering areas, universities hope to subtly remove any taboos associated with them.
For instance, the architecture firm Stringer works with, EYP, opted to place their new McLeod Tyler Wellness Center at the College of William & Mary in a central location on campus to remind students of its existence multiple times a day.
In addition to making the services more physically prominent, Crace says that staff is trying to change the perception of mental health on campus: "We are trying to shift the campus culture from a binary view of wellness—sick or well—so they see our departments less as clinics but as learning centers for them to deepen their understanding of what wellness means to them through their personal and cultural lens."
4. They tie it all together with touches of nature.
When you're looking to build space that promotes well-being, tying in access to nature is key. That's because the sights, sounds, and smells of the great outdoors have been shown to appeal to humans on a subconscious level. "Being outdoors is psychologically restorative for students and also increases their exposure to daylight, which helps set circadian rhythms and improve sleep," Stringer says. But for those times students do need to be inside, designers can bring in things like real plants, water, natural views, and even dimmable LED lights to mimic some of the experience they would have out in nature.
In an increasingly stressed-out world, carving aside physical space to promote mindfulness and community is only going to become more important. Here's hoping that these collegiate programs become the norm, not the exception. As Stringer puts it, "If we can't teach kids in college to be leaders, mindful, and manage themselves and their friendships—we're lost."
Another proven stress-buster? Bringing your computer outdoors. Here's why working outside is such a game-changer.