A Rigatoni Dish Packed With Healthy Fats & A Zesty Flare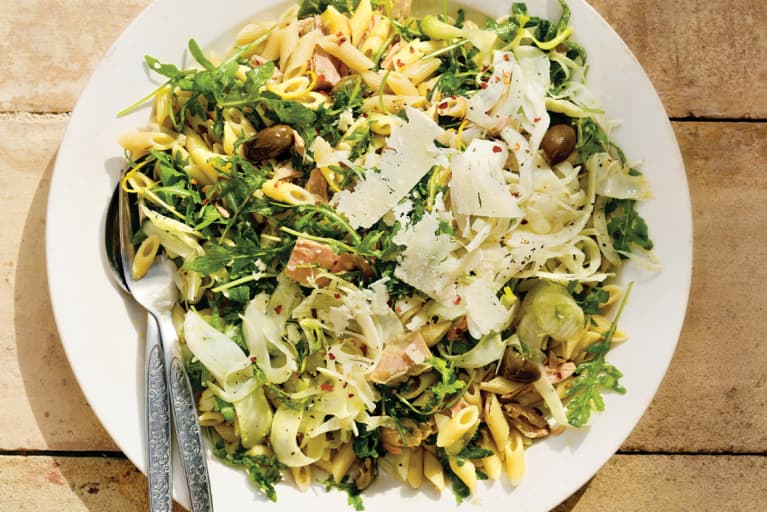 When you imagine cooking a delicious, flavorful meal, there's a good chance the thought is accompanied with the idea that you'll need to dedicate hours in the kitchen to achieve the final product. While this may be true for some more elaborate dishes, pasta is perhaps one of the easiest meals to elevate with minimal effort.
Take, for example, this rigatoni dish from author Odette Williams' new cookbook, Simple Pasta, complete with tuna, fennel, lemon, and olives. Not only is this fresh dish loaded with healthy fats and zesty flavor, but it comes together quickly for an easy weeknight meal that will impress even your pickiest guests.
Perfect for a cozy fall evening that requires an equally refreshing dish to set the mood, the fennel and lemon of this pasta pair stunningly with tuna to create your new favorite dinner menu item.
Weeknight Wonder Rigatoni With Tuna, Fennel, Lemon, & Olives
Store-bought pasta: 14 ounces dried rigatoni, penne, farfalle, garganelli
1 lemon
1⁄4 teaspoon kosher salt
1 tablespoon extra-virgin olive oil, plus 1 cup
1 small fennel bulb, shaved or thinly sliced
3 shallots, finely diced
5 garlic cloves, slivered
1 teaspoon fennel seeds, coarsely chopped
1⁄4 to 1⁄2 teaspoon red pepper flakes
Freshly ground black pepper
One 7-ounce jar oil-marinated tuna, drained
1⁄3 cup pitted green olives, halved
4 cups loosely packed baby arugula
Shaved Parmigiano Reggiano for serving
Peel the lemon, avoiding the white pith, and slice the peel into thin slivers. Juice the lemon and set aside.
In a small bowl, combine the lemon juice, salt, and 1 tablespoon olive oil, stirring to incorporate. Add the shaved fennel and set aside to marinate.
In a large heavy-bottomed frying pan over medium-low heat, warm 1⁄4 cup of the olive oil, then add the shallots and sauté for about 4 minutes. Turn the heat to very low; stir in the remaining 3⁄4 cup olive oil, lemon peel slivers, garlic, fennel seeds, and red pepper flakes; season with black pepper; and gently infuse for 15 to 20 minutes, stirring occasionally. Add the tuna and olives and warm through, breaking apart the tuna with a fork.
While the olive oil is infusing, bring a large pot of lightly salted water to a boil. Add the pasta and cook until al dente, according to package instructions. Using a large spider or slotted spoon to transfer the pasta to the tuna mixture.
Add the arugula and about 1⁄2 cup of the pasta water to the mixture and stir gently to combine.
Serve the pasta with the marinated fennel and Parmigiano.
TIP: Substitute a couple tablespoons of the tuna oil for the extra-virgin olive oil if you want to double down on the tuna flavor.
Reprinted with permission from Simple Pasta by Odette Williams, copyright (c) 2022. Published by Ten Speed Press, a division of Penguin Random House, LLC.