This Is The Perfect Week To Break Out Of Your Comfort Zone, Astrologers Say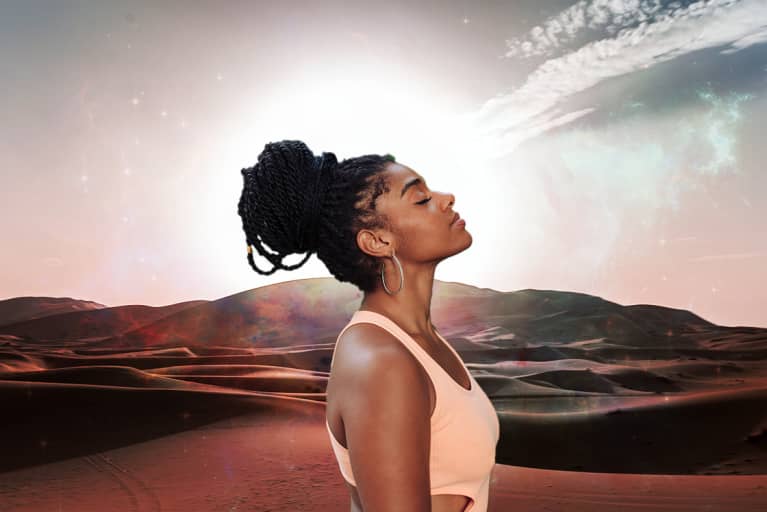 Is the grass really greener on the other side of the fence? You won't know until you meander over and check it out for yourself—and this week is your opportunity. Here's your horoscope from the AstroTwins.
This Monday, June 13, is perfect for semi-random discovery missions, as curious Mercury shifts back into its home sign of Gemini for three more weeks.
This is the buzzy messenger planet's second trip through Twinseltown. Look back to see what surfaced from April 29 to May 22, and moreover, whom? A friendship that kindled then dwindled could get a second act. Slide into those DMs and rebreak the ice with a witty line, interesting link, or some other clever conversation starter.
On Tuesday, June 17, the full Sagittarius supermoon lights up the skies, activating extreme wanderlust and a desire for limitless expansion.
Work travel could take you to exciting ports over the next two weeks. Since Sagittarius rules education, sign up for a seminar in a different city...and see if the company will cover (some) costs. Got a skill to pass along? Teaching could pad your pockets, or if you need to brush up to keep up, sign up for the necessary training. (Your wallet will thank you.) The enterprising energy of this full moon is like a round of celestial startup "funding." If you have an idea for a business—or a project that will put your name on the company leaderboard—the mission could really get in motion over the next two weeks. The only requirement? A willingness to stick your neck out for what you believe in!
Do you need to diversify your dating portfolio? If you keep going out with the same person in a different package over and over (and over!), that would be an obvious "yes!" And that goes double for couples who have slipped into an old-marrieds groove. Yawn no more! This fiery and excitement-boosting full supermoon activates the spirit of adventure! Expand beyond comfortable and familiar "borders."
Favored now? Multicultural mingling, baecations, and romantic retreats where you can learn a sultry new skill like erotic massage or tantra. How far are you willing to travel beyond your comfort zone? This full moon gives everyone the gambler's instinct. Stuck in a rut? A nakedly honest conversation can bring back the heat.
But Saturday brings a romantic reality check! Doe-eyed Venus in Taurus gets body-checked by structured, pragmatic Saturn in Aquarius.
This means we'll need to come down from Cloud 9 and deal with what's actually happening. This could be a minor issue or a major ordeal. Either way, a pragmatic approach is warranted. While it's never fun to learn things the hard way, make sure you track the teachings of this tough lesson! But don't punish yourself—that won't help heal your heart.
On a creative note, the Venus-Saturn square can be beneficial for brainstorming. Pop on Venus' rose-colored glasses and borrow Saturn's project management chapeau. When you run your creative ideas through a quality-control filter, you may come up with a solution that's not only genius but also completely doable.