Astrologers Predict These 3 Transits Will Shake Things Up This Week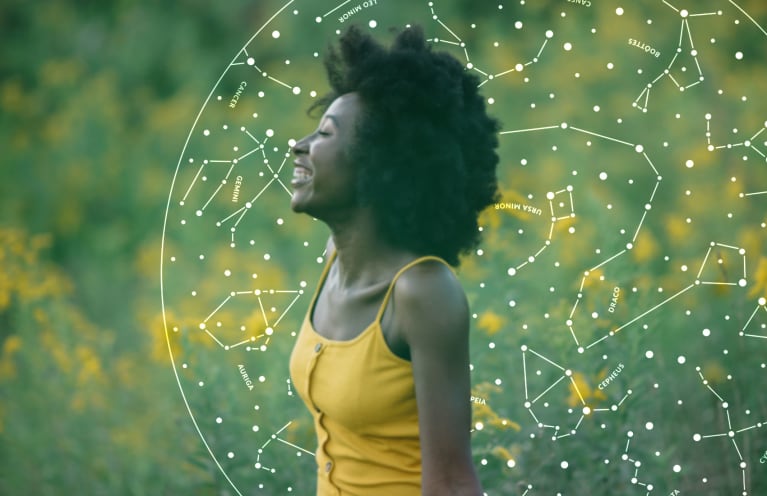 Expect a burst of confidence (and an urge to organize) this week as Mercury, Jupiter, and Mars all change signs. Here's your horoscope from the AstroTwins.
Dressing for dinner—or just a random walk around the neighborhood—will be a capital "E" Experience starting Tuesday, July 27.
When expressive Mercury joins the flamboyant Sun in Leo until August 11, you can consider it your personal invitation to announce yourself with style. Or if peacocking is already your everyday M.O., plan to fan your feathers (with relish!) a lot more often. Mercury's annual visit to the lion's den is like cosmic leadership training. Where do you see an opening for your natural skills to shine? If someone needs to take charge of this thing already, well, why not you? This doesn't mean doing the job by yourself. Captains may steer the ship, but they also work with a crew. Your mission (should you choose to accept it) is to get everyone to the finish line!
That said, the direction of your compass may change dramatically on Wednesday.
That's when nomadic Jupiter, which has been retrograde in esoteric, emotional Pisces since June 20, slips into visionary, logical Aquarius until December 28.
Global Jupiter's backspin is in effect until October 18, and it's already been bringing disruptions to the world stage. While it's been reverse-commuting through seafaring Pisces since June 20, record floods have caused damage and tragedy across Europe and China. And before it even retreated into air sign Aquarius, smoke from West Coast wildfires has traveled across the country, bringing reports of the worst air quality that New York City has seen in years.
Disinformation—which has been on an extreme rise since the lunar nodes moved into Gemini and Sagittarius on May 5, 2020—is always prevalent when truth-agent Jupiter does its annual, four-month about-face. The one ray of hope? Jupiter's exit from fantastical Pisces into science-based Aquarius (also the sign that governs community action) might bring a greater sense of truth and civic responsibility.
The cry for empirical data gets stronger starting Thursday, as make-it-happen Mars exits the lion's den and checks his ego at Virgo's door.
We've all made a few bold promises while Mars toured Leo since June 11. But how much of that fire and fury can we actually back up? (And, how much of that "data" came from a meme versus legit scientific research?)
This Thursday, July 29, marks a simpler, saner, and more serene cycle. With Mars in humble Virgo until September 14, random acts of kindness and selfless service will win the medal of honor.
Extreme cleaning, anyone? (With environmentally friendly products, naturally.) These earthy, orderly Virgo vibes get us obsessed with systematizing and simplifying. Feel free to color-code your bookshelves and purge anything processed from your fridge. And when it comes to loving, keep it simple too. Seductive Venus is riding shotgun to Mars in Virgo until August 16. This dynamic duo could get us mad for all things wellness-related. Time to blend up a healthy tonic during this DIY-fueled Mars cycle!