Experts Say There's A Water Crisis Right Under Our Noses — And This Is The No. 1 Thing You Can Do To Help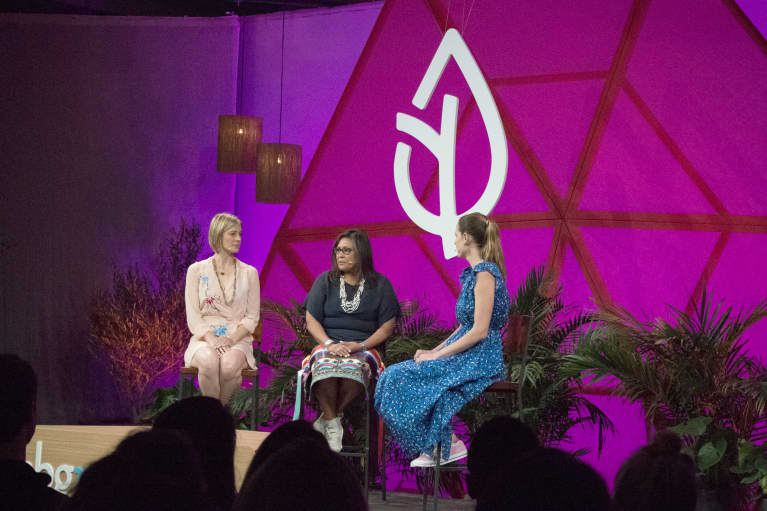 We just wrapped revitalize 2018! Our fifth annual revitalize gathered together the world's most knowledgeable experts and influential thought leaders for discussions on the biggest issues facing the world today—and how wellness is part of the solution. We brought you highlights all weekend long on mbg's homepage and at #mbgrevitalize on Instagram and Twitter! Now you can dive into all the videos from the biggest event in wellness!
Dressed in a beautiful "water protector" skirt from Standing Rock, Anecita Agustinez, a tribal policy adviser for water in California, sat proudly next to water ethics professor and author Christy Zenner, Ph.D., and mindbodygreen's co-founder and chief brand officer Colleen Wachob on the revitalize main stage this past weekend.
In this eye-opening discussion, Agustinez and Zenner touch on the profound inequalities behind clean drinking water and who gets access to it. There are millions of people in America who lack a reliable source of fresh water—500,000 of whom live in California's Central Valley, just a stone's throw away from the Arizona desert where the conference took place. This largely invisible problem will only get worse in the future, they warn, as climate change causes dry areas to get drier and wet areas to get wetter.
Water is a source of intense connection and emotion, to Zenner, Agustinez, and all of us. Tune in for their top tips on ending complacency and doing your part to conserve water in your everyday routine.
Enjoy the full talk here, and learn all about the other topics we explored at revitalize this year here.