This Vegan Greens & Grains Pesto Salad Combines Our Favorite Superfood Groups
mbg Nutrition & Health Writer
By Eliza Sullivan
mbg Nutrition & Health Writer
Eliza Sullivan is a food writer and SEO editor at mindbodygreen. She writes about food, recipes, and nutrition—among other things. She studied journalism at Boston University.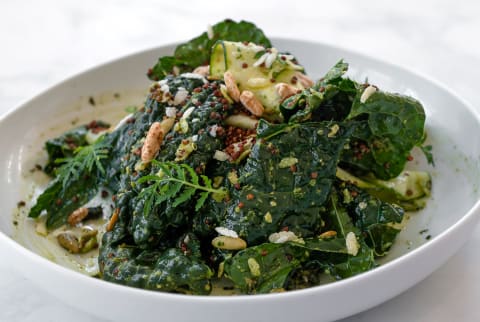 Image by F. Becker Hospitality
August 10, 2021
The formula for a perfect mindless meal? Greens plus grains plus flavor, a sentiment that chef Franklin Becker took to heart when he created this Greens & Grains Salad for The Botanist at the new Manhattanville Market in Harlem, New York. Tossed with a vegan, nut-free pesto, it'll pack tons of micronutrients into your lunch hour (or dinner, or whenever).
The greens in question go beyond just kale (though there are two varieties of this leafy green in the mix) to include zucchini ribbons, which add another texture and some extra nutrients1 like manganese and vitamins A and C. For grains, it's a mix of quinoa (one of our go-to's!) and puffed kamut. Whole grains like these are higher in fiber and phytochemicals and may actually help support healthy blood sugar more effectively2.
The dressing, if you want to call it that, is a pesto made with sunflower seeds instead of pine nuts and nutritional yeast instead of cheese, so it's nut-free and vegan. If you're a meal-prep fan, this recipe yields a whole batch of pesto—just scale the ingredients for the salad appropriately, so you can have everything set for a ready-to-go lunch.
Greens & Grains Salad
Ingredients
60 grams sunflower seed pesto (recipe below)
100 grams cooked quinoa (red or white or mixed)
50 grams toasted pumpkin seed
10 grams puffed kamut (Whole Foods)
30 grams white rice flakes (Asian food market)
60 grams zucchini ribbons
8 grams marigold
60 grams Portuguese kale
90 grams lacinato kale (Tuscan black kale)
10 grams virgin olive oil
6 grams lemon juice
Salt and pepper to taste
Method
To make the quinoa: In a saucepan place quinoa, add 1 teaspoon of salt, cover quinoa with an excess of ½ inch water. Place on a medium flame and cook until the quinoa absorbs the water. Fluff with a fork. Cool on a baking sheet in the refrigerator.
Place virgin olive oil and lemon into the bowl. Add 60 grams of sunflower seed pesto and mix. Gently toss all ingredients into the pesto mixture until fully incorporated. Serve on a chilled plate.
Sunflower Seed Pesto
Makes approximately 16 ounces
Ingredients
100 grams sunflower seeds
142 grams olive oil
4.5 grams kosher salt
25 grams fresh parsley (Italian flat-leaf)
50 grams fresh basil
20 grams nutritional yeast
50 grams baby spinach
15 grams lemon-infused olive oil (lemon agrumato)
0.5 gram citric acid (or the juice of ½ a lemon, approximately)
2.5 grams peeled garlic clove
Method
Place all ingredients into a food processor and blend until fully incorporated but not too smooth. (Spin about 15 seconds, then scrape the bowl with a rubber spatula and pulse again about 3 or 4 times.)
Eliza Sullivan
mbg Nutrition & Health Writer
Eliza Sullivan is an SEO Editor at mindbodygreen, where she writes about food, recipes, and nutrition—among other things. She received a B.S. in journalism and B.A. in english literature with honors from Boston University, and she has previously written for Boston Magazine, TheTaste.ie, and SUITCASE magazine.