Late-Night Sweet Tooth? Make These Knockout Nighttime Cookies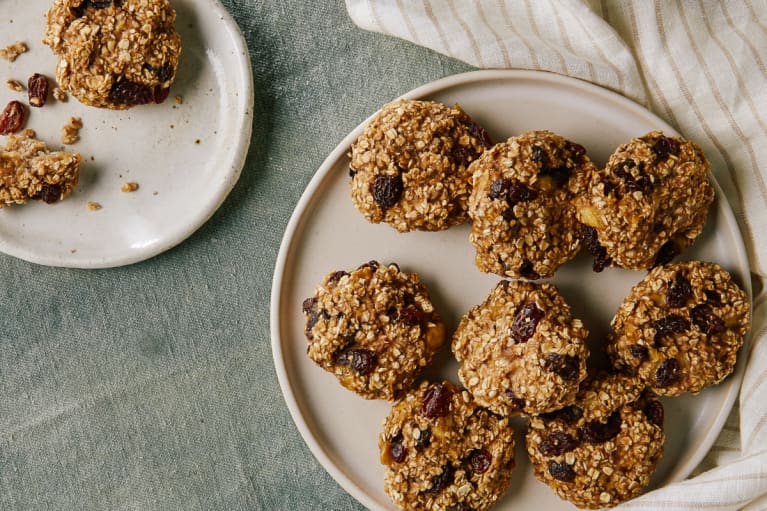 Haile Thomas is only 19 but has already graduated from the Institute for Integrative Nutrition as a certified integrative nutrition health coach (at age 16) and launched a nonprofit, called HAPPY (
healthy, active, positive, purposeful, youth
). She was inspired to launch her health journey after her father developed type 2 diabetes and since then has begun working as a wellness and compassion activist and a vegan food and lifestyle content creator. Her first book,
Living Lively
, has 80 delicious, wholesome, super-powered plant-based recipes—including this one.
Help your body wind down in the evenings with these tasty and calming cookies. Have a cookie (or two!) a couple of hours before going to bed to get in all the natural melatonin (which helps to balance our sleep cycles) from almonds and cherries.
Knockout Nighttime Cookies
½ cup mashed banana (about 1 medium banana)
2 tablespoons almond butter
½ cup unsweetened shredded coconut
½ cup chopped raw walnuts
½ cup dried cherries
⅓ cup rolled oats (gluten-free if needed)
¼ cup flaxseeds
1 tablespoon chia seeds
1 teaspoon pure vanilla extract
1 teaspoon ground cinnamon
½ teaspoon ground ginger
Preheat the oven to 350°F. Line a sheet pan with parchment paper.
In a large bowl, stir together the banana, almond butter, coconut, walnuts, cherries, oats, flaxseeds, chia seeds, vanilla, cinnamon, and ginger until thoroughly combined. The batter will be moist.
For each cookie, roll 2 tablespoons of the mixture into a ball and place on the prepared baking sheet, gently flattening the top with the palm of your hand. Bake for 12 to 15 minutes, until golden.
Cool on a wire rack and grab a cookie! The cookies keep in an airtight container for up to one week.