The Ultimate Guide (And Tips) For Successful Virtual Coaching

Food & Nutrition Writer
By Ximena Araya-Fischel, M.A
Food & Nutrition Writer
Ximena Araya-Fischel, M.A, is a journalist, IIN graduate integrative health coach, E-RYT 500 lead yoga teacher, and 500-Hour certified Pilates instructor.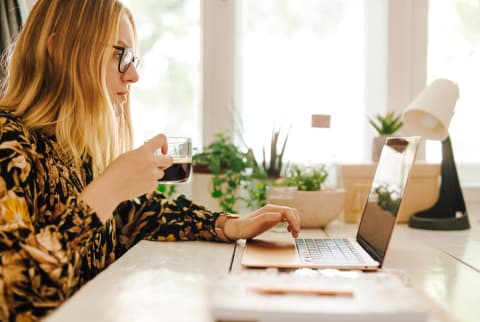 Image by Boris Jovanovic / Stocksy
July 10, 2021
In light of the current virtual-forward way of living, digital health services are becoming more popular, as a means of helping people to live healthier lives. From health information technologies and wearable devices to personalized telemedicine, the realm of digital health and telecommunication continues to be one of the most dynamic forces molding and driving today's health care revolution.
For functional nutrition coaches and other wellness professionals, these innovative digital platforms represent a fascinating opportunity to enhance health coaching services and gain a more holistic view of an individual's well-being. By blending technological tools with powerful health and wellness coaching expertise, health coaches can empower others to make better-informed choices about their health while encouraging new approaches to health and lifestyle interventions outside traditional in-person settings.
According to registered dietitian and health coach Jess Cording, M.S., R.D., CDN, "virtual health coaching is here to stay; it allows for more flexibility with time for patients and coaches, and it provides the ability to conduct sessions from all over the world."
If you are looking to be a part of this ever-evolving global health shift or are curious about boosting your existing coaching practice, here are a few expert tips to guide you through the exciting world of virtual health coaching:
As evident as it may sound, getting dressed is a fundamental step to priming your brain (and attitude) for the task ahead. Besides affecting your mood and productivity levels, clothes can significantly alter how you feel physically, energetically, and emotionally. "While it can be tempting to stay in your workout clothes or even your pajamas, I strongly recommend dressing as you would if you were meeting your client in person. The energy you bring to the session will reflect that," says Cording.
2.
Use a calendar service.
From helping you prioritize and stay on task to acting as a virtual personal assistant, having a digital calendar should be a nonnegotiable instrument for any virtual wellness professional. And the best part is that online calendar services abound! "Make sure you sync it to your personal calendar or other calendars you need to keep track of, so you don't overbook," says Cording. "This is something I wish I had known to do when I was starting."
From coaching platforms and software to digital tools, options might seem limitless when it comes to the online coaching marketplace, which is why determining the most appropriate communication method for you and your clients is vital. "One of the struggles is to decide if you prefer audio or visual conversations, depending on your ease and the best way to serve your clients," says Tania Marchand, entrepreneur and mindbodygreen functional nutritional coach. "Some prefer to see you. Others are reluctant and even suffer from high anxiety to show themselves."
4.
Communication is (always) key.
Establishing transparent, open, and effective communication channels is critical for any thriving digital health coaching practice. "Tell your clients when they can expect you to respond to communications. For example, maybe you reply within 24 hours Monday to Friday, and have set work hours," advises Cording. "It's important to honor those office hours you set for yourself, to maintain healthy boundaries. If you're burnt out, you won't be at your best for your clients."
Reaching out to your clients before your sessions together can be helpful for determining the best schedule and understanding each other's time constraints. "I would advise coaches to survey and learn the best hours of availability for their clients. Depending on your niche, prime time can vary a lot," says Tania.
Healthy working relationships require boundaries, and that goes for virtual health coaches, too. As Cording notes, it's essential to "figure out your boundaries with social media so it feels clear to you what you want to share, how frequently, how it's promoting your business, etc. You also want to be clear on whether you follow clients back or not." And from a privacy viewpoint, using a platform that allows for secure messaging and record-keeping is critical. "Privacy is an important issue, so this can be an excellent protective measure. It can also help you set boundaries with your time so you're not seeing client communications in your email or text messages."
7.
Have a cancellation policy.
"It's frustrating to set aside time in your day only to have a client cancel at the last minute. So many practitioners use a 24-hour cancellation policy (meaning, clients have to notify you at least 24 hours in advance)," says Cording. "Set clear guidelines around whether they are responsible for paying for the entire session if they don't honor that policy. Of course, it's OK to make exceptions at your discretion."
Ultimately, being intentional about your goals, needs, and limits as a health coach is an essential factor in fostering a healthy, sustainable virtual practice. If you are eager to become a functional nutrition coach and support others in transforming their wellness journeys along the way, check out mbg's Functional Nutrition Coaching program.
Want to turn your passion for wellbeing into a fulfilling career? Become a Certified Health Coach! Learn more here.

Ximena Araya-Fischel, M.A
Food & Nutrition Writer
Ximena Araya-Fischel, M.A, is a journalist, IIN graduate integrative health coach, E-RYT 500 lead yoga teacher, and 500-Hour certified Pilates instructor from San José, Costa Rica. She received her master's degree in communication and journalism from The University of New Mexico, emphasizing well-being, sustainable fashion, health communication research, and graduating Summa Cum Laude. A former professional dancer, she's earned multiple academic and accredited certifications in performance design, positive psychology, doula training, entrepreneurship, digital marketing, mindfulness, innovation leadership, and integrative health. Her work has appeared at top consulting brands and organizations across Latin American and the US, including Byrdie and Albuquerque The Magazine. She currently lives between Costa Rica and New Mexico.