This TikTok Rice Cake Trend Tastes Delicious — But Will It Spike Your Blood Sugar?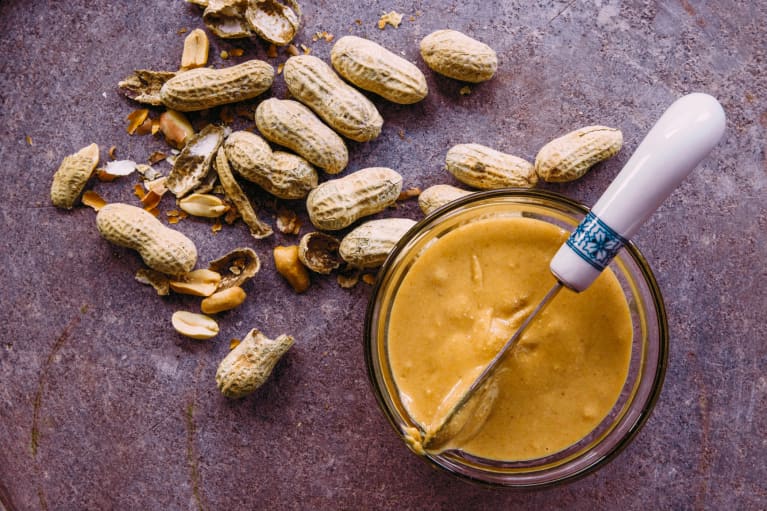 Our editors have independently chosen the products listed on this page. If you purchase something mentioned in this article, we may
earn a small commission
.
If you follow wellness trends on TikTok, you've likely heard of the viral rice cake treat that has taken social media by storm. While rice cakes may seem like a valuable, healthy option on their own, the crunchy snack may actually cause a blood sugar spike (womp, womp). That is, unless you pair it with the right topping.
According to Jessie Inchauspé (aka Glucose Goddess on Instagram), "putting clothing on your carbs" such as rice cakes will help manage your blood sugar levels and make for a more satiating snack. Let us explain.
The snack first gained traction on TikTok when Monique Volz (@ambitiouskitchen) posted a recipe for "crunchy pb cup rice cakes." Using the base of a plain rice cake, Volz added a tablespoon of natural peanut butter before dipping the rice cake in melted chocolate and sprinkling with sea salt. She suggests putting the rice cake into the freezer and waiting until the chocolate has hardened before digging in.
Controlling a blood sugar spike. 
This delicious snack is actually an example of dressing your carbs, and in conversation with mindbodygreen founder and co-CEO Jason Wachob on the mbg podcast, Inchauspé explains why it's so important to control glucose spikes by being conscious about what you're pairing with this macronutrient. "Anytime we eat something starchy or sweet if we add protein, fat or fiber, I call [it] 'clothing.' You then reduce the glucose spike that sweet food would create," she explains.
These types of food combos will more effectively keep your body full and sustained for longer periods of time, making it a more valuable snack than a simple carb. As for how to dress your rice cakes, in a recent Facebook post, Inchauspé agrees that peanut butter is a great option, displaying in an infographic how this can lower the blood sugar spike and effectively regulate your energy levels.
Other rice cake toppings.
If you're more of a savory person but still want to get in on the rice cake craze, Inchauspé suggests some other toppings that will keep your glucose levels stable. "You can put some avocado on them, maybe some smoked salmon, just to make sure that the starch from the rice doesn't create this massive spike in your bloodstream."
Avocado is a great source of healthy fats, and smoked salmon provides both fats and protein, which will round out the nutritional value of the snack, to help keep you feeling full and sharp.