Close Banner
Advertisement
This ad is displayed using third party content and we do not control its accessibility features.
paid content
 for

This Retailer Is Demystifying What It Means To Be "Clean" In The Beauty Industry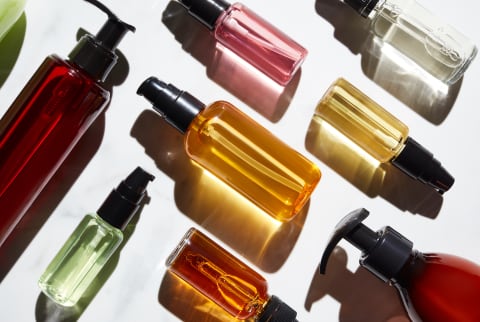 Image by Marti Sans / Stocksy
There's no denying that clean beauty is on the rise. With new indie brands coming out every day and big brands jumping on the (clean) bandwagon as well, the consumer's demand for ingredient and sourcing transparency has been heard. Just last month, both Chanel and Bobbi Brown launched their own clean beauty lines, with many others right behind them.
But the question still remains, what does it really mean to be "clean"? After all, we've been duped by vague marketing language before. Remember the days of thinking that "all-natural" claims on food labels actually meant all-natural? Because there's no nationwide definition for clean beauty in the U.S., it's hard to know what to look for.
Unless you're a beauty expert or a scientist, you likely won't even know what half of the listed ingredients are–because who has time for a Google deep dive in the checkout aisle? For all these reasons and more, Sephora created a Clean beauty seal to clearly identify clean products for their community, both in-store and online.
How does Sephora decipher what's clean?
If a product is labeled as Clean at Sephora, it means that the brand complies with certain criteria, which focus on brand positioning, transparency in formulation and sourcing, and the avoidance of certain ingredients. In the last few years, Sephora has expanded their "formulated without" list to include 40-plus ingredient groups that are known or suspected to be harmful to human health or the environment.
The Clean seal is a way of offering shoppers one clear and robust definition of "Clean" that holds true across skin care, makeup, fragrance, and hair care. It makes it possible for individuals looking for clean products to go in and know exactly what to grab, without confusion. And if they're curious to learn more about what the Clean seal entails, Sephora offers an up-to-date list on their website including all of the ingredients that have been left out.
Image by Hernandez & Sorokina / Stocksy
Clean beauty faves.
Sephora has over 100 clean beauty brands to choose from, all labeled with a bright green seal you can't miss. But for those of you looking to dip your toes into the clean beauty pool and unsure where to start, we've got you covered. Here are some clean beauty favorites, all found at Sephora:
Getting clear on clean beauty.
It can be hard to navigate the crowded beauty industry. And with common marketplace terms like natural, organic, and green thrown around freely, it's difficult to know what's actually clean and what's not. Sephora's criterion goes above and beyond such vague parameters, offering a range of innovative products and brands that customers have grown to love and trust. Just look for that little green seal and you're good to go!

Ryan Brady
Ryan Brady is a Freelance Writer at mindbodygreen. She received her B.A. in Visual Arts from Yale University and her M.A. in Clinical Psychology with concentration in Spirituality and Mind-Body Practice, from Columbia University.
Ryan is passionate about holistic health, fitness, and spiritually-centered living. She loves using her knowledge and personal experience to help others improve their well-being. She brings this passion to her writing, as well as to her work at the wellness centers she owns in Atlanta, GA. When she's not working, Ryan can be found traveling, spoiling her dog, or experimenting with gluten free, dairy free baking.