The Practice That Improved My Mental Health When Nothing Else Did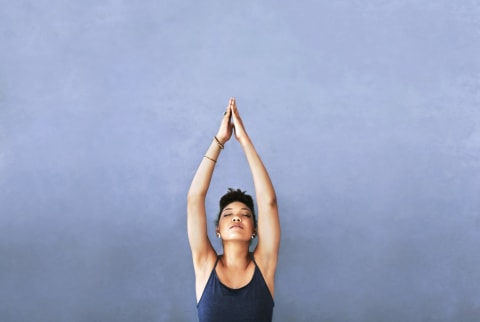 Image by PeopleImages / iStock
March 28, 2019
I thought that when I was accepted to the university of my dreams, it would put me on the path to freedom—that I'd land a great job and live out a successful career. But so much changed over the five years that followed, and my journey didn't go quite as planned.
When I transitioned from my suburban all-girls high school to a large Ivy League university in the city, I felt a major change in social and academic pressure. As an engineering student, I spent long hours in rigorous classes and studying—not to mention, the dorm I lived in was crowded and always, always loud. The image-focused culture made me question my health choices, and the full-force academic pressure put me in a mode of constant anxiety and stress. During my first year, I became pretty sick, a mental kind of sick that was manifesting physically as an eating disorder. That's when I found yoga.
Yoga gave me the mental and physical strength I needed to help myself.
School was supposed to be a path to something satisfying and impactful, but my work was not manifesting as anything intrinsically meaningful (and my effort was not reflected in my grades). Everyone at school was competitive, so I have no one to trust or confide in about the pressure I was feeling. So instead, I reached for the things I knew could replenish or numb myself physically and mentally: food, TV, and drinking. I spent long periods of time alone, toiling away at mountains of work or preparing for exams.
Then one day, while I was browsing my inbox, I found a Groupon deal that offered five classes for $25 at a local yoga studio. I don't know why, but I bought the package. That Saturday, I walked 30 minutes to the studio for my first class. I'd never done yoga before and tried my best to follow along, but the teacher often came over to correct me—telling me to slow down, breathe, and practice with more ease, which seemed simple but was very frustrating at times. With time, however, yoga became a practice I enjoyed and looked forward to.
The more classes I went to, the more I began to tap into yoga philosophy, which started to shake up some of my own inner shadows and questions. Who am I? Why am I here? Instead of resisting these questions, I became curious. Having that space and time with myself on the mat, free of technology and distractions, I could peel back the layers and explore the answers to those questions. I was free of biased advice, judgment, and competition, and that gave me a sense of calm and safety at the studio.
Yoga changed who I was—both on and off the mat.
I didn't immediately abandon my life at school and devote my life to yoga, but I did integrate its philosophy and practices into my life as a solution to my suffering. I stopped reacting to judgment or competition in ways that harmed myself. I started to focus on my strengths and shift my attention to the classes and opportunities that inspired me and really mattered to me.
Another benefit of practicing ease on my mat was that it actually helped me focus and be more productive. I made career decisions that were more in alignment with my truth and purpose. Instead of taking an internship I didn't want, I followed my interests and took an internship in retail. The job allowed me to prioritize self-care and health. This decision to take a path that prioritized my interests, my health, and my freedom was the first of many authentic decisions that offered amazing opportunities and experiences.
I still wonder if my life would be different if I hadn't gone to that first class. Would I have finished school? Would I ever have found my interest in leadership and started my own business? I'll never know, but needless to say, I am endlessly grateful that I found yoga. It has strengthened my body, freed me of limiting mindsets, and reconnected me to my intuition—which enabled me to heal my destructive habits and make decisions with confidence. Most importantly, yoga helped me to regain a positive outlook on life again, and that is something I'll never take for granted.