These Cultured Macro Bowls Are Packed With Probiotics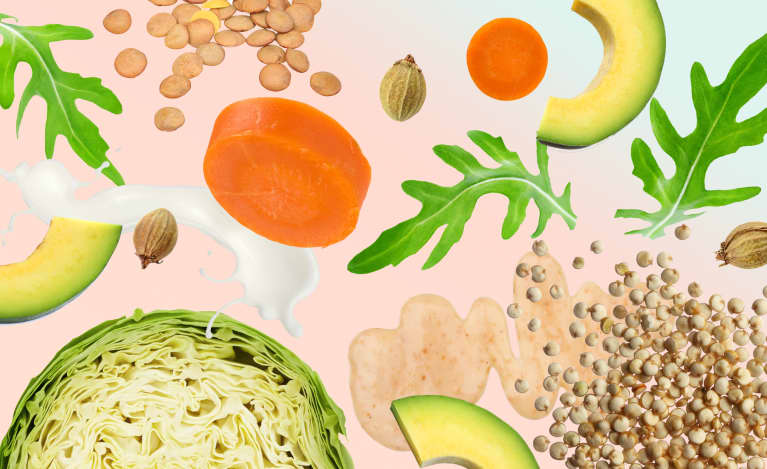 Our editors have independently chosen the products listed on this page. If you purchase something mentioned in this article, we may
earn a small commission
.
Macro bowls are healthy and can be a lot of fun, especially ones that incorporate both fresh and roasted veggies. With macro bowls, you can get creative with the toppings (whole grains, legumes, fresh vegetables, fermented foods, the list goes on...), while ensuring a nutritious, filling meal.
This bowl from Kelli Foster's The Probiotic Kitchen puts a gut-friendly twist on the classic recipe by adding sauerkraut and Greek yogurt to her list of toppings—the result is a probiotic-seeker's dream.
Make these cultured macro bowls to make sure you're getting some good bacteria in your diet. You can easily meal prep with this recipe, or you can create a "macro bowl bar," invite some friends over, and get crazy with the toppings. A nice way to switch up a friendly lunch!
4 large (or 6 medium) carrots, peeled and cut into ½-inch (1.3-cm) thick slices
1 tablespoon (15 ml) extra-virgin olive oil
1 teaspoon ground coriander
1 teaspoon kosher salt, divided
1 cup (173 g) quinoa, rinsed
¾ cup (144 g) brown lentils
2¾ cups (650 ml) water
2 cups (40 g) arugula
2 avocados, peeled, pitted, and thinly sliced
1 cup (240 g) fermented sauerkraut
1 cup (115 ml) live-culture plain Greek yogurt, preferably whole milk
Tahini, for drizzling
Arrange a rack in the middle of the oven and preheat to 400°F (200°C, or gas mark 6).
Add the carrots to a rimmed baking sheet. Drizzle with the oil and sprinkle with the coriander and ½ teaspoon of the salt. Toss to coat and spread in a single layer. Roast until tender, flipping once halfway through, about 20 minutes total.
Meanwhile, combine the quinoa, lentils, water, and the remaining ½ teaspoon of salt in a medium saucepan. Bring to a boil, then cover, reduce the heat to low, and simmer until tender, about 15 minutes. Remove from the heat, stir the mixture and then cover and let steam for 5 minutes.
To serve, divide the quinoa and lentils among four bowls. Top with the roasted carrots, arugula, avocado, kraut, and yogurt, and then finish with a drizzle of tahini.
Recipe excerpted from The Probiotic Kitchen, by Kelli Foster. Reprinted with permission by Harvard Common Press, an imprint of The Quarto Group, 2019.