Close Banner
Advertisement
This ad is displayed using third party content and we do not control its accessibility features.
These Coffee & Hazelnut Muffins Are A Yummy Keto-Friendly Treat

Cardiologist & creator of the South Beach Diet
By Arthur Agatston, M.D.
Cardiologist & creator of the South Beach Diet
Arthur Agatston, M.D., is a preventive cardiologist and associate professor of medicine at the University of Miami Miller School of Medicine and creator of the South Beach Diet.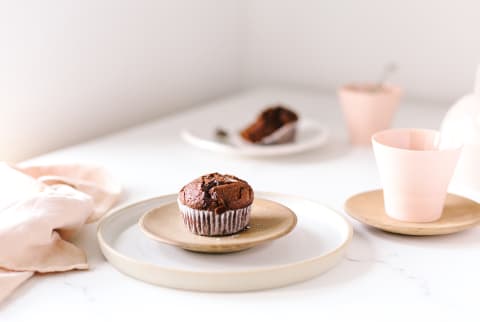 Image by Hung Quach / Stocksy
I've said this many times, but it's something that I truly believe: In order to lose weight and improve your health, you need a plan that works for the long term in real life. This is where keto comes in.
These gorgeous, nutty muffins taste as good as they look (and they're keto-friendly!). They will get you started in the morning and also make a great pick-me-up snack to pack in your lunchbox.
Coffee & Hazelnut Muffins
Yields 6 large muffins (1 muffin per serving)
Muffin ingredients:
3 large eggs
¼ cup strong coffee
¼ cup powdered erythritol sweetener
⅓ cup unsalted butter, softened to room temperature
2 tablespoons hazelnut oil (or substitute more butter)
2 tablespoons ground flaxseeds or ground chia seeds
¼ cup coconut flour
⅓ cup plus 2 tablespoons lightly toasted hazelnuts, ground (reserve the 2 tablespoons for garnish)
½ teaspoon baking soda
½ teaspoon baking powder
¼ teaspoon Himalayan pink salt
1 teaspoon cinnamon (optional)
Frosting ingredients:
½ cup heavy cream
¼ cup powdered erythritol sweetener
½ cup full-fat cream cheese
2 tablespoons instant coffee, mixed with 2 tablespoons water
Method:
Preheat the oven to 350°F.
Line a 6-cup muffin tin with silicone cups or paper cupcake liners (or grease them with butter) and set aside.
Whisk the eggs, coffee, and powdered erythritol sweetener together in a large bowl. Add all the remaining muffin ingredients to the bowl and whisk until thoroughly mixed.
Divide the batter among the prepared cups and bake for about 18 to 20 minutes, or until a toothpick inserted in the center of the cups comes out clean.
Transfer the muffins to a wire rack and let them cool to room temperature.
Whisk together all the frosting ingredients until creamy and smooth and frost the cooled muffins. Sprinkle the muffins with the remaining 2 tablespoons of ground toasted hazelnuts and serve.
Note: The muffins will keep in an airtight container in the refrigerator for up to 3 days, or you may freeze the muffins—without the frosting—for up to 2 months.
Want to turn your passion for wellbeing into a fulfilling career? Become a Certified Health Coach! Learn more here.