These Gluten-Free Muffins Are The Perfect Protein-Filled Snack
mbg Contributor
By Caroline Muggia
mbg Contributor
Caroline Muggia is a writer, environmental advocate, and registered yoga teacher (E-RYT) with a B.A. in Environmental Studies & Psychology from Middlebury College.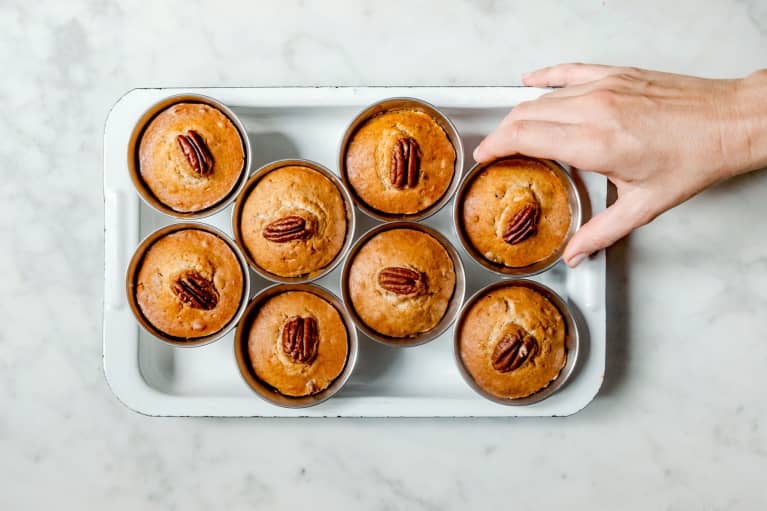 Our editors have independently chosen the products listed on this page. If you purchase something mentioned in this article, we may
earn a small commission
.
Sarah Grossman and Tamara Green are the founders of Living Kitchen, a company that offers meal delivery and private chefs for people living with cancer, and the authors of the new cookbook The Living Kitchen. Both certified nutritionists and experts in cooking to ease cancer symptoms, Grossman and Green share 100 recipes developed to support cancer patients' health and the health of their families.
Nothing hits the spot quite like a warm muffin, even better if it's one that's high-protein, gluten-free, and filled with veggies. Their savory chickpea popkins take 40 minutes to make and can be frozen for two to three months.
"Chickpea flour is high in fiber and protein and contains iron, which is important for energy, and magnesium, essential for muscle relaxation. It's a good source of zinc, which has been linked with cancer prevention because of its important role in the proper function of DNA," explained Grossman and Green.
Besides the chickpea flour, which is also a superfood, you'll fill up on sweet potatoes, which are high in antioxidants known to reduce inflammation and boost cognitive functioning. Plus, they are packed with two kinds of fiber that support healthy digestion. If you're craving a muffin but also want to get in your veggies, this one is for you.
1 small sweet potato, peeled
¼ cup extra-virgin olive oil
2 eggs
1½ cups chickpea flour
2 teaspoons baking powder
1 teaspoon dried rosemary
½ teaspoon sea salt
½ cup finely chopped spinach
½ cup finely chopped red pepper
½ cup finely chopped fresh basil
¼ cup raw pumpkin seeds
Preheat the oven to 350°F, and line a muffin tin with liners. Coarsely chop the sweet potato into ½-inch cubes. Put them in a small pot, and add ½ cup of water so they're slightly covered but not drowning.
Cover the pot and put over medium heat for about 10 minutes, cooking until the sweet potato is soft. Once soft, mash the sweet potato with a fork or puree it in a food processor. Measure out ½ cup of mashed sweet potato.
In a bowl, whisk together the ½ cup of sweet potato, olive oil, and eggs.
In a separate bowl, combine the chickpea flour, baking powder, rosemary, and salt.
Pour the dry ingredients into the wet, and gently mix to combine. Fold in the spinach, red pepper, and basil.
Scoop the batter into the muffin cups and sprinkle the pumpkin seeds on top.
Bake in the oven for 30 minutes, or until they are lightly browned on top and an inserted toothpick comes out clean.
These taste best when warmed up. We recommend enjoying them spread with some butter or ghee. You can store these in an airtight container in the fridge for 5 days or in the freezer for 2 to 3 months.