Close Banner
Advertisement
This ad is displayed using third party content and we do not control its accessibility features.
I'm Constantly Traveling — But This Sleep Routine Stays With Me Everywhere I Go

By Sara Quiriconi
mbg Contributor
Sara Quiriconi is an actress, model, voiceover artist, host, writer, producer and entrepreneur. As a cancer survivor, and resilient soul overcoming various health challenges early on, she's an advocate of being a creator, not a victim, to create your own reality.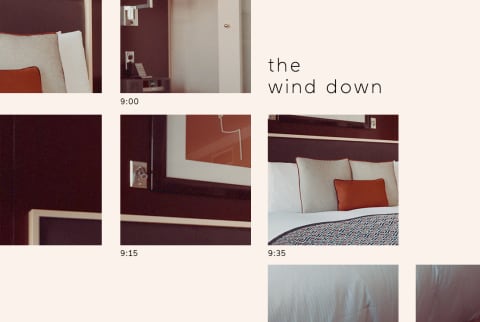 Graphic by mbg creative x Pixabay / Pexels
Our sleep series, The Wind Down, provides a minute-by-minute peek into the wind-down routines that get well-being experts ready for bed. Today, we're relaxing with actress, model, producer & healthy travel expert
Sara Quiriconi
, who strives to keep up with a steady routine even on the road.
Sleep: It's a priority for me. Period. I travel often, and it's essential for me to get those precious seven hours even when I'm on the road. I'm so aware of how much sleep affects every other aspect of my day ahead, including my mood, productivity, creativity, immune system, metabolism, and overall well-being.
It's important for me to have healthy sleep habits at home too (that can then be implemented when traveling). Time zones and new surroundings can throw us quickly off track; however, having a sleep routine in place is the most effective way to stay well rested, I've found.
Further, when you travel, you don't really know the levels of sound and light that will be around you. I'm incredibly sensitive to both, so I always pack an eye mask, earplugs, and sleep buds to block any potential sleep threats.

Average hours I sleep a night: 7
Ideal bedtime: 9:30 p.m. local time zone
Ideal wake-up time: 4:45 a.m. local time zone
Nightstand essentials: Bose Sleepbuds, Lenage sleep mask
Favorite place I've ever slept: The Park Terrace Hotel on Bryant Park has some of the softest pillows and bedding, with some of their rooms featuring Bryte smart beds. It's typically our New York home away from home when traveling in the Big Apple so we're always guaranteed a peaceful night's rest.
Sleep bad habit: Sometimes, creative ideas pop into my head at 2:07 a.m. and my mind starts running. I'm tempted at times to get up and journal them out in the dark of the bathroom, but I try to do breathing exercises to quiet my mind instead. I know I can come back to it in the morning.
Caffeine consumption: I have a full French press in the morning, with typically one more cup between 12:30 and 2 p.m. While I'm not typically affected by caffeine at later hours, I aim to nix the java anytime after 3 p.m. (unless I'm traveling multiple time zones and adjusting).
How I track my sleep: I used to use an Apple watch to track sleep with an app but found it irritating at nighttime. For a wake-up, I'll use my phone with a gentle alarm or wake up naturally.
The last product or habit that changed my sleep for the better: Ashwagandha tablets from Slowlii
The first thing I do when I wake up: Gratitude, followed by some cuddle-up time with my husband before jumping into the day ahead.

6 p.m.: On non-production or set days, my husband and I typically wind down our days around 6 p.m., wrapping up last projects, emails, clients, writing assignments, editing, and audition work. We'll both take a moment to wrap up any last notes, invoices, submissions, or emails.
6:20 p.m.: We each take a few minutes to reflect on our days, review successes, and do a general "sweep" of our workdays to celebrate the wins and the work we accomplished. So often we can speed through our days and think we could have achieved more. However, it really has been helpful for us both to do a personal reflection of our checkboxes and accomplishments to realize how much we truly did do, noting mentally (or writing it down) how we've moved the needle forward toward some goals.
6:30 p.m.: Time to ground, reset, and switch gears with some outdoor air or movement. We love to go for a walk around our neighborhood in Los Angeles over on the water and move out of our work mode and begin to ease into the evening off mode. This routine goes with us everywhere when we travel too!
7:15 p.m.: It's typically dinnertime. We split the effort of co-creating a meal. Thankfully, we're both vegan and have pretty much the same stomachs, so it's easy to prepare or order two or one of the same dishes at home or when traveling.
8 p.m.: After cleaning up the dishes together, I'll wash my face and get ready to spend some chill time together, either watching a series we're both into, reading a book, or diving deep into conversation. I prioritize not eating after this time for the best night's sleep I can get.
9 p.m.: Winding down from media time, I typically have my head on a pillow or on my husband's lap counting down the moments to bed blissfully. Yep, I'm a queen.
9:15 p.m.: I prep workout clothes for the morning, getting outfits ready to go. We rock no excuses in this high-performance traveling household!
9:30 p.m.: Getting into bed, we turn on the white noise machine (yes, we have a travel one too) and share some favorite moments and highlights of the day.
9:36 p.m.: We take a moment for personal gratitude for all that we have and are grateful for, including each other. Taking this time has honestly been one of the best ways to sleep peacefully, manifest more, and build abundance upon abundance in our lives!
9:38 p.m.: And…we're out! Maybe not that fast, but we do fall asleep quickly. What really helps is keeping the same routine we have at home and when we travel. Even if we're jumping time zones, we tend to stick to the same times for all of the above.
4:45 a.m.: Wake up, a warm embrace, and go time! I make the bed, brush my teeth, use a cryo ice cube on my face, do a 10-minute meditation, drink water and coffee, and get moving.

Sara Quiriconi
Sara Quiriconi is an actress, model, voiceover artist, host, writer, producer and entrepreneur. As a cancer survivor, and resilient soul overcoming various health challenges early on, she's an advocate of being a creator, not a victim, to create your own reality. Sara's mission in life is to story-tell, impact and inspire with a legacy of empowerment that last far beyond her years.
She is the founder of Live Free Media, LLC. (conscious-driven media and storytelling with an expertise in wellness travel and wellthy living), author of Living Cancer Free, and host of the motivational Never Settle and Kings And Queens Podcast, Sara truly is a dynamic character across many creative fields and a warrior of light.