These Choco-Cado Fudge Pops Are Vegan & Refined Sugar Free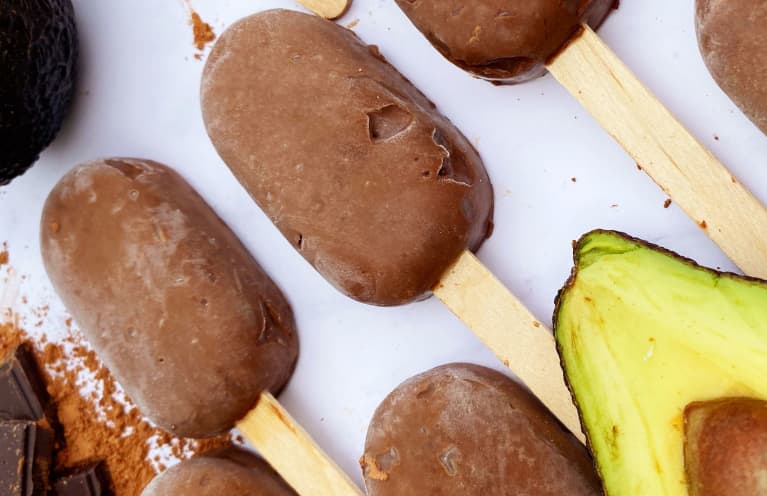 Our editors have independently chosen the products listed on this page. If you purchase something mentioned in this article, we may
earn a small commission
.
Avocados are the unsung hero of the dessert world, and if you don't believe me, you can start by trying these "choco-cado" pops from Michael I. Goran, Ph.D., and Emily Ventura, Ph.D., MPH, co-authors of Sugarproof.
"These decadent-tasting, fudgy pops get their creaminess from avocado, which is a great source of healthy monounsaturated fat, fiber, folate, and vitamin E," they write. "They are also rich in antioxidants thanks to both the avocado and the cacao." And though they're certainly delicious enough to make for anyone, these are ideal for kiddos. "Even kids who are unsure of avocado tend to love these pops," share Goran and Ventura (and we'd imagine that's true for adults who aren't avocado fans, too—apparently they exist!).
Swapping avocado into your desserts means you get a chance to add health perks that would otherwise be reserved for savory meals. Since these are frozen, you can also confidently make a batch at the start of the week to have a little homemade treat on hand, and one that'll also help you cool off (here's another option, too!).
1 medium avocado
¼ cup cacao powder
⅔ cup pitted dates
⅓ cup unsweetened plant milk of choice
½ teaspoon vanilla extract (optional)
Pinch of sea salt
If the dates are firm, soak them in hot water for about 15 minutes and drain well.
Put all of the ingredients into a food processor and process until smooth, stopping to scrape down the sides. If needed, add a bit more plant milk to help it blend smoothly.
Spoon the pudding into your favorite ice pop molds and add sticks. We like to use mini silicone molds and wooden sticks. (Or transfer the pudding to small cups and store them in the refrigerator if you prefer it chilled instead of frozen.)
Freeze until solid (about 3 hours minimum), unmold, and enjoy!
Want to turn your passion for wellbeing into a fulfilling career? Become a Certified Health Coach! Learn more here.