New Research Finds One More Reason To Make Sure You're Getting Enough Sleep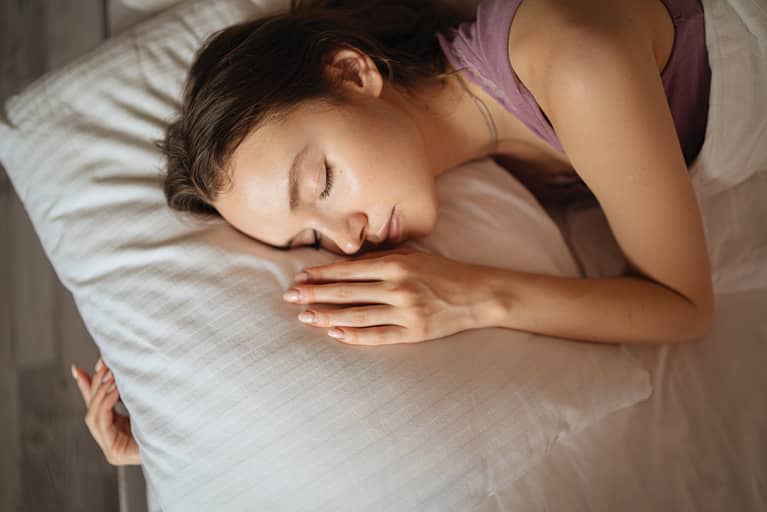 Our editors have independently chosen the products listed on this page. If you purchase something mentioned in this article, we may
earn a small commission
.
We know that getting enough sleep is a crucial factor in how energized we feel during the day, but according to new research published in the Journal of the American College of Cardiology, it also has a big impact on calorie intake, and subsequently, fat accumulation. Here's what the researchers found.
Studying the effects of sleep on weight.
For this small study, researchers wanted to look into how sleeping patterns influenced things like caloric intake, appetite, weight, fat distribution (i.e., body composition), and more. The participants were a group of 12 healthy, young to middle-aged adults, and the study took place over the course of two 21-day sessions with three months in between each session.
One group acted as the control, with a normal nine hours of sleep per night, while the other group only slept for four hours a night during a majority of the 21 days. After the first session and the three-month recovery period, the groups swapped, so the original control group then had to deal with a shorter night of sleep.
Throughout the study and afterward, metrics were taken to determine any behavioral or bodily changes that developed over the course of the study.
Based on the findings, not only does suboptimal sleep duration make you feel tired, but it can also increase calorie consumption and lead to a buildup of visceral fat. Namely, when participants weren't getting enough sleep, there was an 11% increase in abdominal visceral fat, and we know less visceral belly fat is associated with better cardiometabolic health outcomes long term.
As study co-author Virend Somers, M.D., Ph.D., explains in a news release, "Our findings show that shortened sleep, even in young, healthy, and relatively lean subjects, is associated with an increase in calorie intake, a very small increase in weight, and a significant increase in fat accumulation inside the belly."
He goes on to add that it appears to be the lack of sleep that causes fat to "redirect" to the visceral compartment, and further, "catch-up sleep, at least in the short term, does not reverse the visceral fat accumulation."
And since the subjects didn't actually gain that much weight but did have more visceral fat, the study authors point out that it's easy for this kind of fat accumulation to fly under the radar.
The bottom line is, when we've had enough sleep, everything from our mood to our behavior reflects that. Better sleep often means better choices, and based on this study, a better ability to store fat in a healthy way, too. All the more reason to keep up with your sleep hygiene, take a sleep supplement as needed, and aim for a full night's sleep every night.*