The Skin Benefits Of Rosehip Seed Oil
Contributing Wellness & Beauty Editor
By Lindsay Kellner
Contributing Wellness & Beauty Editor
Lindsay is a freelance writer and certified yoga instructor based in Brooklyn, NY. She holds a journalism and psychology degree from New York University. Kellner is the co-author of "The Spirit Almanac: A Modern Guide to Ancient Self Care," with mbg Sustainability Editor Emma Loewe.
Medical review by
Keira Barr, M.D.
Board-certified dermatologist
Keira Barr is a dual board-certified dermatologist and founder of the Resilient Health Institute.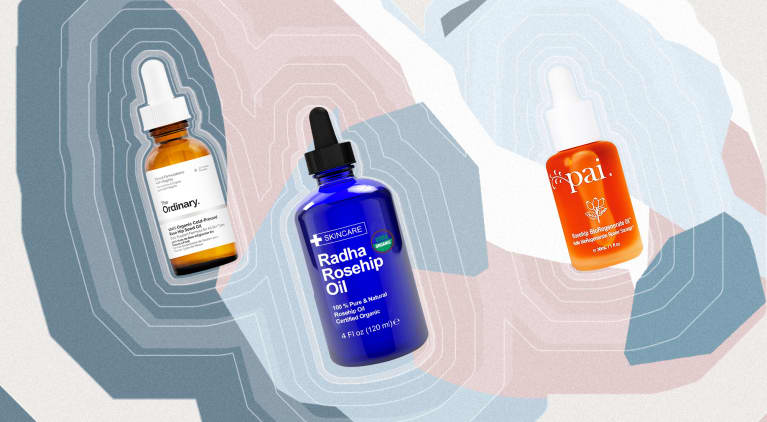 "I LOVE rosehip seed oil. It's one of my favorite ingredients," said holistic dermatologist Cybele Fishman, M.D., who advises many of her clients, especially those with sensitive skin, to try rosehip. She's not alone—rosehip seed oil is beloved by natural beauty experts because of its versatility. With a wide range of uses and benefits, it may be effective and gentle enough to replace—gasp!—coconut oil in your skin care routine.
What is rosehip oil made from?
The name "rosehip" can be slightly misleading. Rosehip seed oil doesn't actually come from a rose or a rosebud. Instead, rosehip seed oil is the result of extracting the oils from a small bright-red berry-like seed pod of two types of wild roses—Rosa moschata or Rosa rubiginosa. The inside of a rosehip is a bright orange, which is where the oil gets its notorious bright orangey-red color.
"It's quite an arduous process to sustainably extract the oil from the small rosehip seeds," said aromatherapist and essential oil expert Leigh Winters. As a result, high-quality rosehip oil can be pretty pricey.
Rosehip is an especially potent healing plant, and the studies prove it. When taken internally, rosehip extract has been shown to help boost the health of the gut. Another promising study suggested that oral supplementation of rosehips might be helpful in preventing obesity.
"The gamma-linolenic acid (GLA) is an omega fatty acid that's excellent for maintaining a healthy skin barrier," Dr. Fishman said. Another reason it's a powerhouse for the skin is because it contains lots of complexion-brightening vitamin C, vitamin A via carotenoids, and may even have some protective properties against ultraviolet light.
Uses of rosehip seed oil.
When used on the face, rosehip seed oil is essentially a cure-all. "Rosehip oil is a fantastic moisturizer that does not break people out," said Dr. Fishman. It's good for all skin types, especially dry or rosacea-prone," Dr. Fishman said.
"The main bioactive component of rosehip seed oil is all-trans retinoic acid, which is a natural precursor to vitamin A. The high amount of tretinoin is responsible for making rosehip one of the best oils for restoring depleted and scarred tissue," said Winters. So it can help reduce the appearance and formation of acne scarring, too. Use it as a spot treatment to make the healing process more efficient.
Additionally, vitamin C helps brighten the complexion, while GLA protects against environmental stressors and, subsequently, premature aging. Rosehip seed oils with a deep coloring also have a subtle bronzing effect on the skin (but be careful—you'll want to rotate other oils in because too much can impart a temporary "orange" glow).
Lastly, because rosehip seed oil is a dry one, it's also an excellent natural anti-frizz treatment on the ends of dry hair. In case you haven't noticed the theme with rosehip oil: A little goes a long way!
Ready to try rosehip oil? Pai, a company that specializes in making products for sensitive skin, makes a biogenerate rosehip seed oil that's rich in color and comes in two sizes; the smaller version is budget-friendly and perfect if you're looking to test it out. Another budget-friendly, pure option is Radha Beauty's 100 percent organic, cold-pressed rosehip seed oil. Finally, cult-favorite skin care brand The Ordinary makes an organic, cold-pressed rosehip seed oil that sells for less than $10.
Want more? Find out the best face oil for your skin type and the essential skin care step you are probably missing.