3 Sustainable Home Spruces This Interior Designer Can't Get Enough Of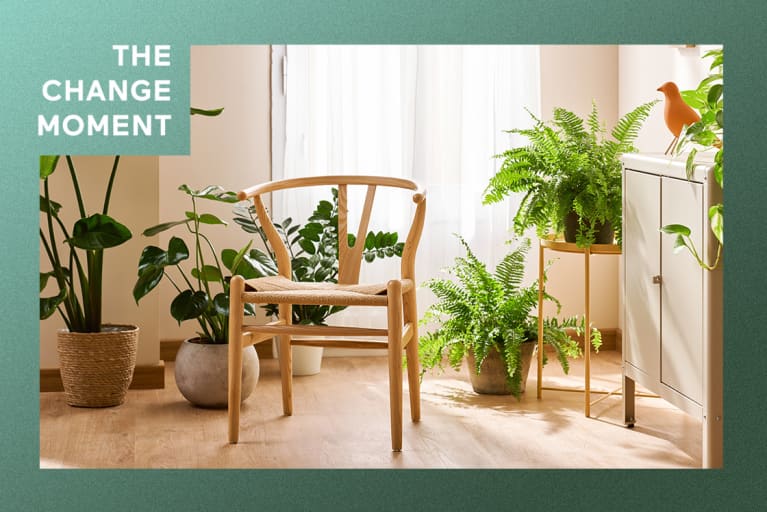 Our editors have independently chosen the products listed on this page. If you purchase something mentioned in this article, we may
earn a small commission
.
When was the last time you had a change moment—an "aha" realization that set you down a new path? This April, in honor of Earth Month, mindbodygreen is hoping to inspire these moments through thoughtful storytelling about our planet. Welcome to
The Change Moment
, where you'll find personal stories, expert-backed tips, and thoughtful primers that will change the way you think about what sustainability really means and how to put it into practice.
Can anything we create in the 21st century be considered totally sustainable? There are so many issues that need our attention with no one solution that ticks every box. But as an interior designer and founder of Design with Care, I believe that when you shop for preloved furnishings or upgrade existing pieces, you adopt a circular design mindset that can be sustained well in the future.
With a bit of creative work, you can make a major style change using minimal resources. Reusing, repairing, and refurbishing old furniture is certainly nothing new. These practices have allowed furniture to be donated, thrifted, and passed down through generations for centuries. Recovering existing pieces can be a fun challenge for every design as well as Earth lover. Here are a few ways to get started:
Just as the secondhand apparel market continues to grow, similar trends can be seen in the home industry. I feel lucky that with more platforms offering preloved furniture and vintage items, my studio's mission to design spaces that have a lower impact is always more and more feasible. Look into secondhand furniture sellers in your area (this list is a great place to start) and explore options like Feather or Oliver Space, which allow you to rent pre-used furniture for a set period of time.
When investing in a new piece of furniture, consider how you will grow with it. When buying a sofa, for example, you could choose one that is modular and easy to disassemble. This will make it easier to reupholster and allow you to adapt it to your ever-changing needs, aesthetics, and future homes.
Unfortunately, not all preloved finds are in pristine condition and ready for use. Sometimes extra effort is needed to recover some of the 12.1 million tons of furniture and furnishing waste created by the United States every year.
The great challenge our design community faces is how to design out waste and keep products and materials in use. Refinishing and upgrading existing furnishings can be one part of the solution. But where to begin? Next, let's look at some things that most people have in their homes: wooden surfaces and textiles.
2.
Give wood surfaces a quick upgrade.
The furniture industry is the world's third-largest consumer of wood, and as we all know, deforestation is a major contributor to climate change. Keeping this natural resource in circulation for as long as possible can be very beneficial. Here are two ways to give yours a new and lasting look:
Add a coat of Venetian plaster.
My favorite way to upgrade wood is with a layer of Venetian plaster. I'm sure you've seen beautiful plaster walls, but did you know that you can actually texturize your furniture, décor, and even floors using this ancient technique? The marble-like texture is timeless and offers a sculptural finish to any object it comes in contact with. Aside from plastering you can achieve a similar look with a lime wash technique as well.
Some of my favorite companies to source plaster from include Color Atelier, Ressource Paints, Detale CPH, and Portola Paints.
While textural style is having a moment right now, there are many furniture refinishing techniques that are equally desirable. If you're a fan of natural wood or solid colors, staining or painting might be a better solution for you.
Whatever finish you decide on, here's how to prep and treat your wood surface:
Give it a good clean and remove hardware if needed.
Sanding will scuff the surface and provide grit for the finishing product to grab onto. If you are staining, you'll need to strip the finish to the bare wood.
Prime in order for your finishing material to adhere to the piece better, and sand again before you start applying the finishing material.
Apply at least two to three thin coats of paint or plaster. Don't forget to sand between each coat!
For extra protection, you can also seal your furnishings.
Isn't it amazing that you have the power to transform an outdated surface into a coveted one at the flick of a brush (or paint sprayer, roller, or trowel)? To ensure you have a finishing material suitable for your furniture, do your research and chat with a designer or a local paint supply specialist.
For extra points, you can also consider minor woodworking—fluted look or paneling—which can also help transform your piece into something brand-new.
3.
Give textiles a second life.
Textiles and upholstered furniture also offer a wonderful upgrade opportunity. If you bought a couch on sale only to find that it is not as durable as you'd hoped, for example, it can be tempting to escort it to the curb after stains or tears. In some cases, it might even be cheaper to buy a new piece of furniture than renovate the old one. But remember: There is so much positive impact a homeowner can make by upcycling furniture.
When it comes to redressing your sofa, chair, curtains, or other soft coverings, consulting with an interior designer can help you identify skilled artists, upholsterers, or furniture-makers aligned with your desired style, project location, and budget. My go-to studio when working on my client's reupholstery needs has been the Stitchroom, a Brooklyn-based team of upholsterers and sewers. In some cases, you can also consider treating your home textiles with natural dyes, playful tie-dyes, or fabric paint.
While upcycling is a great way to keep furniture out of landfills, it can also be impactful to explore whether the original vendors and furniture makers offer take-back programs before you start DIYing.
Living sustainably can feel overwhelming at times. But the point of conscious consumerism is not to stress you out or make you feel bad about yourself. Instead, approach buying and caring for your furniture as a fun challenge that will allow your creativity to shine through.