Is Venting Your Feelings *Actually* Productive? The Answer May Surprise You

mbg Social Media Associate
By Olivia Giacomo
mbg Social Media Associate
Olivia Giacomo is mbg's Social Media Associate. A recent graduate from Georgetown University, she has previously written for LLM Law Review.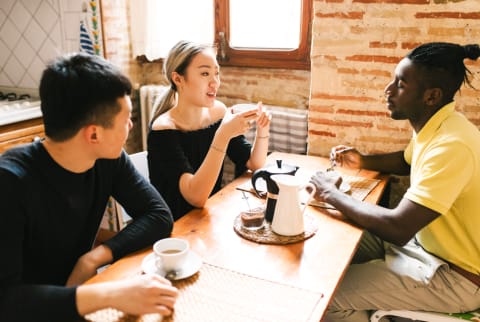 Image by Javier Díez / Stocksy
April 24, 2022
When a problem is bothering you and you can't seem to think about anything else, you might feel the urge to vent those feelings and get them off your chest. It makes sense, right? Sharing your concerns with a compassionate listener can help you feel understood and supported. And, well, misery loves company, doesn't it?
But when it comes to addressing your problems productively, the science is clear—and a long venting session might not be the best route to take. "If all you do is vent about how you feel, that doesn't actually help people work through [the problem]," says award-winning psychologist Ethan Kross, Ph.D., on the mindbodygreen podcast.
Below, he shares what to do instead—as well as how to make venting actually work for you.
The science behind venting your feelings—and what to do instead.
According to Kross, the instinct to vent when you're dealing with a problem is nothing new—and quite common: "So many people think that the route to feeling better is to find someone to vent their emotions to. Just get it out. Express your feelings. This is a very common belief," he explains. "A lot of people intuit that you should just vent your emotions. Don't keep it bottled up inside." And that's true, to some degree: The notion of venting to alleviate stress isn't entirely unfounded.
Says Kross, "Venting your emotions to someone else can be really good for strengthening the friendship and relational bonds between two people. It feels good to know that there's someone else out there who cares enough about you that they're willing to take the time to listen."
The issue emerges when the conversation stops at the end of the venting session. You may feel heard—which is important, to be clear—but you might not actually wind up with a solid plan to move forward. The key, according to Kross, lies in the follow-up: "You want to do two things," he says. "[First,] you want to find someone who does allow you to share a little bit about what you're going through. It is important for you to feel validated, but at a certain point in the conversation, you ideally want the person you're talking to to help broaden your perspective."
Broadening your perspective ultimately helps you reach a sense of closure, which is often exactly what you need when you're struggling with negative internal dialogue, according to Kross. He references a study that measured students' ability to cope after 9/111: Of the variety of strategies for reducing stress, focusing solely on venting emotions led to longer-term mental health struggles, the report states.
How to broaden your perspective.
What does broadening your perspective look like? There are a few forms it can take: "Maybe [someone] shares with you how they've dealt with similar situations, or they ask you, 'How do you think you might be able to manage this productively? How have you dealt with this in the past? How do you think this is going to impact you long-term?' rather than just getting you to keep on adding logs to the burning fire by continually rehearsing what you felt," suggests Kross.
Within this general structure, the actual process often looks different, depending on the situation. As a listener, you may try to shift the conversation to look at the broader perspective and find that the person venting needs some more time to lay the problem out. "There's an art to doing this," he explains. "My advice is to just feel it out. Ask the person, 'Hey, I get it. I have an idea. Can I share with you?' And sometimes they'll say, 'No, I'm not done. I want to keep going.' Let them go for a little while longer, then try again a little bit later. Other times, in my experience, they're like, 'Please tell me what to do.'"
One final note from Kross: Be very intentional about who you choose to vent to. "There are a couple of people in my life that I turn to regularly…. They're really good at both listening and then helping me go broad," he shares. There may be others in your life who you love dearly, but they may not be the best at zooming out when faced with a problem—again, you don't just want to go on a merry-go-round of negative emotions, here.
The takeaway.
While venting can be a helpful way to strengthen emotional bonds, the topic of conversation needs to evolve into a broader perspective to be truly productive. That way, you can work through a negative experience rather than commiserating with someone else; and if you're looking for ways to address those negative thought loops internally, Kross has tools for that, too.