A 3-Step Routine For Keeping Body Breakouts At Bay, Just In Time For Summer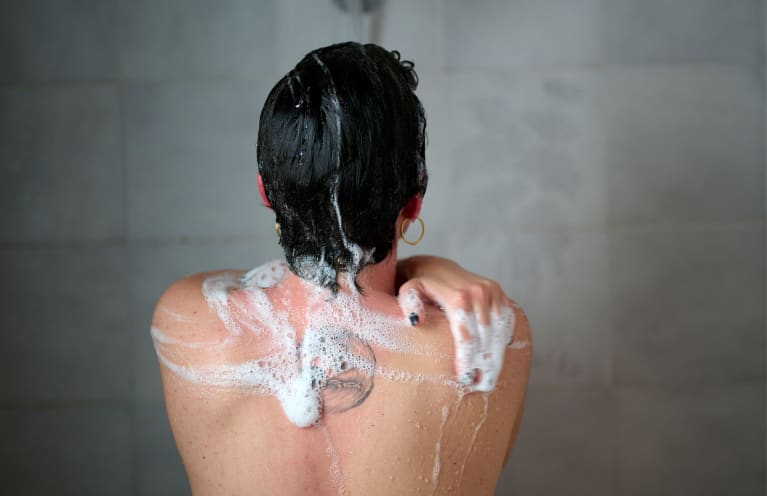 Our editors have independently chosen the products listed on this page. If you purchase something mentioned in this article, we may
earn a small commission
.
Body breakouts have to be one of the more frustrating problems to deal with—especially when they're in hard-to-reach areas like the back. Plus, there are a plethora of potential culprits: Body blemishes could be hormonal, they could be triggered by built-up sweat, or they could even be caused by certain foods.
No matter the initial cause or concern, caring for skin topically traditionally consists of three steps: cleanse, treat, and moisturize. Here, I've put together an easy three-step routine with my own product recommendations (tried and tested), so you can work on clearing those body blemishes before summer hits:
You may already wash your body every day, especially those areas prone to breakouts like the back and chest. But if you're trying to prevent future zits from forming and treating any breakouts present, opting for a soap with potent ingredients is a great first step in your routine. You'll want something that keeps the breakouts away without destroying the moisture barrier.
Our pick? The Shea Moisture African Black Soap Soothing Body Wash. This blend uses the clarifying properties of African Black Soap (which has been used as an oil- and blemish-fighter for years) in combination with aloe vera, which is great for keeping skin hydrated and combating inflammation. This is a safe bet for someone with drier skin as well because it contains oats (which help soothe irritation) and vitamin E (which is a powerful hydrator).
If you find yourself struggling to cleanse a certain area, consider buying a shower brush with a longer handle to make the job easier.
Just as you would on your face, it's important to look for products that contain potent actives that help combat breakouts but also feature elements that help to nourish your skin. Although, after you get out of the shower, you'll want to let your skin dry completely before applying any active ingredients so they have an easier time penetrating the skin. And remember: Keeping your towel clean plays a large role in fighting off bacne. Once your skin is dry, you can apply a chemical exfoliant.
One of our favorite treatments is the Clearing Mist from Soft Services. This product contains zinc to regulate sebum production, niacinamide to target hyperpigmentation, and salicylic acid, which works to unclog pores. Not to mention, it's oh-so-easy to use: It comes in a spray bottle so you don't have to worry about missing a spot.
You may not be used to putting lotion on your back, and you may even be hesitant to lather on more moisture if you're dealing with breakouts for fear it may lead to even more oil production. But here's the thing: "Preserving and supporting a healthy skin barrier and microbiome is just as critical for body breakouts as it is for the face," board-certified dermatologist Whitney Bowe, M.D., previously told mbg.
And per usual, we recommend the mbg postbiotic body lotion because of its ability to care for the skin barrier and microbiome. (It is, we must note, not a blemish treatment—but by hydrating skin, you can improve the appearance of overall skin health and quality.) Our lotion blends together powerful botanical ingredients including moringa seed oil, shea butter, and squalene extract that work to keep your skin hydrated, while pre- and postbiotics assist in microbiome upkeep.
If you're struggling with body blemishes or just want to get ahead of it this summer, these three steps can help prevent and treat those pesky body zits. If your breakouts aren't responsive to treatment, it may be a good idea to check in with your dermatologist to get to the root of your breakouts, as prescription medication or in-office treatments may be a better option.
But for basic at-home care, remember to keep your skin clean, apply a chemical exfoliant after the shower, and follow up with a trusty body lotion. And if you want to learn more, check out our guide on 12 different ways to treat body acne.