A Super-Satisfying Root Veggie & Fig Farro Salad Recipe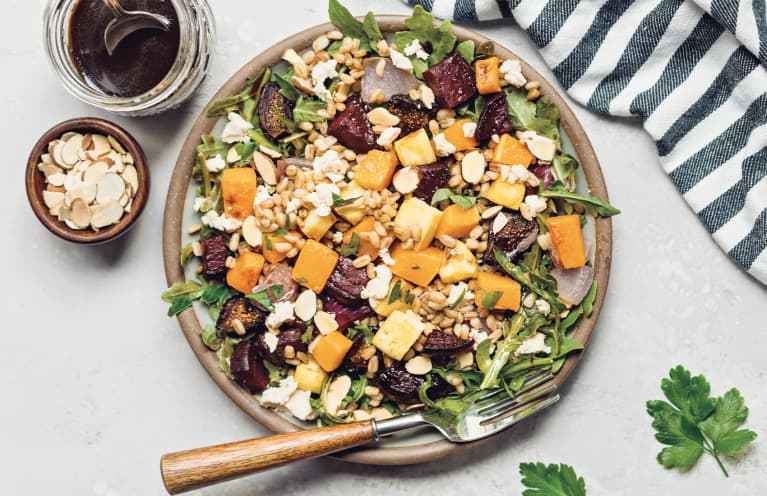 Our editors have independently chosen the products listed on this page. If you purchase something mentioned in this article, we may
earn a small commission
.
As we come up on the tail end of what I affectionately call "roast veggies season" and start to tip into "grilled veggie season" (if you're among the lucky ones with a space to grill at home), I'm on the lookout for recipes that give me that tasty cozy vibe for the rainier spring days—and this salad hits the spot.
From The Healthy Swaps Cookbook by Danielle Davis, this is one of those recipes you're likely going to come back to after the first time you make it. Davis writes, "Delicious roasted and colorful parsnips, beets and butternut squash are served with whole grain farro, creamy and tangy goat cheese, crunchy and salty almonds, sweet and earthy dried figs and peppery arugula that are all dressed with a tangy, rich maple balsamic dressing."
But separate from how perfectly balanced all the flavors are in this salad, it's also a great source of nutrients. "Farro is a balanced, nutritious whole grain that is a healthy carb," writes Davis, "and great to incorporate into your diet because it's high in fiber, easy on digestion and rich in other nutrients like protein, fat, magnesium, vitamins and zinc." The dish also boasts beets, which are seriously packed with phytonutrients, along with parsnips, which are loaded with potassium. Finish it with that tangy homemade dressing and you've got the perfect dish for an "it still feels like winter" spring day.
Roasted Veggie & Fig Farro Salad
¼ cup balsamic vinegar
2 teaspoons Dijon mustard
1 tablespoon pure maple syrup
½ teaspoon salt
¼ teaspoon garlic powder
¼ cup extra-virgin olive oil
¾ cup uncooked farro
1 small butternut squash, peeled and cubed
1 large beet, peeled and cubed
1 large parsnip, peeled and cubed
1 small red onion, coarsely chopped
1½ tablespoon extra-virgin olive oil
1 teaspoon salt
½ teaspoon black pepper
2½ cups fresh arugula
⅓ cup crumbled goat cheese
⅓ cup roasted salted almonds
⅓ cup halved dried figs
1 tablespoon finely chopped fresh parsley
To make the maple-balsamic vinaigrette, whisk together the vinegar, mustard, maple syrup, salt, and garlic powder in a small bowl. Slowly drizzle in the oil, whisking constantly, until the dressing is emulsified. Set the vinaigrette aside.
To make the salad, cook the farro according to the package's instructions. Set the farro aside.
Preheat the oven to 375°F. Lightly grease a large baking sheet.
In a large bowl, combine the butternut squash, beet, parsnip, onion, oil, salt, and black pepper. Roast the vegetables for 25 to 30 minutes, flipping them halfway through the roasting time, until they are tender on the inside and slightly browned on the outside.
Arrange the arugula on a large serving platter or on 4 to 6 individual plates. Top the arugula with the farro, roasted vegetables, goat cheese, almonds, figs, and parsley. Drizzle the salad with the desired amount of the vinaigrette.