Reasons Your Vagina Might Be Dehydrated (Beyond Menopause), From An OB/GYN

mbg Nutrition & Health Writer
By Abby Moore
mbg Nutrition & Health Writer
Abby Moore is an editorial operations manager at mindbodygreen. She earned a B.A. in Journalism from The University of Texas at Austin and has previously written for Tribeza magazine.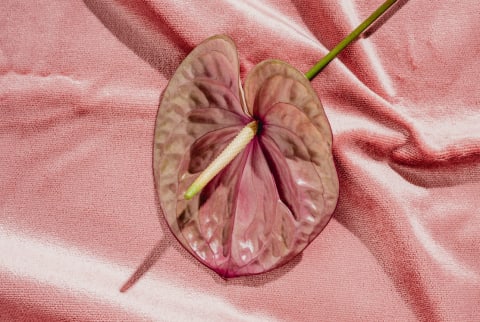 Image by Tatjana Zlatkovic / Stocksy
May 4, 2021
Dehydration is often associated with a dry throat or mouth, and while that may be the first place you notice it, there are several other parts of the body that might feel the side effects: including the vagina.
So, no, menopause is not the only cause of vaginal dryness. According to OB/GYN Mary Jane Minkin, M.D., "Vaginal dryness is a very common problem. One of the most important things we can do is make women aware that this is not weird, this is not strange, and they can talk about it."
Here, she shares five possible reasons your vagina may be dehydrated and how to get its moisture back.
5 reasons your vagina is dehydrated + how to deal:
As previously mentioned, menopause is a common cause. "The majority of women who go through menopause end up with vaginal dryness," Minkin tells mbg. This occurs due to a decrease in estrogen on the tissues that line the vagina. "Instead of being nice, plump, juicy tissue filled with glycogen, the lining becomes thin, the tissue gets dry, and the glycogen goes away," she explains.
This can lead to general discomfort, pain during sex, and it can also cause itching, burning, and bleeding, says Minkin.
Using an over-the-counter vaginal moisturizer may help. This is different from lubricant, which is used during sex to increase moisture and enhance pleasure.
"Moisturizers are meant to be put into the vagina on an ongoing basis, about two to three times per week—sex or no sex," she says. "They sort of stick to the wall of the vagina and recoup moisture to make you more comfortable." Because they have the same estrogen receptors, the vulva may become dry during menopause, too. If this happens, "you can use moisturizers externally, as well," Minkin suggests.
"The hormone involved with breastfeeding, called prolactin, tends to suppress the secretion of estrogen," Minkin explains. So, just as low estrogen with menopause leads to vaginal dryness, low estrogen with breastfeeding does the same.
Using a vaginal moisturizer during breastfeeding should help. If the symptoms persist when you're no longer lactating, consult with your OB/GYN about other options.
3.
Hormonal birth control pills
While vaginal dryness is often associated with midlife, "Even young women on a low-dose pill can have dryness," Minkin says. In an effort to reduce the side effects of hormonal birth controls, such as weight gain or mood swings, many people will opt for lower-dose pills. However, "if the estrogen levels are low, that can cause the vaginal tissue to get dry sometimes," she explains.
Yes, general dehydration can also dry out the vagina. "We call this insensible water loss because people aren't aware they're sweating it out," Minkin says.
While a lot of people rely on antihistamines to mitigate the effects of allergy season, these medications can lead to dryness. While they intentionally dry out mucus in the form of congestion, Minkin says they can also "dry out mucus and fluid anywhere—including the vagina."
If you're getting dry due to antihistamines, you may want to work with your medical provider to experiment with different options or consider taking them less frequently. Optimizing your indoor air quality may be helpful, too.
Bottom line.
"Don't be ashamed of your vagina—it's fine to talk about," Minkin reminds us. "There's no reason we should have to suffer if we're experiencing these very normal symptoms." If you're experiencing dryness and discomfort, talk to your OB/GYN to get to the root cause.

Abby Moore
mbg Nutrition & Health Writer
Abby Moore is an editorial operations manager at mindbodygreen. She earned a B.A. in Journalism from The University of Texas at Austin and has previously written for Tribeza magazine. She has covered topics ranging from regenerative agriculture to celebrity entrepreneurship. Moore worked on the copywriting and marketing team at Siete Family Foods before moving to New York.