An RD's Nutrient-Dense, Fiber-Rich Recipe To Support Healthy Blood Pressure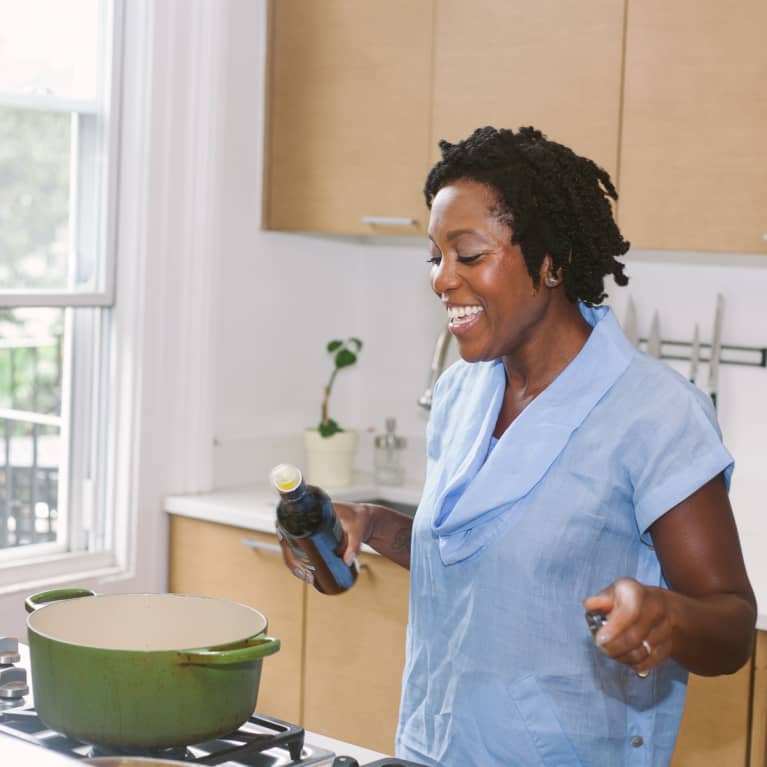 Our editors have independently chosen the products listed on this page. If you purchase something mentioned in this article, we may
earn a small commission
.
If you take a trip to Trinidad and Tobago, you'll be greeted by the savory aroma of doubles wafting from shop windows. Trinidadian as well as Tobagonian food has influences from India, Asia, and Africa, and the flavors rely heavily on herbs and spices while the dishes are rich in local produce.
My version of this popular street food is reminiscent of the original; however, I've increased the fiber content by about 5 grams with the addition of chickpea flour. This ingredient makes the recipe a good source of fiber, providing about 20% of the daily value in the dough alone.
Not only is the chana, spinach, and pumpkin filling rich in fiber, but it also provides an array of nutrients including iron, B vitamins, potassium, and magnesium. Curry, as well as turmeric, cumin, and black pepper, are excellent sources of antioxidants that support vascular health by reducing oxidative stress and damage.
Research has also found that magnesium may help lower blood pressure by working to prevent calcium from entering the cells of the arteries and heart—similar to the action of calcium channel blocker medications.
These doubles are a nutritious and delicious meal option, and my favorite attribute is their rich seasoning. I often talk about enjoying food and making recipes taste delicious, and this meal is the perfect balance of flavor and bite (with limited added salts!).
You'll need to set aside an hour from start to finish, but rest assured, it's well worth the time in the kitchen.
Spinach & Pumpkin Doubles
½ to ⅓ cup warm water
1 teaspoon dry active yeast
1 tablespoon date syrup
½ cup chickpea flour
1½ cups all-purpose einkorn flour
½ teaspoon salt
1 tsp Chief Trinidad curry
⅛ teaspoon fresh black pepper
½ cup avocado oil for pan-frying
For the chana, spinach & pumpkin filling
2 tablespoons avocado oil
1 small onion, diced
2 cloves of garlic, minced
2 tablespoons Trinidadian curry powder
1 tablespoon of cumin
1 teaspoon turmeric powder
1 teaspoon smoked paprika
½ teaspoon fresh black pepper
1 15-ounce can low sodium chickpeas, rinsed and drained
1 bag baby spinach
2 cups peeled, seeded, and cubed pumpkin or butternut squash
1½ cups low sodium vegetable broth
Pepper sauce
Cabbage slaw
Sliced cucumbers
Avocado
In a small bowl, combine the water, yeast, and date syrup. Mix together and set aside until it becomes bubbly—about 5 minutes.
In a medium-size mixing bowl, combine all of the dry ingredients and the yeast mixture. If needed, add more water, 1 tablespoon at a time.
Knead the dough until well combined.
Cover the bowl with a damp towel and let it rest for 60 to 90 minutes in the warmest area of your home. The dough should rise.
In a large heavy saucepan, add oil, onion, garlic, curry, cumin, turmeric, paprika, and black pepper. Cook over medium heat for 5 minutes stirring often and taking care not to burn the spices.
Add the chickpeas, spinach, pumpkin, and vegetable broth. Cover and reduce the flame to low and simmer for 30 to 45 minutes until the pumpkin is soft.
When the dough has risen, punch it down and set aside for 5 minutes.
With wet hands, section the dough into tablespoon-size portions and press together between the palms of your hands. Set aside. Repeat until no more dough is remaining.
Heat a dutch oven or large cast-iron pan over medium-high flame. Add 1 tablespoon of oil—when the oil and pan are hot, gently add the disks of dough and pan-fry 30 to 60 seconds on each side. The dough should be golden brown but not burnt.
Remove from pan and repeat with the remaining dough.
To serve, ladle a generous portion of the chickpea spinach pumpkin filling onto the dough. Top with pepper sauce and a garnish of your choice!
Enjoy warm.
Once you have made my version of doubles, I invite you to play with the ingredients and find other flavors you like for the filling. You can start with vegetables and animal proteins that you are familiar with, and flavor them with an abundance of herbs and spices.
For more recipes like this, head to my website and sign up for my newsletter to receive a free e-book featuring my favorite go-to recipes.