Quality Matters When It Comes To Multivitamins

Registered Dietitian Nutritionist
By Molly Knudsen, M.S., RDN
Registered Dietitian Nutritionist
Molly Knudsen, M.S., RDN is a Registered Dietician Nutritionist with a bachelor's degree in nutrition from Texas Christian University and a master's in nutrition interventions, communication, and behavior change from Tufts University. She lives in Newport Beach, California, and enjoys connecting people to the food they eat and how it influences health and wellbeing.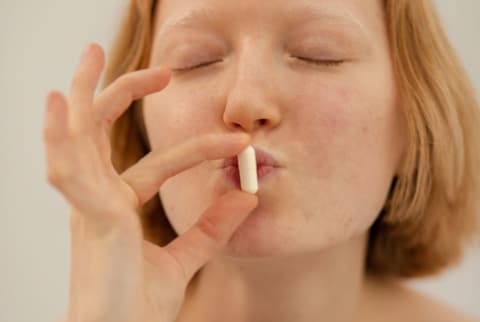 Image by Ivan Andrianov / Stocksy
July 31, 2023
Gulping down a daily multivitamin is a part of many people's daily routines. If you're part of half of the American population1 that (at least occasionally) takes a multi, you've likely had your reasons for prioritizing this supplement. Maybe it's for a peace of mind that you're getting your vitamins or minerals, or wanting to feel or see a difference in your physical health.
But there's also a good chance that you've been disappointed by a lack of benefits. That's because products vary (a lot) when it comes to the types and the amounts of nutrients they offer—and many products fall short.
So what can you do about it? Find a comprehensive multivitamin that delivers the nutrients you need—in the right amount—to catalyze the change you're looking for in your nutritional support.
Not all multivitamins are created equal 
Many manufacturers cut corners when developing multis, and "sprinkle their supplements with less-than-helpful amounts of vitamins, minerals, and botanicals," mbg's vice president of scientific affairs Ashley Jordan Ferira, Ph.D., RDN previously told us.
Also, they often don't consider the bioavailability (how easily the body absorbs the nutrients), gentleness (so there are no upset tummies), and sustainability of the ingredients.
Multivitamins that fall into this category aren't worth your time, energy, or money.
But when done right, multivitamins can make a big difference and help correct nutritional inadequacies in the diet in addition to promoting longevity.*
Choose a multivitamin that meets these criteria
A complete array of nutrients ranging from vitamins, minerals, and botanical bioactives (like (lutein, zeaxanthin, lycopene, and resveratrol)
The right amounts of those nutrients and bioactives to impact to have an impact on the body
Premium ingredients like methylated B vitamins, chelated minerals, and plant-origin sources (like algal vitamin D3)
A clean label devoid of unnecessary "other ingredients" like fillers, sugar, and major food allergens
And mindbodygreen's ultimate multivitamin+ meets this criteria and can help you target everything from bone, heart, and brain health, to cellular energy and healthy skin and nails.*
But don't take our word for it. Here's what folks who have switched over to ultimate multivitamin+ are saying.
"I'm now more consistent taking my multivitamin."
I'm so happy I discovered mindbodygreen and this plant-based multivitamin! I've always started (and stopped) taking daily multivitamins due to the size of the pills, and so I love the capsule delivery of this product, even if I have to take two capsules each day!
"I appreciate the high-quality ingredients in it." 
I am getting ready to receive my third jar of mbg's ultimate multivitamin+ and am loving taking them! First off, they have high-quality ingredients. Next, it is actually a multivitamin that has important nutrients that I want to take! Although I try to get good nutrition through my food, I know in today's world, it often falls short no matter how hard I try. I finally feel good about taking my vitamins at last!
"Compared to other brands, this one ranks the highest." 
Love the product! I have taken so many different brands of vitamins over the years, but the energy I feel from ultimate multivitamin+ is so much higher.
"I actually look forward to taking it."
I felt the difference right away, especially in my energy, and absolutely look forward to taking this vitamin every day to fuel me at 55. And when I read the ingredients, I am so impressed with the quality.
"It's the most comprehensive multi I've found."
I love this product as it has the most comprehensive list of nutrients I have found on the market and I can take it on an empty stomach without stomach upset.
The takeaway
Opting for a high-quality multivitamin can make all the difference in your daily routine. ultimate multivitamin+ contains 33 premium ingredients, including 6 botanical bioactives, for daily nutritional support you can trust.
If you are pregnant, breastfeeding, or taking medications, consult with your doctor before starting a supplement routine. It is always optimal to consult with a health care provider when considering what supplements are right for you.