This Protein-Packed Shrimp Recipe Can Help Lower Cholesterol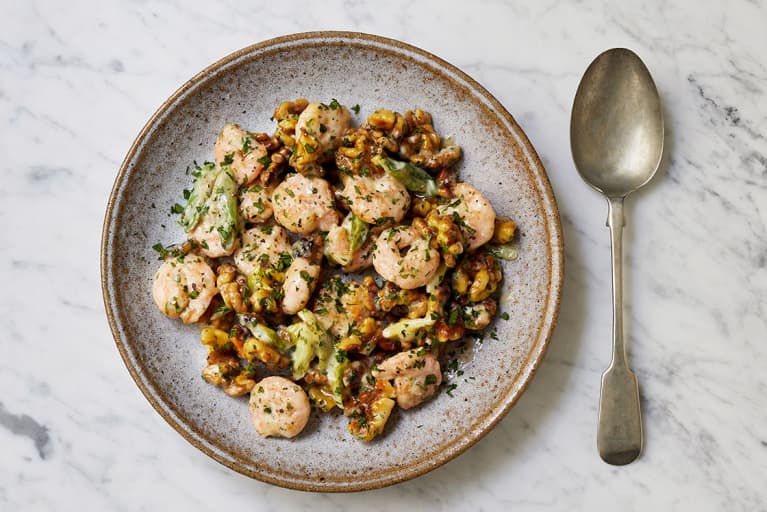 Our editors have independently chosen the products listed on this page. If you purchase something mentioned in this article, we may
earn a small commission
.
Shrimp (prawns) are a good source of marine protein, and walnuts are rich in plant protein and plant oil. This combination serves as a healthy protein dish that pairs well with light-tasting vegetables and carbohydrates.
You may be aware that shrimp is high in cholesterol, but there is "bad" cholesterol (LDL, low-density lipoprotein), which can cause damage to the body, and "good" cholesterol (HDL, high-density lipoprotein), which helps the body remove the bad cholesterol. Shrimp in moderate amounts was found to actually raise the levels of good cholesterol (HDL) more than the bad cholesterol (LDL).
Look for shrimp with translucent and firm flesh, which indicates freshness. It is easy to overcook shrimp, which will make them hard and dry. Shrimp that are fresh and properly cooked should feel almost crunchy when you eat them.
In the dish, I prefer the healthier homemade aioli over mayonnaise because it uses olive oil. The milk powder adds creaminess to the dressing, but you can omit it if you don't have it.
Aioli Shrimp With Walnuts
16 shrimp (prawns), peeled and deveined
½ teaspoon kosher (flaked) salt
1 teaspoon cornstarch (cornflour)
Pinch of freshly ground white pepper or black pepper
¼ cup (2 fl oz/60 ml) olive oil
1 cup (150 g) walnuts
2 tablespoons honey
2 scallions (spring onions), cut into 1-inch (2.5-cm) lengths
2 tablespoons aioli (from Red Cabbage Coleslaw, page 94) or mayonnaise
1 teaspoon milk powder (optional)
2 tablespoons chopped parsley
In a medium bowl, combine the shrimp (prawns), salt, cornstarch (cornflour), and pepper. Mix well to coat each shrimp.
In a large frying pan, heat the olive oil over medium-low heat. Add the walnuts and fry until lightly browned, stirring occasionally, for about 2 minutes. Transfer the walnuts to a bowl, add the honey, and toss to coat the walnuts.
Increase the heat under the frying pan to medium. Add the shrimp and scallion (spring onion) segments to the oil remaining in the pan. Cook, stirring occasionally, until opaque and cooked through, about 3 minutes. Remove to a serving bowl.
Add the aioli to the bowl and sprinkle with the milk powder (if using). Toss to mix well. Add the walnuts and toss again.
Sprinkle with the parsley.