8 At-Home Exercises For Lower-Body Pregnancy Pains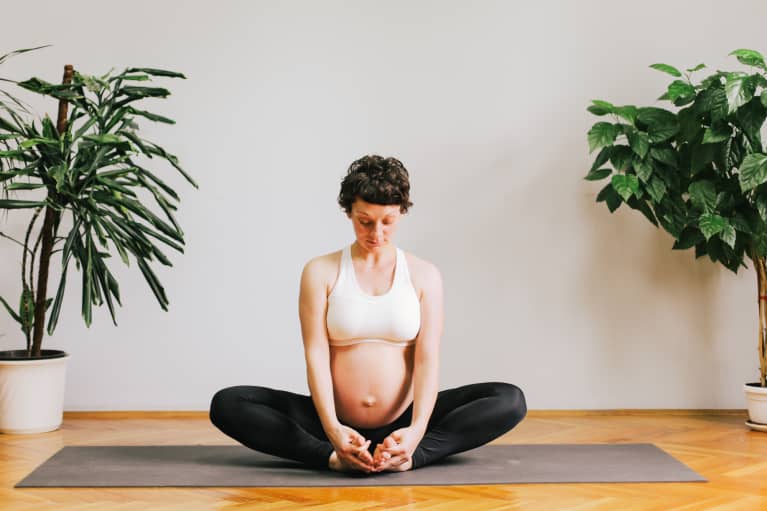 The body undergoes many changes during pregnancy, some of which can be quite painful. Most of the pain and discomfort, like pelvic floor dysfunction and tight muscles in the legs, hips, and back, can be addressed with physical therapy. In the middle of a pandemic, though, not all pregnant moms feel comfortable receiving nonessential in-person treatment.
To help manage these common pregnancy pains, physical therapist Jaclyn Fulop, M.S., shares eight exercises that women can do at home. Each of the moves helps to activate hip, core, hamstring, and pelvic muscles that can become tight or swollen during pregnancy: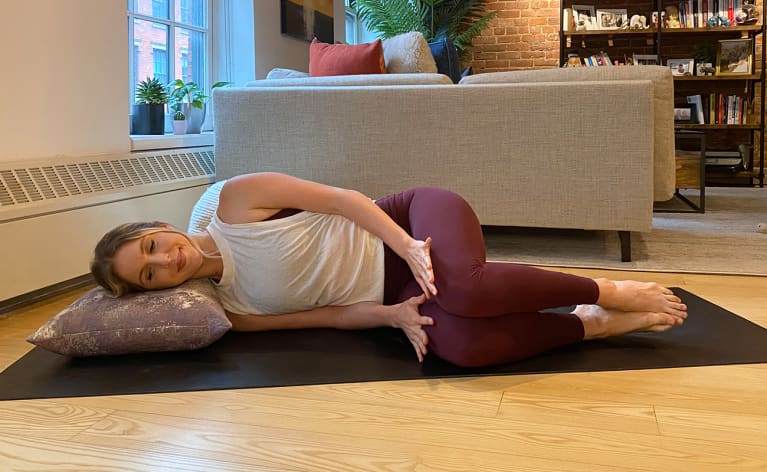 How to: Lying face-up, bring both legs to a 90-degree angle. Place your hands on your knees and push the knees into your hands. Apply resistance with the hands for 10 seconds and repeat 10 times.
Note: Anyone past their first trimester of pregnancy should do these isometric exercises on their side.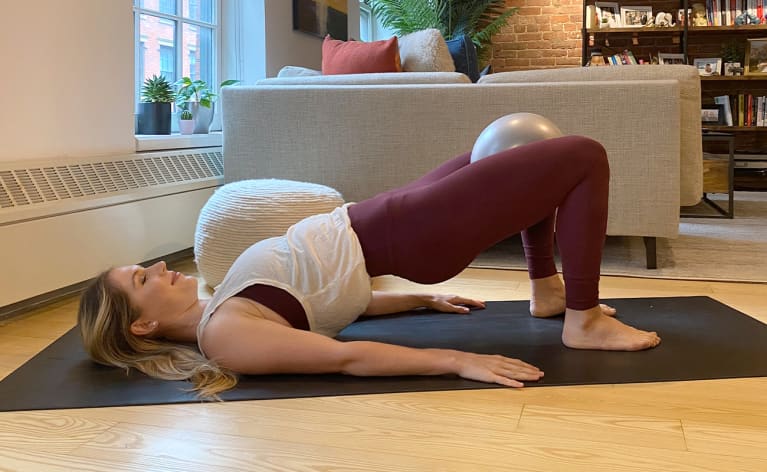 How to: Start by lying on your back, then place a small stability ball or pillow between your thighs. Lift up into a bridge pose and bring knees inward to squeeze the ball. Hold this squeeze for 5 seconds, release, and repeat 10 times.
Note: This move requires a Pilates ball or pillow to place between the inner thighs. These hip adduction squeezes help to stabilize the pelvis. Women beyond their first trimester should do this move in a seated position.
3.
Seated Figure 4 stretch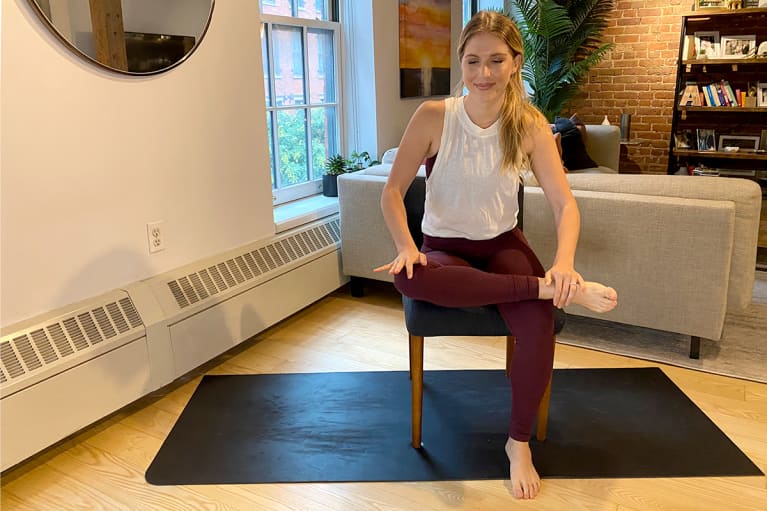 How to: Sit upright in a chair and cross your right ankle over your left knee. Gently lean forward until you feel a stretch in the right glute and hip. Hold for at least 5 seconds, then repeat on the other side.
4.
Quadruped hip extension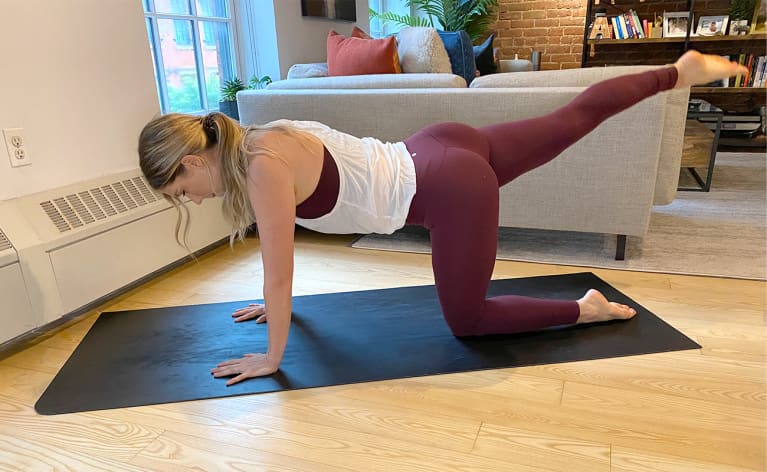 How to: Start on your hands and knees, keeping your weight in the center. Carefully extend your right leg behind you—avoid shifting your weight or rotating your hip. Return to start. Do at least 5 reps, then repeat on the other side.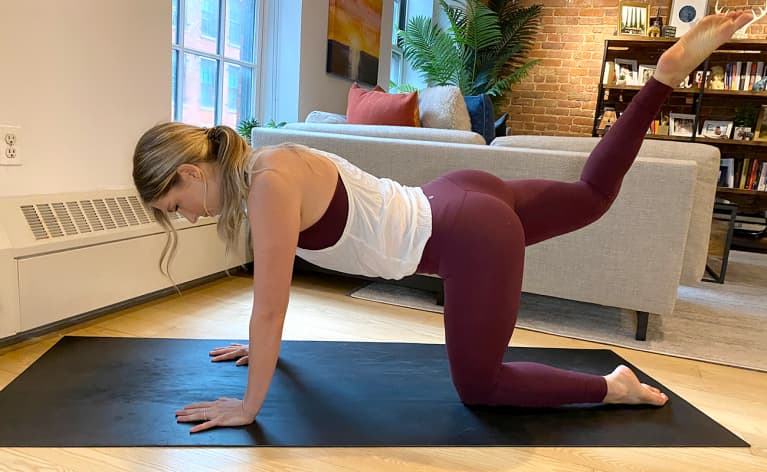 How to: Start in the same position as the quadruped hip extension. Bend the extended knee into a 90-degree angle, and raise the sole of the foot to the ceiling. Then lower back to start. Do at least 5 reps, then repeat on the other side.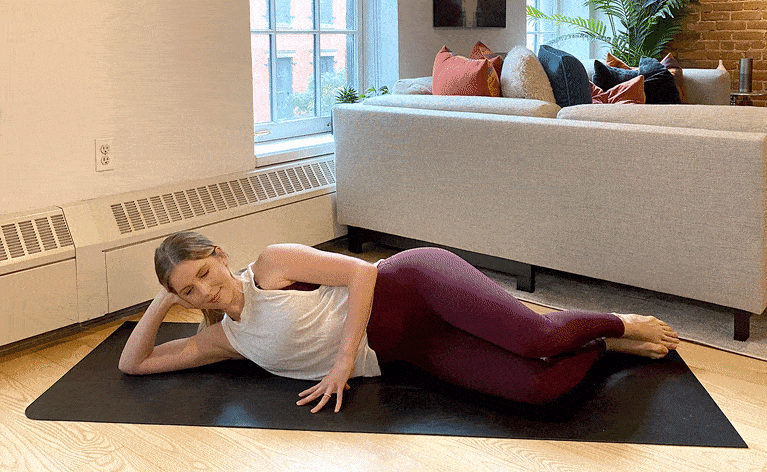 How to: Lie on your left side with your knees bent and feet together. Slowly pull your knees apart, keeping your feet together. Hold for 5 seconds, then bring your knees back together. Do at least 5 reps, then repeat on the other side.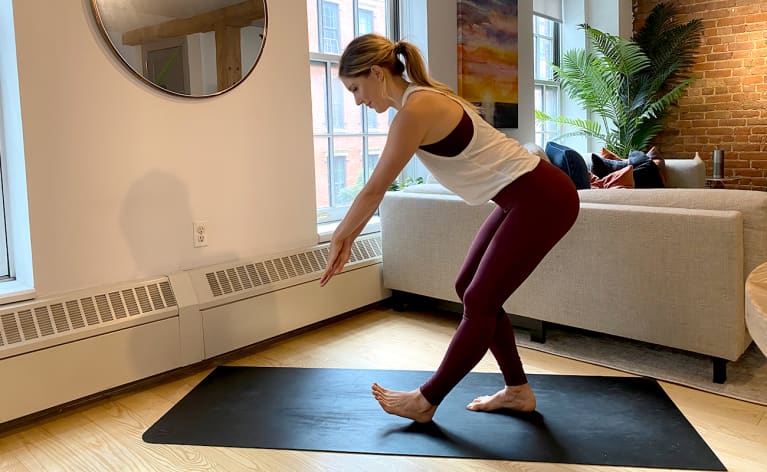 How to: From standing, bend your right knee and straighten your left leg, with your left toes lifted toward the ceiling. Bring your arms toward the left foot. Keep your low back in a neutral position. Hold the stretch for 5 to 10 seconds, then repeat on the other side.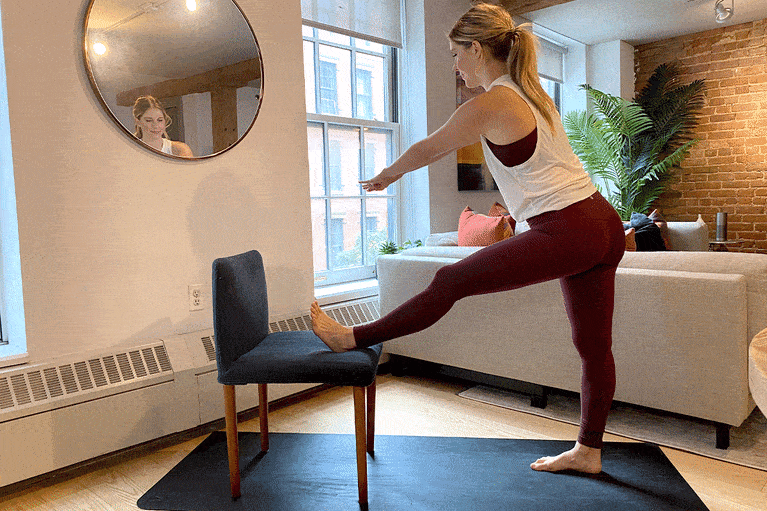 How to: Place your left leg on a chair or other stable surface. Keep right, standing foot straight with toes pointing forward. Lean forward, reaching your arms to the right, straight ahead, and then to the left. Once you've leaned toward all three sides, repeat with the right leg raised.
Note: While this stretch is targeted toward the hamstrings, Fulop says it also helps lower back pain.
What other exercises are safe for pregnant women?
Women who exercised before becoming pregnant can generally continue exercising during pregnancy, Fulop says, as long as they're given the OK from a doctor. "Women who are considered high risk should not exercise when they are pregnant. It is important to always seek the advice from your doctor," she adds.
Low-impact aerobic exercises, like swimming, walking, stationary cycling, light weight training, and jogging, are all good options, according to Fulop. However, women who are not traditionally runners should not attempt to start running during pregnancy.
"Exercises such as Kegels are also great to strengthen the pelvic floor while pregnant," she says. Sit-ups and crunches are not recommended for pregnant women, but other core exercises, including planks, are a good alternative.
"It's important to listen to your body and not push yourself too hard while pregnant," Fulop says. If you experience any cramping, shortness of breath, or fatigue throughout the workout, stop and take a break. If the feelings persist, consult a doctor.