The Link Between Gut Health & Skin Cancer May Be Stronger Than You Think
Assistant Beauty & Health Editor
By Hannah Frye
Assistant Beauty & Health Editor
Hannah Frye is the Assistant Beauty Editor at mindbodygreen. She has a B.S. in journalism and a minor in women's, gender, and queer studies from California Polytechnic State University, San Luis Obispo. Hannah has written across lifestyle sections including health, wellness, sustainability, personal development, and more.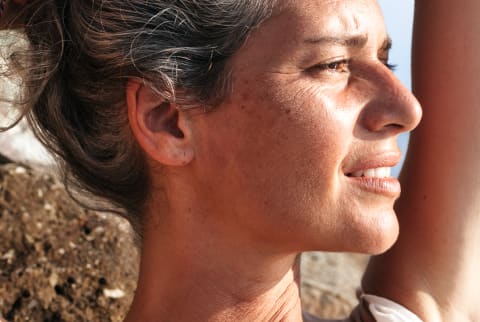 Image by Viktor Solomin / Stocksy
September 13, 2023
The gut-skin axis may be complex, but understanding the concept is essential for optimal skin health. We know that imbalances in your gut microbiome can exacerbate skin concerns like acne, eczema, and psoriasis1, yet it's often overlooked in typical Western medicine treatment protocols.
However, new research underscores just how important a healthy gut microbiome is for skin health; in fact, it even suggests a link between gut health and favorable outcomes related to skin cancer. Here's what we know right now.
The link between gut health and melanoma
The trial included 228 participants—49 of whom did not have melanoma. The rest of the group had a diversity of melanoma progression stages to ensure the researchers could track disease development and associated gut microbiome shifts.
Just to be clear, these findings serve as a correlation—not a causation. So while this information may be helpful for physicians to consider when diagnosing and treating early-stage melanoma, there's no saying that keeping your gut healthy will prevent skin cancer whatsoever.
Instead, the significance lies in understanding some of the full-body effects of skin cancer and reiterating the importance of the gut-skin axis. Nevertheless, more research is needed to confirm these findings, as well as offer specific actionable remedies for those already diagnosed with skin cancer.
5 tips to improve skin & gut health
Regardless, it's well worth the effort to keep your gut and skin happy whenever possible. Below, some tips to keep in mind:
Wear SPF every day: Over 90% of skin cancers are caused by the sun, so preventing melanoma from forming starts with sun protection. Wear your SPF every day, avoid excessive sunbathing when you can, and tend to your skin post-sun exposure to replenish moisture.
Consider taking a probiotic: On the gut health front, keeping a probiotic on hand is a good idea. Popular benefits generally include improving digestion and regularity, easing inflammation5 in the body, and even balancing cholesterol levels6 (just to name a few).
Prioritize diversity of natural foods: Even if you take probiotics, you should still try to get an array of balanced foods on your plate when possible. The more diverse your diet is, the higher chance your gut will follow suit.
Get enough sleep: As one 2019 study in PLOS One7 notes, "Growing evidence suggests that the gut microbiome can influence sleep quality. We found that total microbiome diversity was positively correlated with increased sleep efficiency and total sleep time." Prioritize better sleep in whatever way works for you, be it an allotted wind-down time, skipping social media before bed, etc.
Talk to your dermatologist: Last but not least, have an open conversation with your dermatologist if you're concerned about the development or progression of skin cancer. It's a great practice to get annual skin checks if possible, but if not, be sure to speak up should you be concerned for any reason. Early detection can make a huge difference.
The takeaway
A new study found that melanoma patients had a different gut microbiome structure than those without melanoma, reflecting further differences between early- and late-stage melanoma. That's not to say stellar gut health will prevent or treat skin cancer. However, these findings may help physicians diagnose and treat melanoma in the future, and we can't ignore the power of the gut-skin connection. Not sure if your gut is thriving? Here are a few signs to look out for.
Hannah Frye
Assistant Beauty & Health Editor
Hannah Frye is the Assistant Beauty & Health Editor at mindbodygreen. She has a B.S. in journalism and a minor in women's, gender, and queer studies from California Polytechnic State University, San Luis Obispo. Hannah has written across lifestyle sections including skin care, women's health, mental health, sustainability, social media trends, and more. She previously interned for Almost 30, a top-rated health and wellness podcast. In her current role, Hannah reports on the latest beauty trends and innovations, women's health research, brain health news, and plenty more.