Plan For A Meatless Monday With These Plant-Based Meatballs
mbg Nutrition & Health Writer
By Eliza Sullivan
mbg Nutrition & Health Writer
Eliza Sullivan is a food writer and SEO editor at mindbodygreen. She writes about food, recipes, and nutrition—among other things. She studied journalism at Boston University.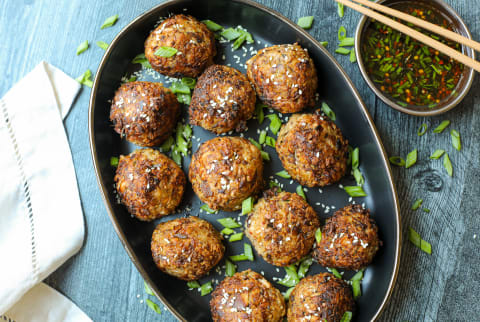 Image by Sarah Thomas-Drawbaugh / Contributor
August 22, 2020
Even if you're not following a wholly plant-based diet, embracing a meatless Monday can be a great way to join in on the practice on occasion. But just because you're going meatless doesn't mean you have to skip your favorite dishes.
These Asian-inspired "meatballs" from Sarah Thomas-Drawbaugh of Healthyish Foods are a great example of a meatless version of a favorite and draw on common meat substitutes—jackfruit and mushrooms—for a flavorful dish that may just earn a place on your regular rotation.
"I wanted to make a vegan meatball that was light, healthy, and delicious," she told mindbodygreen. "I have always been inspired by Asian cuisine and tried my hand at using Asian flavors to make an umami-packed meatball."
You may be tempted to swap out shiitakes for a different mushroom you have on hand, but you'd be better off not doing so: "I would recommend sticking with the shiitakes. They are known for their meaty quality and earthy flavor," says Thomas-Drawbaugh.
Not sure how to turn this into a meal? She recommends either making them as a starter or pairing them with a side of roasted vegetables or a quick fried rice for a perfect dinner.
Plant-Based Jackfruit and Shiitake Meatballs
Ingredients
21.2 ounces jackfruit
7 ounces shiitake mushrooms
2 tablespoons soy sauce
1½ tablespoons ginger (minced)
1 tablespoon garlic (minced)
2 tablespoons fresh chives (finely chopped)
⅓ cup shallots (finely diced)
1 cup panko breadcrumbs
½ teaspoon salt
Few cracks of fresh black pepper
Pinch red pepper flakes, optional
½ cup vegetable oil (used for frying)
1 tablespoon warm water
2 teaspoons coconut sugar
2 tablespoons soy sauce
½ tablespoon sesame oil
½ tablespoon rice vinegar
½ teaspoon red pepper flakes
Fresh chopped chives
Method
Preheat the oven to 350°F.
Gently spray a baking dish with cooking spray. Set aside.
Remove the jackfruit from the box. I used 2 boxes of Upton Naturals original flavor jackfruit for this recipe.
Drain the brine and rinse the jackfruit in a colander.
Pat dry and remove the seeds.
Add the jackfruit to the food processor and give it a quick chop. You do not want to over-chop it, or it will get mushy. You want it to look like canned tuna pieces when it's ready.
Remove the jackfruit from the food processor and, using a paper towel, press out all extra moisture.
Place the jackfruit in a large mixing bowl.
Next, you'll give the shiitake mushrooms a quick chop in the food processor. You want the pieces to be small but not mushy.
Add the shiitake mushrooms into the bowl with the jackfruit.
Next, you'll add the panko breadcrumbs, fresh minced garlic, fresh minced ginger, shallots, soy sauce, chives, salt, pepper, and red pepper flakes. Stir until well combined.
Form the mixture into meatballs. I was able to get 12 medium-size meatballs.
In a small skillet, heat the vegetable oil. Once the oil is hot, begin to brown the meatballs on both sides. Only add three meatballs at a time so you do not overcrowd the pan.
Once the meatballs are browned, place them on a paper towel to absorb any excess oil.
After all of the meatballs are browned, add them to your prepared baking dish.
Cover with foil and bake for 20 minutes or until they're hot all the way through.
Combine the warm water and sugar together. The warm water will help the sugar dissolve. Next, add the sesame oil, rice vinegar, soy sauce, red pepper flakes, and chives. Stir until well combined.
Once the meatballs are nice and hot, top with scallions and sesame seeds. Serve with the dipping sauce and enjoy!
Eliza Sullivan
mbg Nutrition & Health Writer
Eliza Sullivan is an SEO Editor at mindbodygreen, where she writes about food, recipes, and nutrition—among other things. She received a B.S. in journalism and B.A. in english literature with honors from Boston University, and she has previously written for Boston Magazine, TheTaste.ie, and SUITCASE magazine.