paid content
 for

Pet Parents, We Cleared Up 5 Myths About A Raw Dog Food Diet. Here's Why We're Relieved
Image by swell visuals / Stocksy
November 15, 2021
As pet parents, we can all agree on one thing: We only want what's best for our pup. But between all the emerging trends and ever-evolving research, it's easy to feel confused about what's true and what's false when it comes to dog health. Because diet is always the first line of defense, we decided to home in on debunking the myths that stand between us and a well-fed pet. Specifically, we took a closer look at the raw food diet, with the help of Instinct Pet Food, to investigate five main myths surrounding how we should be feeding our dogs:
Myth #1: Raw dog food is inferior to kibble.
Many pet parents assume that kibble is the better choice for their dog. But in reality, raw dog food, like Instinct Raw, offers many health benefits that kibble does not. A raw food diet incorporates natural, whole-food ingredients that are never cooked or heated; this means the nutrients are kept intact, translating to a higher nutritional value. Research has shown that raw dog food supports healthier cholesterol levels and lowers the chances of developing inflammatory bowel disease (IBD)1, as well as environmental allergies2, in adulthood.
Myth #2: The same raw food can be fed to puppies and adult dogs.
Many raw pet foods are balanced for "all life stages," meaning they can be fed to both adult dogs and puppies—but that's not necessarily best. Puppies grow quickly, maturing to adulthood within one to two years. For optimal health and development during that short period, proper nutrition is critical. That means we should be feeding our furry loved ones a diet that specifically supports the nutritional needs of a growing pup—which are different from those of an adult dog. For instance, Instinct Raw's puppy formula consists of responsibly sourced ingredients like natural DHA for eye and brain development, cage-free chicken for healthy muscle and bone growth, calcium and phosphorus for strong bones and teeth, and more.
Myth #3: Raw dog food is dangerous.
It's true that preparing raw food yourself poses a few potential health risks. For starters, sufficient research is needed to understand exactly what nutrients must be included in your dog's meal. Another main concern is the possibility of harmful pathogens if the raw meat is not treated properly—a process that is difficult to do at home, especially without compromising the nutritional value.
But if you leave it to the experts and feed a premade raw meal like Instinct Raw, you can rest easy knowing your dog's food is perfectly safe and nutritionally balanced. Instinct uses cold-pressure technology (aka high-pressure processing, or HPP) to ensure their raw food formulas are safe and free from bacteria. Their raw food is also prepared, produced, and handled to the highest possible food safety and quality standards, making them the only raw pet food company in North America to achieve an "excellent" Safe Quality Food (SQF) food safety rating.
Myth #4: The raw diet is more time-consuming.
Although some people are aware of the benefits of raw dog food, they may not have made the switch yet because they are under the impression that it requires more prep. But actually, the raw diet can be very quick and easy. With complete and balanced nutrition crafted by experts, Instinct's Raw Bites come prepared frozen and are ready to scoop and serve after only a few minutes of thawing. Easy-peasy—and worth it for a happy, healthy pup!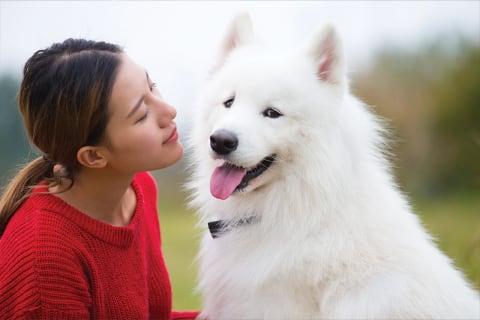 Myth #5: Raw dog food is just a fad.
Some may initially believe that raw dog food is just a way of capitalizing on the human diet fad craze. But the truth is, raw dog food has a higher nutritional value, offers long-term health benefits (see myth #1), increases mealtime excitement, and promotes more pettable skin and coat. Despite the research, as well as the personal reports from raw-feeding pet parents, ultimately the proof is in the pudding. If you're still skeptical, test out the raw diet on your dog to witness the benefits firsthand. But buyers beware... Side effects may include excessive tail-wagging, anticipatory mouth-watering, and howls of excitement.
Look to the facts.
The dog food industry can be just as overwhelming, if not more so than the human food industry—particularly because our barking BFFs can't communicate how they're feeling or what they like. With new health information and dog food brands coming out every day, it's hard to know whom to trust and where to start when it comes to your pup's health. But turning to current research in combination with trusted testimonials is the best way to make educated food choices for our four-legged friends. At the end of the day, the most important thing is their health and their happiness—and it's up to us to make that happen.

Ryan Brady
Ryan Brady is a Freelance Writer at mindbodygreen. She received her B.A. in Visual Arts from Yale University and her M.A. in Clinical Psychology with concentration in Spirituality and Mind-Body Practice, from Columbia University.
Ryan is passionate about holistic health, fitness, and spiritually-centered living. She loves using her knowledge and personal experience to help others improve their well-being. She brings this passion to her writing, as well as to her work at the wellness centers she owns in Atlanta, GA. When she's not working, Ryan can be found traveling, spoiling her dog, or experimenting with gluten free, dairy free baking.