paid content
 for

The Pet Food That Passed This mbg Pet Parent's High Standards
Advertisement
This ad is displayed using third party content and we do not control its accessibility features.
As a nurse who's passionate about working out and busy taking care of her two dogs, Leo and Arbor, nutrition is super important to Becky LaChance. But just like feeding herself the right food helps her life run more smoothly, Becky knows that her two pups also greatly benefit from wholesome, minimally processed food. That's why she turned to Instinct Raw to better support the unique health needs of Leo and Arbor. Between Leo's weight management and Arbor's sensitive belly, she's found that a raw food diet is the most supportive option. And after a regular raw diet, not only are her pups more excited come mealtime, but they have more healthful energy throughout the day. "Leo and Arbor are everything to me," Becky says. "I call them my best friends." And it's only the best food for our best friends.
Instinct® Raw Frozen Bites Real Beef Recipe
Instinct Raw Real Beef Recipe is protein-packed with 85% meat and organs and 15% non-GMO vegetables, fruits, and vitamins & minerals. We use whole-food ingredients like real beef and never include grain, corn, wheat, soy, artificial colors, or preservatives. We believe in the power of raw nutrition because we know the good it can do. Unlock your dog's potential to thrive with Instinct Raw.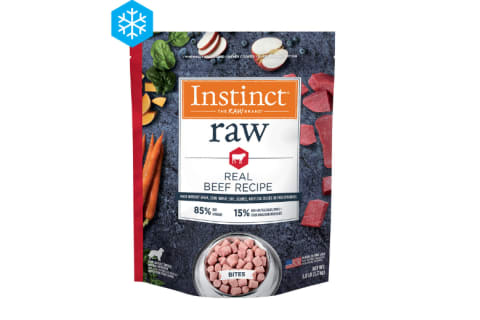 Advertisement
This ad is displayed using third party content and we do not control its accessibility features.

Becky LaChance
RN, BSN, CPT
My name is Becky LaChance. I'm a critical care nurse, certified personal trainer, marathon runner, and dog mom living in Southern California. I moved out to California over 7 years ago as a travel nurse. After living on the west coast for a few years started running marathons and fell more in love with health and fitness. I eventually became certified as a personal trainer to help others reach their health and fitness goals.
Currently I am working part time as a nurse in the ICU and working with personal training clients online. I also spend my time sharing my love for health and fitness on my blog and Instagram- @becksliveshealthy, along with hanging out with my sweet dogs, Leo and Arbor.