On The Heels Of Olympic Gold, Runner Peres Jepchirchir Shares How She Prepared For The 50th NYC Marathon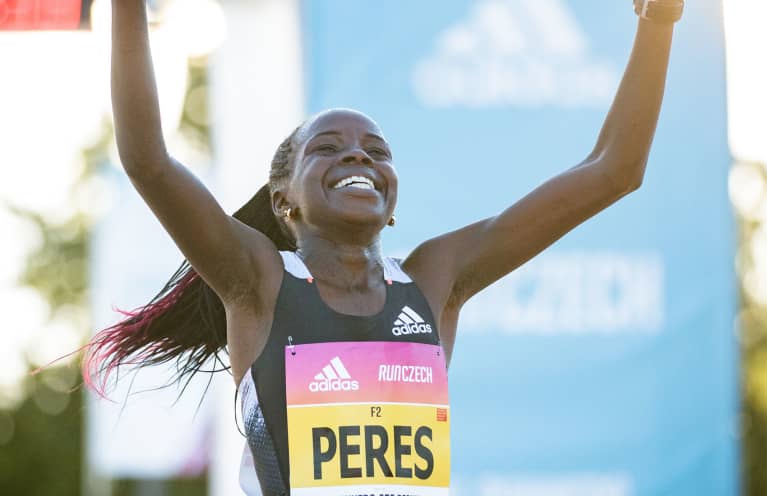 Our editors have independently chosen the products listed on this page. If you purchase something mentioned in this article, we may
earn a small commission
.
November 7, 2021 — 11:03 AM
If you watched the Tokyo 2020 Olympic Games, you may have seen Peres Jepchirchir power her way to a gold medal, in an incredible marathon race. Today, Jepchirchir is competing in the 50th New York City Marathon—hoping for another victory.
After starting the sport as a child, Jepchirchir now holds the half-marathon world record, in addition to Olympic gold. Her rise in the running world has been a true inspiration to runners in her home country of Kenya and all over the globe.
In fact, that's why adidas chose her for their new Impossible Is Nothing campaign, which spotlights what sports enable us to do (on and off the pitch, court, track, or field), through the lens of athletes' incredible stories.
"We are proud to partner with Peres to tell her story from growing up running as a young girl, rising through the ranks to fulfilling her dream of running in NYC, proving anything is possible," Jennifer Thomas, director, sports marketing at adidas shared in a statement.
Before toeing up to the marathon starting line—sporting her favorite adidas Adizero Adios Pro 2 sneakers—mbg had a chance to chat with Jepchirchir about her training, motivation, and ways running has transformed her life.
On what she learned from Tokyo that she will take to the NYC marathon.
"I'm grateful to be on the starting line of the New York Marathon, which has been one of my dreams. Every race is a different race, and I'm more confident in myself after Tokyo. But without tough preparation, you cannot win another marathon. Just because I'm the Olympic Champion, that doesn't mean the other athletes will allow me to win the next race. They will be more motivated to beat me."
On her training and preparation for race day.
"I wake up early in the morning every day and work on getting better for the race. You can't just wake up one day and decide to win—preparation is so important. My training is different each week, depending on my program, but it includes various long runs, speed walking, and strength training in the gym."
On her approach to balancing mental and physical prep.
"The balance is to train hard and to listen to your body and give your body some rest. That is often not easy because the volume of training is very high and the intensity is also sometimes high. Sometimes it's also about luck because you can never be prepared for what challenges you may face during each run."
On her motivation during a difficult run.
"Mentally, you also have to be tough to push you over the limits. My family is my biggest motivation and also my passion for building my future with my sport."
On her recovery plans post-race.
"After the New York City Marathon, I'll go back to Kenya to relax and spend with my family before I start my training for next year. I'm going to rest for a couple of weeks, then I'll start my buildup at the gym in December and begin my running training by January."
On the ways running has transformed her life.
"Running has changed a lot of my life. It has improved my living standard and my family's living standard. Running has also helped me be a better person."
On why running makes her believe all things are possible — and what that means beyond racing.
"Nothing is impossible if I trust and believe in myself. This year I won at the Olympics, which was a great honor for me. And I know I'm going to continue to do great things."
"In the future, I see athletics becoming a sport with more younger people involved. The second possibility I see is making more people knowledgeable about athletics across the world. Lastly, I see possibilities in boosting the credibility of sport."
(If you're feeling inspired to start racing, check out our running guide for beginners.)