A Pro Runner On Training For The Olympics & Becoming A New Mom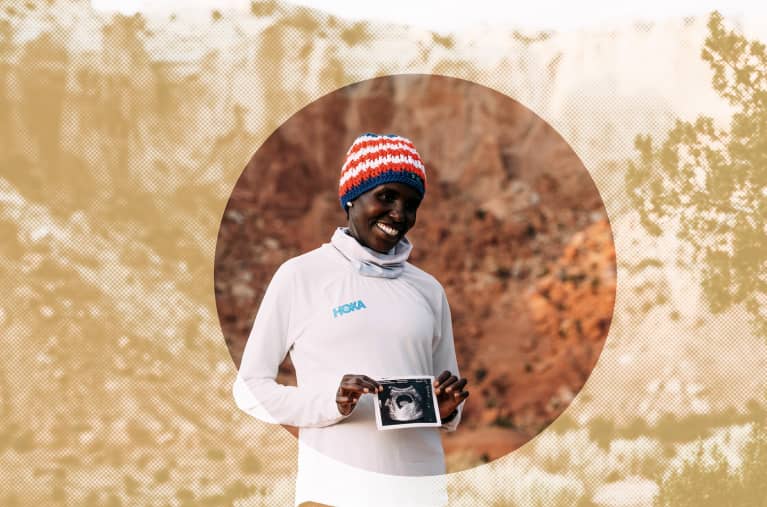 Our editors have independently chosen the products listed on this page. If you purchase something mentioned in this article, we may
earn a small commission
.
March 30, 2021 — 13:09 PM
On February 29, 2020, Aliphine Tuliamuk placed first in the U.S. Olympic Marathon Trials—and prepared to run the biggest race of her career in five months' time. But when the Tokyo Olympics were postponed due to COVID-19, Tuliamuk's plans dramatically changed.
As many Olympic qualifiers continued prepping for the rescheduled race, Tuliamuk juggled her training with another goal: motherhood.
In the window of time between the announced postponement and the rescheduled Olympics, the athlete and HOKA One One sponsor made the decision, along with her partner, to get pregnant.
After giving birth to a baby girl in January, the first-time mother and soon-to-be first-time Olympian, is easing back into training. We had the chance to chat with Tuliamuk about how she's experiencing life-altering changes, the joy of motherhood, and her advice for easing back into training postpartum—elite athlete or not.
First of all, congratulations on the newest member of your family! What's one thing you've learned from motherhood that you weren't expecting?
Although I was always excited to be a mom, I have been amazed by the overwhelming feeling of love I have for my daughter. I love my daughter more than life itself and will do anything for her and to protect her. In fact, I am having a hard time trusting people to take care of her, which makes the future with babysitting that much harder.
Within the past year, you learned about the postponement of the Olympics and made the decision to start a family. How did you cope with the change of plans?
At first, I was disappointed that I would not have the opportunity to run at the Olympics. I worked so hard to earn the honor of becoming an Olympian, and it hurt to know that it might not happen. That being said, with so many families being affected by COVID-19, I had to keep my own challenges in perspective.
When we realized the Olympics would not be happening in 2020, my fiancé Tim and I decided to start a family, and our daughter Zoe was born this past January. We did the best we could to stay positive and make the best decisions in a very challenging time. In the long run, we are very happy with our decisions; the risk paid off.
What does your training schedule look like now postpartum?
I took it easy the first two months after my pregnancy. I didn't do any running, but when my body was feeling up for it I went to the gym to lift light weights and ride the elliptical.
After about eight weeks of no running, I am now beginning to run again, just to get back into the rhythm of the movement and to reconnect with the joy of running. I still have plenty of time for the long runs and hard training sessions that will come later.
What advice do you have for new moms (elite athletes or not) who are trying to get back into an exercise routine?
First, remember that you are stronger and more capable than you may realize. Being a mom does not mean the end of your fitness life; it's just a new phase.
Take your time getting back into shape, and always prioritize being consistent and good health; listen to your body, and remember it just did an amazing thing creating, growing, and birthing a whole human being.
I tell my partner Tim and the people in my life how they can help me be a great mom to baby Zoe while still training full time. Communication is key.
Finally, how are you feeling about the summer Olympics?
I'm excited to compete against the best in the world and to represent Team USA. I consider going into the Olympics as a new mom a strength that will help me when the race gets tough, which I know it will. I'm hoping to surprise people including myself with my performance in Tokyo.