paid content
 for

Now You Can Sip Your Way To Better Skin — Here's The Brand That's Making It Possible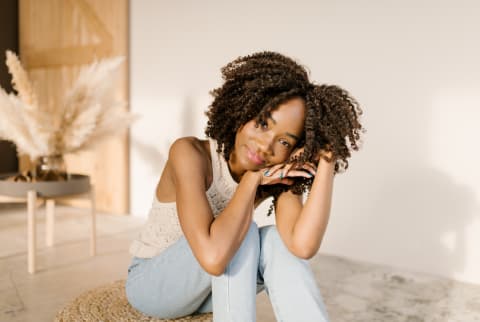 Image by Julia Volk / Stocksy
June 17, 2022
At this point most of you probably already know that skin care isn't just about what you put on your body but also about what you put in it. You can lather on all the serums you want, but your topical routine will only get you so far. When it comes to achieving healthy, glowing skin, nutrition plays a large role. That's why skin care supplements have become so popular in recent years.
The problem is, the supplements keep piling up. And when your mornings are tight, this can quickly become a time-consuming routine. Based on how extensive your routine is—having to unscrew, dispense, and swallow close to a dozen pills won't fly when you're racing out the door! That's why we were stoked to learn about Blueshift Nutrition, the brand that's ushering in a new wave of supplements. Thanks to Blueshift, you can now consume an array of skin-loving ingredients in one delicious, supplement-infused beverage.*
More skin care support, better hydration.
With over 30 wellness blends available, Blueshift's "pods" are packed with up to 10 times the amount of active ingredients in traditional pills and gummies—perfectly portioned with optimal doses of each. Specifically, their Skin Defense Plus combines 23 carefully curated ingredients that promote even skin tone, help shield from free radical stress, and support younger-looking skin from the inside out.* Not to mention, its "hibiscus orange" flavor is surprisingly delicious—aka something you'll actually look forward to drinking!
Another added bonus? Mixed with the power of H20, Blueshift's supplement pods encourage regular hydration, which offers skin benefits1 in itself. Just peel back the pod, pour it into cold water in the bottle of your choice, shake, and enjoy! You can also snag Blueshift's optional auto-blending Wellness Bottle, which features a colorful ring light that actually reminds you to drink up and celebrates hydration wins. PLUS its three-pod shifter makes it easy to dial a drink so your next hydrating health boost is always locked and loaded.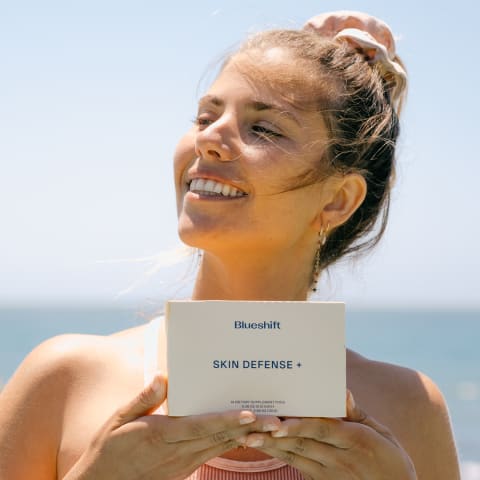 Image by Blueshift Nutrition / mbg Contributor
Sippable ingredients.
We've established that nutrition is key to maintaining healthy skin. And while traditionally, more skin-benefiting ingredients meant more pills, Blueshift Nutrition is shaking up that concept with an option that's a lot more convenient and flavorful. With their Skin Defense Plus formula, you're receiving over 20 unique nutrients, phytonutrients, and bioactives infused into one tasty drink, without the hassle or the added sugar. It's a potent blend that everyone can benefit from—@men, that means you too! Here's a sneak peek at some of the all-star ingredients you can expect to be sipping on:
Drink up to glow up.
Up until now, skin care has been quite a production. Whether it's your topical six-step routine or a lineup of pills, powders, and gummies that accompany breakfast, supporting your skin has never been this easy—nor has it ever been this tasty and affordable! Not only is Blueshift Nutrition incredibly convenient, but you'll also spend less than you would on your traditional supplements. Win, win.
With a Blueshift supplement bevvy in hand, your morning commute is about to get a whole lot more productive. Skin support with a side of hydration? Check and check. Glowing skin, here we come!*
*These statements have not been evaluated by the Food and Drug Administration. This product is not intended to diagnose, treat, cure, or prevent any disease.

Ryan Brady
Ryan Brady is a Freelance Writer at mindbodygreen. She received her B.A. in Visual Arts from Yale University and her M.A. in Clinical Psychology with concentration in Spirituality and Mind-Body Practice, from Columbia University.
Ryan is passionate about holistic health, fitness, and spiritually-centered living. She loves using her knowledge and personal experience to help others improve their well-being. She brings this passion to her writing, as well as to her work at the wellness centers she owns in Atlanta, GA. When she's not working, Ryan can be found traveling, spoiling her dog, or experimenting with gluten free, dairy free baking.