Nest Owl Latex Hybrid Mattress Review: Is This Customizable Mattress Too Good To Be True?
Written by
Kelsea Samson
Kelsea Samson is a writer, content manager, certified yoga instructor and founder of The Mindfulness Program for Kids and Yoga for the Blind in Tampa, Florida.

Medical review by
Scott Nass, M.D., MPA, FAAFP, AAHIVS
Board-certified Family Physician
Scott Nass, M.D., MPA, FAAFP, AAHIVS is a family physician and HIV specialist in California. He takes a holistic approach to healthcare, incorporating principles of functional medicine and using food as medicine when working with patients.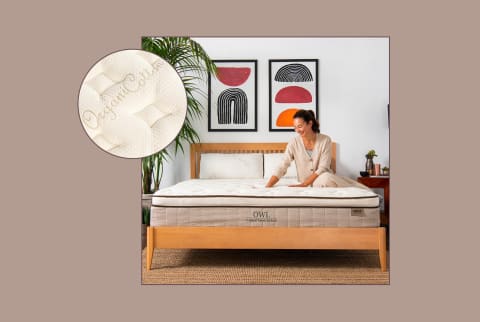 June 3, 2023
We carefully vet all products and services featured on mindbodygreen using our
commerce guidelines.
Our selections are never influenced by the commissions earned from our links.
If you like a mattress that's cooling and better for the planet, natural latex is what you should be searching for. The material is supportive-yet-plush, naturally breathable, and cooling. Latex is significantly more eco-friendly than memory foam and other synthetic materials commonly found in mattresses. While there's a slew of latex hybrid mattresses to choose from, our editor has been eyeing one in particular. Read our Nest Owl Latex Hybrid mattress review to find out what sets this design apart.
A solid choice if you prefer the feeling of floating on top of your mattress rather than sinking into it, the Nest Owl Latex Hybrid mattress checks a lot of boxes. Our editor has been on the hunt for the perfect eco-friendly mattress, and has struggled to find something that meets those standards, but still has her desired firmness and feels good to sleep on. After all, a good night's sleep with minimal interruptions has short and long-term health benefits1, including decreased stress, pain, depression, anxiety, cognitive decline, and performance deficits.
In our review of the Nest Owl Latex Hybrid mattress, we'll show you how it holds up in a series of tests and give you more details about what makes this hybrid mattress so unique.
Nest Owl Latex Hybrid pros & cons:
Pros:
Various firmness options
Breathable design
Generous trial and lifetime renewal exchange for the comfort layer
Customizable design
Cons:
Could be more eco-friendly
The Nest Owl Latex Hybrid at a glance:
Who should try it:
People who aren't sure what level of firmness suits them best will benefit from the removable comfort layer that allows you to adjust the firmness throughout the lifespan of the mattress. Also, back, stomach, and combination sleepers will most likely love the lifted feeling of latex foam, and hot sleepers will appreciate the breathable design.
Who should skip:
The medium-firm mattress could be a touch too firm for side sleepers and may not provide enough pressure relief around the hips, which could result in feeling out of alignment. Some strict side-sleepers may even appreciate the firm option for a softer latex layer, though we'd still explore the Plush instead. The bouncier feel of latex can also be a deterrent for those who prefer to sink into a cloud-like mattress.
What is Nest?
Nest Bedding is a luxury mattress and bedding company that hangs its nightcap on quality and transparency. Terms like "organic," "green", and "eco-friendly" can feel like overused buzzwords, but Nest does back them up with a few basic certifications. The mattresses are OEKO-TEX Standard 100 and CertiPUR-US-certified, which means they're tested to meet strict safety standards and made without ozone depleters. If you've read any other mattress reviews on our site, you'll know that's the bare minimum of safety standards. Nest mattresses have also been acknowledged for their outstanding quality and eco-friendliness by Fair Trade and the Global Organic Latex Standard (GOLS)—but all in all, we aren't blown away by the brand's certifications.
That said, Nest's Lifetime Renewal Exchange and generous trial programs are definitely something to write home about. If you decide your mattress is too firm or too soft at any time, you can swap it out for free as part of the brand's Renewal Exchange program. As the latex breaks down (or you potentially switch sleep positions), you can swap out the single removable piece instead of trading in your full mattress. This can actually save you money in the long run by extending the lifespan of your mattress—another sustainability win!
Additionally, a generous 365-night trial begins from the date of delivery. This means free returns within one year, so you have time to make sure you truly love your investment.
How is the Nest Owl Latex Hybrid Mattress made?
The Owl Latex Hybrid is a customizable mattress made using some non-toxic materials. Like every mattress the brand sells, the Owl Latex Hybrid is made in Phoenix, Arizona. All materials are sourced in the United States. The hybrid design has a steel coil base and a natural latex topper covered in organic cotton and wool. We love latex foam here at mindbodygreen because it's sourced from the sap of rubber trees, making it a natural, non-toxic alternative to synthetic foams.
Memory foam mattresses are often made with synthetic, polyurethane-based materials, which is what gives them their cloud-like cushion. While, yes, sleeping on a cloud is enticing, these toxic materials can wreak havoc on your health2 and the health of our planet. Latex mattresses (like the Owl!) use organic, sustainably sourced materials to minimize environmental impact.
Thanks to its comfort layer (aka the star of the show), the Owl is renewable. This removable layer is what's responsible for the Owl's customizable firmness.
To start, the Owl Latex Hybrid comes in three firmness levels: plush, medium, and firm. We had the medium-firm option in our studio to test. The base of the Owl Hybrid is made from a layer of support foam and individually wrapped steel coils. These offer support and keep air moving throughout the mattress to help regulate temperature. This breathability and temperature regulation is important for hot sleepers, who tend to overheat throughout the night.
On top of the coils is another layer of support foam, which is a buffer between the coils and the comfort layer. Thanks to these layers, this latex mattress takes the support factor up a notch, which landed this mattress' less-natural body double, the Sparrow, a spot on our picks for the best mattresses for low-back pain.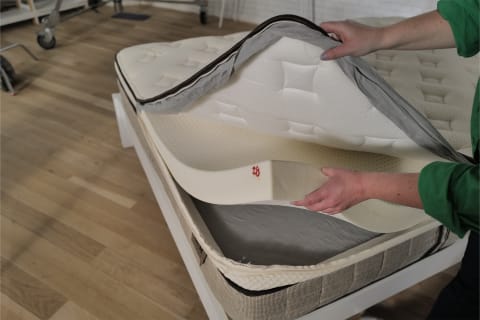 Features we love on the Nest Owl mattress:
Customization makes this hybrid mattress very unique. The removable and exchangeable comfort layer allows you to adjust its firmness after sleeping on it. This is a huge plus if you aren't sure your desired firmness level. Research that points to medium-firm as a good pick for most sleeping positions3, but honestly, the best mattress is the one that you actually like sleeping on—and our editors loved the Owl.
Hybrid latex mattresses are naturally more breathable than all-foam mattresses. Nest's Owl takes things a step further with an extra-breathable design that stops hot sleepers from needing to shed layers mid-slumber. The layer of support foam and individually wrapped steel coils keep air flowing throughout the mattress to regulate your temperature.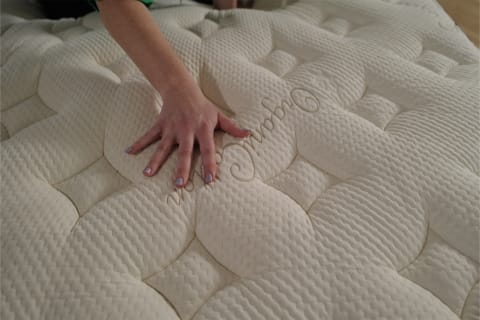 How firm is the Nest Owl Latex Hybrid mattress?
With the Owl Latex Hybrid, you can choose between three firmness levels: plush, medium, and firm. Our team tested the medium-firm option, so any feedback we have about sleep positions is tailored specifically to this design. We didn't test any interchangeable layers yet, but you will have that option at home. Medium-firm mattresses are often the most recommended option by experts for pretty much almost all sleep positions. This particular mattress lands somewhere between a 6 and an 8 on a firmness scale of 1 to 10.
According to our testing team, the medium-firm design offers enough support to keep your spine aligned in all sleeping positions, at least for short periods of time. However, the medium-firm option could be a touch too firm for people who sleep on their sides for the entire night. There isn't a huge amount of pressure relief around the hips, so strict side sleepers might want to opt for the plush model. The firm design would be a great option for those who sleep solely on their backs or stomachs, and for larger-bodied sleepers.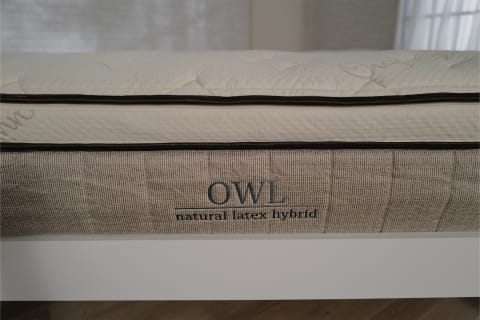 Nest Owl sizes, cost, and measurements
| Size | Price | Dimensions | Weight | Coil Count |
| --- | --- | --- | --- | --- |
| Twin | $1492 | 38" W x 75" L x 12" H | 60 lbs | 544 |
| Twin XL | $1759 | 38" W x 80" L x 12" H | 65 lbs | 582 |
| Full | $2079 | 54" W x 75" L x 12" H | 70 lbs | 712 |
| Queen | $4145 | 60" W x 80" L x 12" H | 100 lbs | 852 |
| King | $2346 | 76" W x 80" L x 12" H | 120 lbs | 1032 |
| California King | $2666 | 72" W x 84" L x 12" H | 120 lbs | 1024 |
| Split California King | $2666 | 36" W x 84" L x 12" H (one side) | 65 lbs (per side) | 572 (per side) |
What size does the Nest Owl come in?
The Nest Owl mattress is available in all standard sizes, as well as twin XL, California king, and split California king. It's worth noting that a split option is offered in King and California King sizes only. With these sizes, you can select a custom feel for either side of the mattress—a great option for couples with different preferences! The exact measurements for each mattress are below.
How much does this Nest Owl Hybrid Latex mattress cost?
The Nest Owl Latex Hybrid starts around $1,500 for a twin-sized mattress and increases up to nearly $2,700 for a California King. That's a little more expensive than similar beds from mattress brands Avocado, WinkBed, Saatva, and Birch. But, if you consider the longevity of this mattress thanks to its renewable comfort layer, that higher price might be worth it. The brand also offers discounts regularly.
The best sleeping positions for this Nest Owl mattress:
We only had the medium-firm mattress to test in our studio, which we felt was too firm for side sleepers. However, the brand says the plush design is the best option for side sleepers. A softer surface allows the hips to be cradled as one rolls from one side to the other throughout the night. Medium and firm won't provide adequate pressure relief for the lower body, and could cause pain or misalignment.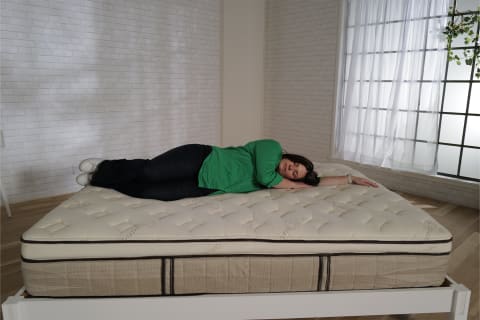 Stomach: Yes (medium-firm or firm)
Our product testers are combination sleepers by nature. They found the medium-firm mattress supportive enough for stomach sleepers—but it's worth mentioning that the brand recommends the firm design for stomach sleepers and those who need additional support. If you roll from your stomach onto your side throughout the night, the medium-firm will give you the best of both worlds.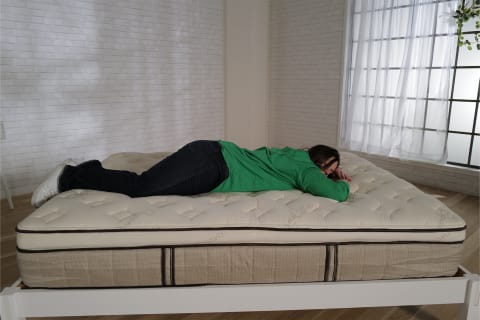 Back: Yes (medium-firm or firm)
Back sleepers will enjoy the firm support of this medium-firm mattress. The bounciness of the latex and coils helps this hybrid mattress cradle the lower body just enough, instead of causing you to sink into the mattress. If you're on the heavier side or sleep primarily on your back, the firm option is your best bet.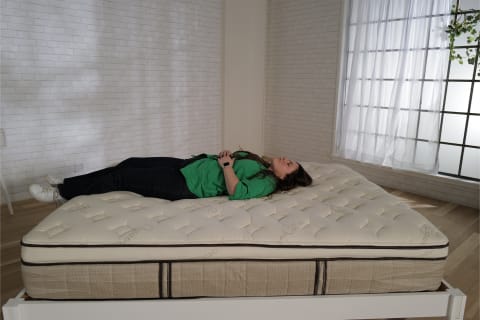 How the Nest Owl Hybrid Latex Mattress performs in testing:
Our motion transfer test measures how well this mattress isolates movement by observing what happens to a jar of green juice while our tester walks toward it. If you share a bed with a partner or a pet, motion transfer can make a huge difference in your sleep quality. If you have a partner on a different sleep schedule, or who tosses and turns in their sleep, you know how disruptive it can be to your sleep. A mattress with good motion isolation can minimize this disruption.
Our testers were impressed by this bed's motion isolation, especially considering that latex tends to be more bouncy. If you're sleeping solo or you and your partner don't move much throughout the night, this mattress would stand up to the test. But if you're a very light sleeper, it might not muffle movement quite enough.
If you share a bed with a partner or want to get the most real estate out of a small mattress, edge support is a critical factor when considering which mattress to buy. Our editor tested the Owl's edge support by lying down on the edge of the bed in the three positions to see whether she felt supported or not. Even with the reinforced coils, edge support wasn't anything special on this mattress. Though it's an improvement from many softer mattresses we've tried, our team wasn't blown away.
Our bounce-back test evaluates how springy a mattress' surface is and how quickly it regains shape. Both are key factors in being able to switch positions easily and in determining how the bed will hold up over time. To test, we dropped a 35-pound weight onto the mattress and noted the bounce and how quickly the mattress returns to its original shape once the weight is removed. The results were shocking!
When our testers dropped the dumbbell on the mattress, the weight really sank into the surface, indicating stellar responsiveness. During testing, our team felt they could easily bounce between positions—but the dumbbell proved there was little bounce.
In the second part of the test, we removed the weight. The mattress regained its shape quickly, which is a sign that this bed will keep its support and not sag over the years. Pro tip: You can rotate and flip the comfort layer every few months to help distribute the wear on the latex or replace it when the time comes!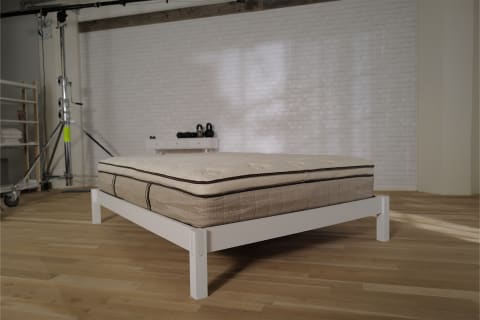 The takeaway
All in all, the Nest Owl Latex Hybrid Mattress passed our test with flying colors. With various firmness options, a breathable design, and a generous trial and lifetime renewal exchange for the comfort layer, our testers were fighting over who got to take this one home. Still, this mattress is a little more expensive and has fewer certifications than other latex hybrids we've reviewed. If sustainability is your main priority, check out our picks for the best organic mattresses or our guide to buying a nontoxic mattress.
Meet The Experts
Kelsea Samson
is a writer, content manager, certified yoga instructor and founder of The Mindfulness Program for Kids and Yoga for the Blind in Tampa, Florida.
Scott Nass, M.D., MPA, FAAFP, AAHIVS
is a family physician and HIV specialist in California. He takes a holistic approach to healthcare, incorporating principles of functional medicine and using food as medicine when working with patients.