This Veggie Stir-Fry Is Made In The Oven (And Takes Less Than 20 Minutes!)
mbg Contributor
By Caroline Muggia
mbg Contributor
Caroline Muggia is a writer, environmental advocate, and registered yoga teacher (E-RYT) with a B.A. in Environmental Studies & Psychology from Middlebury College.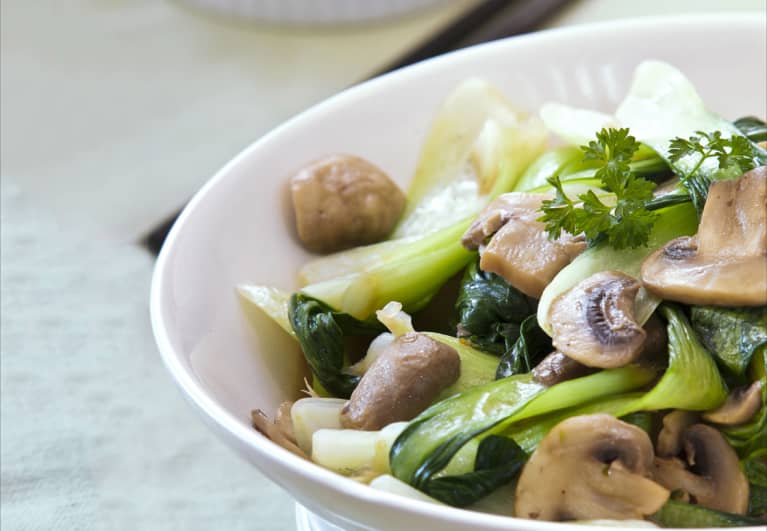 Our editors have independently chosen the products listed on this page. If you purchase something mentioned in this article, we may
earn a small commission
.
This mushroom, bok choy, and asparagus stir-fry recipe requires, in fact, no stir-frying at all. This new oven-method developed by Rukmini Iyer, author of the new cookbook Vegetarian Dinner's in the Oven and finalist on MasterChef, takes less than 20 minutes to throw together and alleviates typical stir-fry woes (e.g., uneven cook times, splattered oil, and a smoky kitchen).
We never turn down an opportunity to talk about mushrooms and this recipe is no exception. This stir-fry features shiitake mushrooms known to boost brain health and support adrenal health. You'll mix this in with bok choy, a favorite cruciferous veggie that promotes gut health and a balanced blood sugar.
This stir-fry also includes one of our top ten healthiest veggies: asparagus. Asparagus contains glutathione, a hard to find antioxidant that helps pull toxins out of the body. This anti-aging compound could also reduce the risk of chronic disease and improve immune functioning.
You can fit all of these healthy veggies in one layer on a broiler pan and feel free to get creative about how you want to serve them. Who knew you could bake a stir-fry?
Lime & Cilantro Mushrooms With Bok Choy & Asparagus
⅔ pound mini portobello mushrooms
¼ pound shiitake or mixed mushrooms
½ pound asparagus
½ pound bok choy
2 tablespoons sesame oil
1 teaspoon sea salt
Zest of 1 lime plus
2 tablespoons juice
1 tablespoon sesame oil
1 tablespoon soy sauce
⅔ cup fresh cilantro, roughly chopped
White or jasmine rice
This is perfect with rice for a light dinner when you're in a hurry. Use the biggest broiler pan you have so you can fit all the vegetables on it in one layer.
Preheat the broiler to its highest setting.
Spread out the mushrooms, asparagus, and bok choy in a single layer on a large broiler pan, then add the sesame oil and sea salt and mix well. Broil for 5 to 10 minutes, until the mushrooms are cooked through and the greens have just wilted.
For the dressing, mix the lime zest, juice, sesame oil, and soy sauce together and dress the grilled vegetables with it as soon as they come out of the oven.
Scatter with fresh cilantro and serve with rice.