This Festive Fungi "Pot Roast" Is A Thanksgiving Showstopper

Vegan Chef
By Stephanie Morgan
Vegan Chef
Stephanie Morgan is a chef and founder of Seabirds Kitchen—a vegan restaurant chain in Southern California.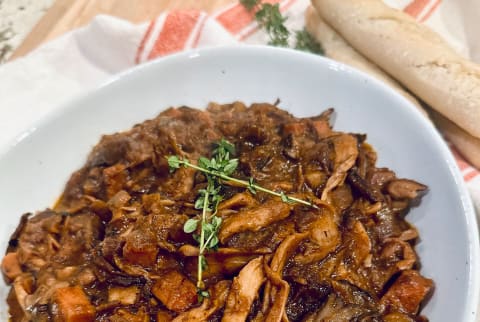 November 21, 2022
Pot roast is one of the comfort foods I grew up eating. Since giving up meat, it has been something I miss, and it's almost impossible to find a plant-based version on menus or in grocery stores. So I decided to make a vegan alternative to appease my cravings. And with Thanksgiving arriving shortly, it would be a great addition to any table of herbivores and omnivores alike.
To evoke the meaty quality of a roast, this recipe calls for trumpet mushrooms, whose stems shred just like shredded beef. I decided to use Maitake mushrooms as well because of their rich and deep flavor.
I left potatoes out of this recipe in hopes that it will be served alongside a giant bowl of mashed potatoes! If that's not in your plans, feel free to throw in some fingerlings, baby potatoes, or peeled diced russets when you add in the veg stock. Turnips or leeks would be great additions as well. Enjoy!
Vegan Mushroom Pot Roast
Ingredients:
24 oz trumpet mushrooms (I always love to use Hokto Kinoko brand mushrooms because they are consistently fresh; you can find them stocked at Whole Foods and Sprouts Market, among others.)
7 oz Hokto Miatake Mushrooms
2 carrots, chopped
1 white or yellow onion, diced
2 stalks celery, sliced thin
3 cloves garlic, chopped
2 tablespoons tomato paste
1 cup red wine
2 cups vegetable stock
4 sprigs fresh thyme
2 sprigs fresh rosemary
1 bay leaf
4 tablespoons olive oil
2 tablespoons all-purpose flour
2 tablespoons kosher salt
1 tablespoon black pepper
Method:
Start by gathering your mise en place: Weigh your mushrooms, chop your veg, combine the salt and pepper and keep them by your pot. Tie the herbs together to make a satchel. Measure out the remaining ingredients.
Break down the mushrooms: Slice the cap off the trumpet mushrooms. Remove a thin slice of the bottom of the trumpet mushroom and discard or use it to make a vegetable stock. Using a fork, shred apart the stem of the trumpet mushroom moving from top to bottom. They should break apart easily once they've been shredded. Slice off the bottom of the maitake, about ¼ to ½ inch. Break apart the mushrooms with your hands, keeping their natural shape.
Next, you'll cook your mushrooms (separately, since they all cook a little differently). Be sure to work in batches so as not to overcrowd the pan. Keep in mind, this is your only time to brown them and season them, so make sure they are cooked thoroughly and seasoned well.
Heat 1 teaspoon of olive oil in your pot over medium-high heat. When the oil is hot, add in the trumpet caps. Season liberally with salt and pepper. Allow the caps to release their liquid and brown. Flip them over and allow them to brown on the other side. Remove and set aside
Heat 1 teaspoon of olive oil in your pot over medium-high heat. Add in the maitake mushrooms and season liberally with salt and pepper. Gently toss so the oil coats them, then let them hang out and brown. Try not to disturb them much. Once brown on one side, give a gentle stir and let them brown some more. Remove and set with the caps.
Heat 1 teaspoon of olive oil in your pot over medium-high heat. Add in the shredded trumpet stems and season liberally with salt and pepper. These will release more water than the others and take the longest to cook. Let them hang out and release their water. Give a few gentle stirs, but don't mess with them too much. I prefer these to be very brown so they are less chewy. Taste to make sure they are to your liking, then remove and set with the other mushrooms.
In the same pot, heat 1 tablespoon of olive oil over medium heat. Add the diced onion, celery, and carrot. Cook until the onion is translucent, and then add in the garlic. Cook these veg down for 10 or more minutes, just until the onions start to caramelize and they give your pot some sweetness.
Reduce heat and add in the tomato paste and heat through.
By now your pot has probably built up some tasty brown bits. Pour in the red wine and use it to deglaze the pot, scraping all the bits up with your spoon. Let the alcohol cook out.
Turn the heat back up to medium heat and add in the veg broth and your herb satchel. Cover and allow to simmer for 10 to 20 minutes or until the veg is tender. Discard the herb satchel.
Remove half the veg and broth contents and puree it in the blender. Add back into the pot.
Add in your cooked mushrooms and bring to a low simmer.
Combine 2 tablespoons of olive oil with 2 tablespoons of flour. Whisk to combine. Add into the pot and bring to a simmer. This should thicken it a bit and give it a nice shiny look. Taste for salt and pepper.
You're ready to serve your roast! Eat right away or reheat it in the oven at 350 for 10 minutes. It will keep in the fridge for four days.

Stephanie Morgan
Vegan Chef
Stephanie Morgan is a chef and founder of Seabirds Kitchen—a vegan restaurant chain in Southern California.
After getting her degree in anthropology from the University of California San Diego, she started on a path of exploring the world of food waste, sustainability, consumption of meat and dairy, and its negative impact on our planet coupled with the rapidly growing population. She opened her first food truck in 2010, and soon appeared as a competitor on The Food Network's The Great Food Truck Race Season 2 in 2011.
Turning out creative plant-based fare, entirely made from scratch, from her food truck turned out to be a wise decision for the budding self-taught chef. She had lines around the block for her delicious Jackfruit Tacos and Beer Battered Avo Tacos. Morgan defied the perception that most people had of vegan fare at the time and the community wanted more.
She opened her first brick-and-mortar in Costa Mesa, CA in 2013 and now runs three Seabirds Kitchen locations in Southern California, where she maintains a focus on local, seasonal, and whole food ingredients, coupled with an imaginative menu. Morgan, aka Mama Bird by her team, balances her time running kitchens and being with family and friends including her daughter and husband.