Satisfy Chocolate Cravings With This Mood-Boosting, Collagen-Infused Fudge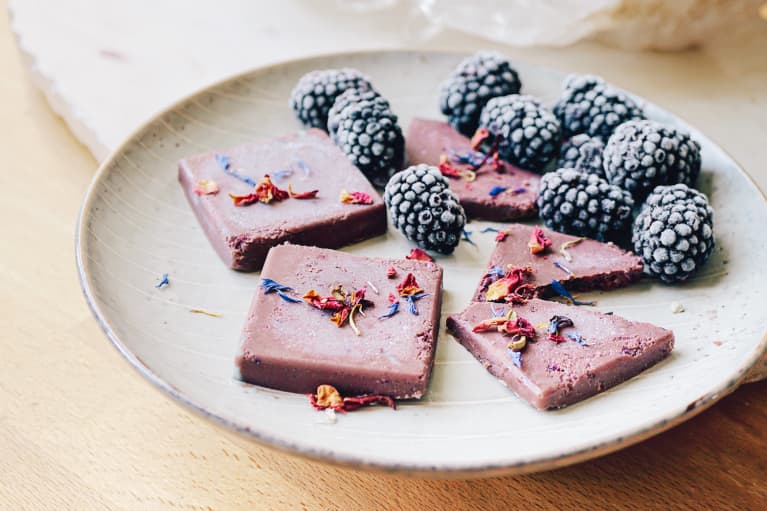 Do you crave chocolate every day like I do? Not that we need an excuse, but there are a few good science-backed reasons for it.
Cacao actually contains anandamide, a neurotransmitter produced in the brain that binds to the THC receptors. It's also known as the "bliss molecule"—named after ananda, the Sanskrit word for "bliss." Pure chocolate even produces a similar endocannabinoid receptor-stimulating effect on your body to CBD oil. And we can't forget magnesium! An ounce of dark chocolate contains 64 mg of magnesium—about 15% of the RDA—which has a naturally relaxing, anxiety-reducing effect on the body.
Pretty cool, right? So, it's only natural that we crave chocolate when we feel physical or emotional stress. But to get a legitimate mood boost, you need to opt for pure chocolate or high-quality cacao, which encompasses ceremonial cacao, cacao paste or powder, or 100% chocolate with no wonky additives—unfortunately, the same mood-boosting effects can't be replicated by a pint of chocolate ice cream.
As a recipe developer, I love creating simple recipes that harness cacao's amazing powers. So, in celebration of berry season, I've whipped up this delicious blackberry lemon chocolate fudge recipe that will transform how you think about homemade chocolate dessert. It includes only wholesome clean ingredients and collagen to keep you satiated (and maybe even boost the health of your skin and nails). Plus, it's incredibly easy to make!
Blackberry Lemon Cacao Fudge
⅓ cup fresh blackberries or frozen blackberries, thawed
⅓ cup cacao butter
3 tablespoons maple syrup
3 tablespoons cashew butter
2 tablespoons cacao powder
2 scoops (20 grams) collagen powder (optional)
3 drops food-grade lemon essential oil (or 1 teaspoon lemon zest)
Melt cacao butter in a double boiler on low heat.
Meanwhile, load the rest of the ingredients into a blender; blend until smooth.
Add melted cacao butter to the blender, and blend with other ingredients until smooth.
Pour the cacao mixture into molds (makes about 12 one-inch squares, ¼ inch thick).
Place fudge in the freezer for at least two hours. Serve with fresh berries. Store in the freezer for optimal texture. Enjoy!
Want to turn your passion for wellbeing into a fulfilling career? Become a Certified Health Coach! Learn more here.