Miranda Kerr's Trick For Full, Lifted Lashes Doesn't Require An Eyelash Curler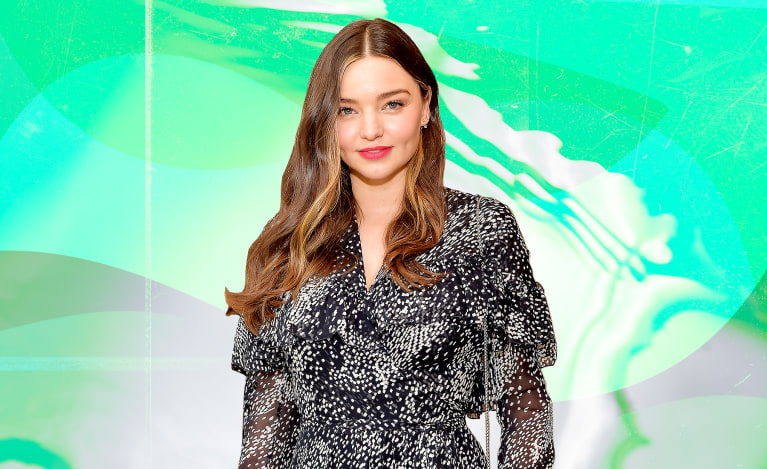 Our editors have independently chosen the products listed on this page. If you purchase something mentioned in this article, we may
earn a small commission
.
You're likely familiar with using kitchen materials for a host of quarantine-approved beauty projects—things like DIY masks, lip balm, even a fluffy shaving cream all originate from the fridge. But a kitchen-turned-beauty tool? It might cause some raised eyebrows.
Not for Miranda Kerr. The model and founder of KORA Organics is quite familiar with a creative kitchen hack or two. Namely, in the beauty tool department: "If you don't have an eyelash curler, you can actually curl your eyelashes with a spoon," she says in a YouTube video with Vogue. As she boasts a set of thick, lifted lashes, we had to consider giving the trick a try.
Yes, you can curl your lashes with a spoon.
Here's how to keep your curl all day long, à la Kerr. Whether you're in dire need of a curler replacement (the rubber cushion tends to last around three months) or have simply misplaced the handy tool, a measly spoon can do the trick:
Grab your spoon. Kerr suggests an iced teaspoon (or parfait spoon), presumably because the sides are thinner than your average tablespoon.
Align the edge of the spoon, facedown, with the base of your lashes.
Starting at the outer corner of your eyelashes, push your lashes onto the rounded edge of the spoon with your thumb. Hold for a few seconds before releasing, repeating, and working your way inward.
Repeat the process on the other eye.
Then just a swipe of mascara, if you so choose, and you've got yourself some volumized, spidery lashes. Easy, no? Just be careful you're not too harsh on those flutters—you don't want to tug on your delicate lashes and pluck them loose. As with your typical curler, just a few seconds of hold will keep them lifted.
Kerr's not one to shy away from a good swipe of volumizing mascara, even an eyelash extension from time to time, but during quarantine her beauty look has become more—shall we say?—creative. "It's good to try new things when you're stuck," she quips before moving on to her brow pencil.
Especially if you can't venture out to snag a new lash curler, this spoon hack has you covered. And who knows? You might ditch your trusty curler in favor of the cutlery moving forward. Consider it another quarantine beauty hack that has legs.