This Underrated Grain May Help Manage Blood Sugar & Prevent Diabetes
mbg Spirituality & Relationships Writer
By Sarah Regan
mbg Spirituality & Relationships Writer
Sarah Regan is a Spirituality & Relationships Writer, and a registered yoga instructor. She received her bachelor's in broadcasting and mass communication from SUNY Oswego, and lives in Buffalo, New York.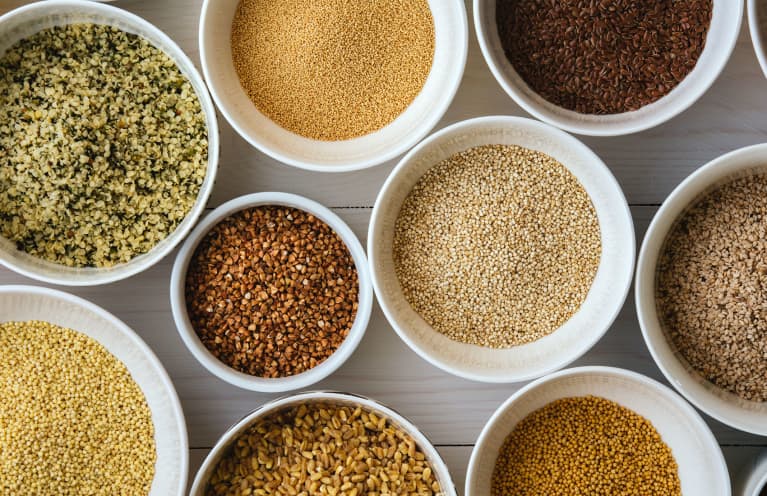 When building out a grain bowl or deciding on a hearty side dish, there are many nutritious ancient grains to choose from. While you can't go wrong with any of them, the indecisive among us might be relieved to have some guidance. According to new research published in Frontiers in Nutrition, one grain, in particular, deserves some extra recognition: millet. Here's what the researchers found, plus why they think it's the grain of the future.
Looking at different grains.
Researchers from the University of Reading in England wanted to look at the effects of different kinds of millet, compared to other grains. To do this, they reviewed 80 different studies on millet, which included 1,000 people from 11 different countries.
The study authors note their analysis is the largest review of different types of millet to date, and they made some pretty notable observations.
Based on the review, eating millets may actually reduce the risk of developing type 2 diabetes. On top of that, researchers found it helped manage blood glucose levels for people with diabetes.
Millets have a relatively low average glycemic index (GI), especially when compared to other grains. (A food's GI basically gives a number to how much and how quickly a food will spike blood sugar.) With a GI of 52.7 on average, that's significantly lower than rice, corn, and refined wheat. According to the research, those levels remained low to medium, regardless of how the grain was cooked.
Plus, the researchers found diabetic people who ate millet on a daily basis saw a decrease in blood glucose levels, with some even getting into the prediabetes range. They observed similar benefits in people with prediabetes.
As lead author of the study Seetha Anitha, Ph.D., states in a news release, "This systematic review of the studies published in scientific journals has proven that millets can keep blood glucose levels in check and reduce the risk of diabetes. It has also shown just how well these smart foods do it."
The bottom line is, if you're not on the millet train yet, you might want to get on board. Even if you're not diabetic or prediabetic, the study authors note millets can also have preventive benefits when it comes to diabetes and blood sugar maintenance.
And as the cherry on top of an already promising grain, millets are also known to be sustainable, with a low carbon footprint. (They also grow easily in high temperatures and don't need too much water, for what it's worth.)
So the next time you're in search of a healthy breakfast cereal option, or a sustainable side dish, give millet a try. Your body—and blood sugar—will thank you.