Microneedling Patches: These Skin Care Treatments Are Next-Level
mbg Beauty Director
By Alexandra Engler
mbg Beauty Director
Alexandra Engler is the beauty director at mindbodygreen and host of the beauty podcast Clean Beauty School. Previously, she's held beauty roles at Harper's Bazaar, Marie Claire, SELF, and Cosmopolitan; her byline has appeared in Esquire, Sports Illustrated, and Allure.com.
February 7, 2020
We carefully vet all products and services featured on mindbodygreen using our
commerce guidelines.
Our selections are never influenced by the commissions earned from our links.
First it was sheet masks, then it was dry masks, and now the newest innovation is microneedling patches, designed to make your skin feel instantly younger (well, almost instantly—more on that soon). And these are poised to storm the market: Not only do they provide the satisfying fix of a sheet mask, but they have the performance of a much stronger treatment.
At first glance, they look just like a regular under-eye or acne patch might—biocellulose or hydrocolloid strips shaped in swishes or dots—but upon closer inspection, you'll see these are thicker and feel distinctly different. (The only way to describe it is almost something like the spiky side of Velcro.) If they sound scary due to the "needling" language, rest assured the little pins are not actually needles but instead little pricks of skin care ingredients, like hyaluronic acid or even crystals, that dissolve with time. They're called microneedling because they are thought to encourage the same skin-enhancing response as microneedling itself (without the scary tool and potentially damaging side effects.)
With application, you press on the patches and gently massage into the area. There is a mild prickling sensation that goes along with it: It's nothing as serious as an actual microneedling device, but it's just enough to know you're using a treatment of an entirely different sort than a normal sheet mask. Eventually, they start to dissolve, and it becomes more like the under-eye patches you might be used to. While instructions vary, most recommend keeping them on at least two hours (hence, the almost instantly part) or overnight, if you can swing it.
The masks come with a variety of ingredients, depending on your needs: Under-eye masks tend to focus on hydration; acne patches focus on anti-inflammation and oil control. (See the ingredient specifics in the roundup below.)
And here's the thing: These provide a more direct penetration than a sheet mask, which generally just sits on the skin. They're also thought to provide slight collagen stimulation in the affected area, in the same way that a microneedling tool will—as gentle prickling can encourage your body's healing response, encouraging circulation and spurring collagen production. The research is there to show this, too: One study, published earlier this month, showed that under-eye microneedling patches infused with hyaluronic acid and bioactive collagen peptides acted synergistically for the improvement of skin structure, function, and appearance1. Another, smaller, study showed that they could be beneficial for brightening skin as well2.
Here, a few of the new, clean ones on the market for you to test out.
Boscia Vegan Collagen Microcrystal Eye Patch
In each patch, approximately 900 microcrystals are enriched with a blend of vegetable collagen, hyaluronic acid, and argireline peptide. The collagen can help support your natural production and smooth fine lines around the delicate eye area. Argireline peptide aids in reducing puffiness, while hyaluronic acid keeps the area ultrahydrated by encouraging moisture retention, in an area that can dry out quickly.
Vegan Collagen Microcrystal Eye Patch, Boscia (2 for $28)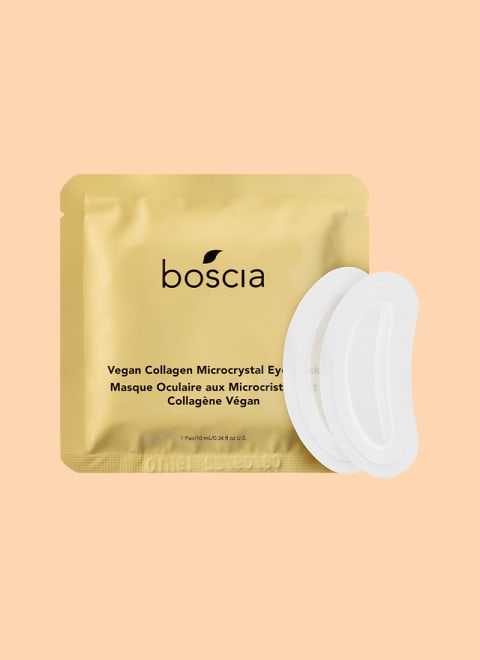 Boscia
Rael Acne Patch Bundle
This two-part patch works on nearly all breakouts. Start with the Acne Healing Patch, which contains the microneedling technology, to treat acne below the surface—with tea tree oil, salicylic acid, and hyaluronic acid. Then for those that still come to the surface—or for the zits that pop up overnight out of nowhere—use the more standard miracle patch, which helps pull the dirt and oil out from the pore.
Acne Patch Bundle, Rael ($16)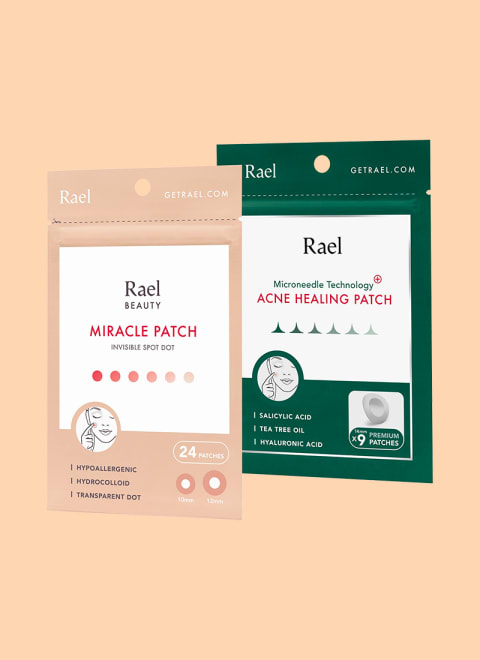 mindbodygreen
Acropass Trouble Cure Patches
First, wipe the breakouts with the pad that contains salicylic acid and tea tree leaf oil. Then go in with your microneedling patch. These are made with plenty of anti-inflammatories and antibacterials, including hyaluronic acid, niacinamide, and oligopeptide-76.
Trouble Cure Patches, Acropass ($18)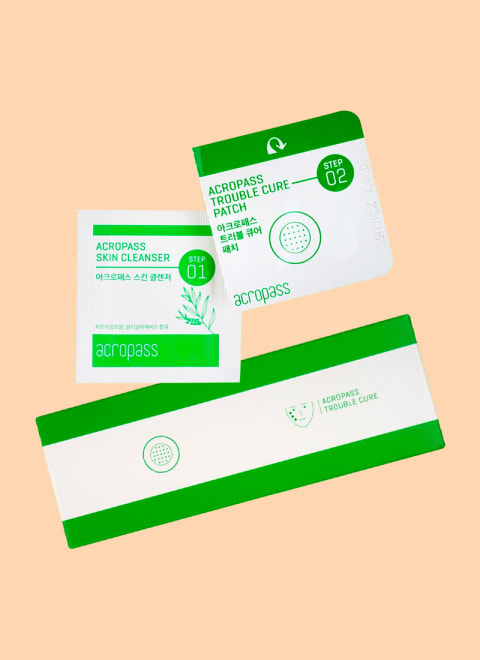 mindbodygreen
Shiffa Amuse Dissolvable Microneedles Patches
Targeting your "smile lines"—the folds that happen from your nasal area to the corners of your mouth—these patches are made of hyaluronic acid (HA) and a stable form of vitamin C (ascorbyl glucoside). The HA provides a burst of hydration, and the vitamin C brightens, fights free radical damage, and supports collagen production—resulting in plumper skin.
Amuse Dissolvable Microneedles Patches, Shiffa (8 for $75)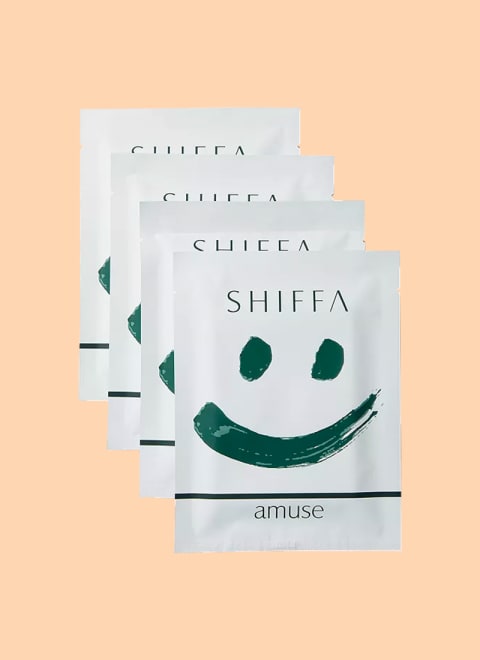 mindbodygreen
And do you want to turn your passion for wellbeing into a fulfilling career? Become a Certified Health Coach! Learn more here.
Alexandra Engler
mbg Beauty Director
Alexandra Engler is the beauty director at mindbodygreen and host of the beauty podcast Clean Beauty School. Previously, she's held beauty roles at Harper's Bazaar, Marie Claire, SELF, and Cosmopolitan; her byline has appeared in Esquire, Sports Illustrated, and Allure.com. In her current role, she covers all the latest trends in the clean and natural beauty space, as well as lifestyle topics, such as travel. She received her journalism degree from Marquette University, graduating first in the department. She lives in Brooklyn, New York.