Close Banner
Advertisement
This ad is displayed using third party content and we do not control its accessibility features.
Microdosing Psychedelics: What Does It Mean & Is It Safe? From A Psychiatrist

Psychiatrist & Psychedelic Medicine Researcher
By Emily Willow, M.D.
Psychiatrist & Psychedelic Medicine Researcher
Emily Willow, M.D. is a psychiatrist, researcher, and educator based in San Francisco, California. She is an ardent advocate for psychedelic medicine and has worked on multiple clinical trials investigating psychedelic-assisted psychotherapy, including both MDMA and psilocybin.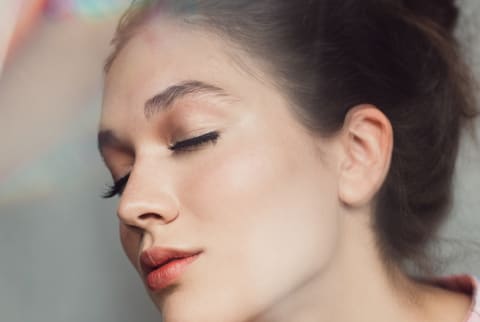 Image by Marija Savic / Stocksy
We carefully vet all products and services featured on mindbodygreen using our
commerce guidelines.
Our selections are never influenced by the commissions earned from our links.
Microdosing psychedelics has become a buzzworthy topic of conversation among everyone from tech CEOs to stay-at-home parents. And more and more people are starting to experiment with small doses of psychedelic mushrooms or LSD to treat issues that range from depression and anxiety to migraine headaches and even to facilitate creativity and increase productivity.
Because of my experience working with psychedelic-assisted psychotherapy clinical trials, I frequently have patients come to me curious about what it means to microdose psychedelics, whether it's safe or legal, and how they can know if it's right for them.
First of all, what is microdosing? 
Microdosing is the term used when someone takes a subperceptual dose or homeopathic dose of a medicine. When psychedelics are microdosed1 correctly, there should be no visual or psychoactive changes. In other words, you shouldn't be "tripping."
The concept of microdosing originates from Indigenous groups, who have used small doses of psychedelics to treat various physical ailments, such as earaches, headaches, colds, or infections, for hundreds, if not thousands, of years.
Today, the intention is less focused on physical symptoms and more on mental health and well-being. Some of the most common applications of psychedelic microdose therapy are for the treatment of depression or anxiety, and for performance enhancement—to improve creative expression or productivity.
Anecdotal data from the community and online forums suggest that microdosing psychedelics (namely psilocybin mushrooms or LSD), can lead to an improvement in mood. While there have been a few rigorous trials examining the benefits of microdosing, none have yet demonstrated expectations of increased mood or creativity seen in the reporting community.
Microdose vs. standard dose
Just as it sounds, a microdose is just a smaller version of a standard dose.
Because LSD is so potent, what's generally considered a standard dose is already quite small and measured in micrograms. For microdosing LSD, people tend to create a dilution in distilled water or alcohol. A microdose of LSD is typically measured as approximately one-tenth of a standard dose.
Synthetic psilocybin is more difficult to find, but in certain areas of the world it's legal to grow your own mushrooms. People microdosing mushrooms will typically use ground dried mushrooms and measure between one-tenth and one-sixth of a standard dose.
People tend to try doses at different ranges, starting with the smallest, and watch out for any perceptual changes like twinkling lights or shadows. If you do notice visual effects or psychoactive changes, you're taking too much.
Many people choose to try microdosing for the first time on a day they don't have work or other obligations, in case they take too much. It's also recommended to have a trusted friend, family member, or therapist around when determining what size dose works for you.
One common misconception is that the effects of a microdose are minor. Oftentimes people think, Since this is a microdose, it's not something I have to take very seriously. For the safest experience, it's suggested that you use the same weight and depth of intention and preparation that you would for a standard psychedelic dose.
Is there a protocol for microdosing?
Alternatively, some people use microdoses as needed every few months rather than following a protocol. The important thing is to not take them every day. Fadiman's protocol suggests the effects might carry over to the following day, so it's best to watch for any of the same changes you'd watch for on the day you ingest it.
One psilocybin mushroom microdosing protocol, created by renowned mycologist Paul Stamets, entails stacking (or combining) a psilocybin microdose with a supplement dose of lion's mane mushroom and 100 mg of niacin. Lion's mane mushroom is thought to work as a nootropic, enhancing memory and cognition2, while niacin is thought to help medicine reach microscopic nerve endings through its vasodilation action.
Is it legal to microdose psychedelics? 
At the federal level, psychedelic substances and cannabis are currently on the list of Schedule I controlled substances, which means they are deemed by the Drug Enforcement Administration (DEA) to have no medical benefit and a high potential for abuse. The process of legalization is ongoing–meaning one could still be arrested and prosecuted for personal use and possession of these substances. In short? Psychedelics are currently illegal.
Changing this designation would require rescheduling by DEA. The current work of several FDA-sponsored clinical trials aims to provide sufficient evidence to reschedule psychedelics so that they may be used as medicine prescribed for clinical use.
While legalization means the status of a substance is changed from illegal to legal—making it possible for researchers to continue to study it and physicians to prescribe it—decriminalization of psychedelics refers to their personal use outside of a clinical or research setting. Essentially, decriminalizing psychedelics means that they become the lowest priority of law enforcement.
So far, Denver has decriminalized psilocybin-containing mushrooms and several other cities, including Oakland; Santa Cruz; Washington, D.C.; and Ann Arbor have decriminalized all psychedelic plants and fungi. These successful local initiatives state that personal possession and use of these psychoactive substances would be the lowest priority for arrests and prosecution. However, state and federal laws still prohibit these substances.
Is microdosing safe? 
There are a few psychedelics that lend themselves positively to microdosing, but MDMA does not. It actually has the opposite effect, meaning in lower doses, MDMA can be agitating and a mood disrupter. Additionally, if you are taking a selective serotonin reuptake inhibitor (SSRI) or antidepressant, the drug interaction with MDMA could be potentially fatal.
Psilocybin containing mushrooms and LSD are two of the most common, and relatively safe options, for microdosing.
Other plant-based psychedelics include ayahuasca (an Amazonian tea), Mescaline (the compound found in Peyote mushrooms and San Pedro cactus), and Ibogaine (from the African root iboga). The latter three are less commonly discussed in the current research, meaning there isn't reliable evidence of their benefits, and in some cases, anecdotal evidence suggests they may even prove harmful.
If you are taking a selective serotonin reuptake inhibitor (SSRI) or antidepressant, the drug interaction could be potentially fatal.
Taking psilocybin and LSD while on SSRIs does not have the same dangerous interaction as MDMA might, but it can dampen the effects. If you're interested in microdosing and thinking about stopping your antidepressants, you should work with a psychiatrist to do that safely.
Should I be taking psychedelics as medicine? 
While I cannot make any medical recommendations as to whether or not someone should try psychedelics as medicine, I encourage anyone who is interested to apply to be a participant in a clinical trial, find a ketamine provider for legal psychedelic therapy, or find a psychiatrist or therapist with experience in psychedelic medicine to discuss the safety of using psychedelics for you, personally.
Here are a few sites, depending on your needs or intent:
It's important to keep in mind, microdosing is not the same as taking an antidepressant, and it requires a different approach. You have to be brave and curious enough to look into the deeper parts of yourself—that's what psychedelics put you in touch with. Those deeper parts can be shadowy and hard to process for some, so having the motivation to do that difficult inner work is critical.
Before jumping into it, spend time thinking about why you're microdosing and using psychedelics. What is it that you're hoping to achieve or heal?
I also recommend that anyone with a history of bipolar disorder, psychotic disorder, or severe trauma reach out to a therapist for extra support if they're interested in microdosing.
Bottom line.
Microdosing psychedelics is not the same as taking other medications. If you're just doing it to increase productivity and creativity, be open to the fact that this process could tap into something you weren't expecting to uncover.
Having the reinforcement of a meditative practice, journaling practice, trusted friends, and/or a therapist is essential—microdosing shouldn't just occur in a vacuum on its own; it requires additional support.