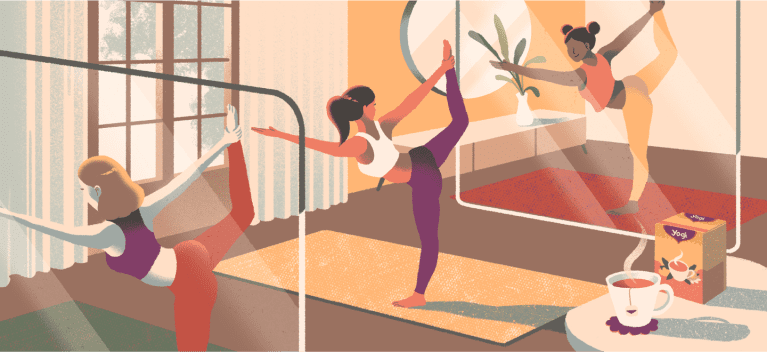 It's not just you. After a full year in quarantine and away from friends and family, it's more than understandable if you're beginning to feel "COVID fatigue" setting in. But if you're like us, there's one underlying sentiment that's kept our spirits up throughout all of this—that we're all in it together.
But, in a time when social distancing has become the norm, what does "together" mean anymore? For us, it means getting creative with how we connect, share ideas, and interact in ways that feel meaningful. Easier said than done, we know.
If you've been following along, mbg Action Week has motivated our community to make their voice heard, green-ify their routine, and support their community. And while each of these actions has focused on one unique and specific goal, our fourth installment with Yogi® Tea will be aimed at the unifying theme that ties them together: connection. Here are some of our favorite ways to (safely) connect with the people and experiences that fill us with joy.
If there's one place many of us have cultivated our skills during the pandemic, it's the kitchen (remember the banana bread phase?). To kick off the week, gather your friends, choose a theme (such as a specific cuisine or type of dish) for a virtual recipe swap. Adding a new, unfamiliar dish to your repertoire will not only will ward off the dreaded "cooking fatigue" many of us are feeling, but sharing said dish over video (and seeing how everyone added their own personal flare) is one of the best ways to feel connected.
Our advice? Keep it simple. Save the over-the-top showstoppers for another time (when you can experiment). Some ground rules to consider:
Fast, simple, and easy to cook recipes
Prioritize pantry staples (sorry Ina, but store-bought is, indeed, fine)
Pick ingredients that won't break the bank
Bonus points for comfort food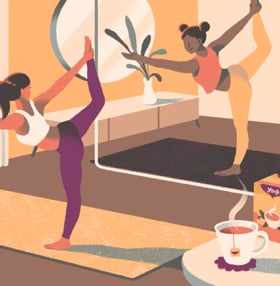 Few activities bond people together like sharing a good ol' fashioned sweat sesh (seriously, science says so). And good news – now we can do it from the comfort of our living room, where the only "sweat" we have to worry about is our own. Today, make your workout a bonding experience by doing it over video call with the friends who motivate you the most.
Pick someone to lead (or have everybody throw on the same video) and get moving. The simple act of seeing others work out with you is one of the most powerful and effective ways to push your body a little harder than you might when no one is watching. Whether it's yoga, dance cardio, or (gulp) circuit training, today we're going to challenge ourselves... by challenging each other.
It's almost too simple to even suggest, but that's why we're calling it out. According to our audience survey, two-thirds of you feel like you've spent less time talking to friends since the pandemic started. That's not surprising, given that we have fewer opportunities for in-person interactions. That said, one of the easiest methods of communication is just as accessible as it was before the pandemic: Speaking on the phone.
Pick up the phone today. Call that friend you haven't seen since the days before Dr. Fauci was on the cover of fashion magazines. Talking on the phone isn't just a method of communication, it's an incredibly powerful way to strengthen social bonds and build intimacy. Some studies also suggest that social connection – even through the phone – can help ease the physical symptoms of stress and support a healthy immune response, and improve your overall health.
Looking for a sign to stop putting off that "catch up" call? Consider this it.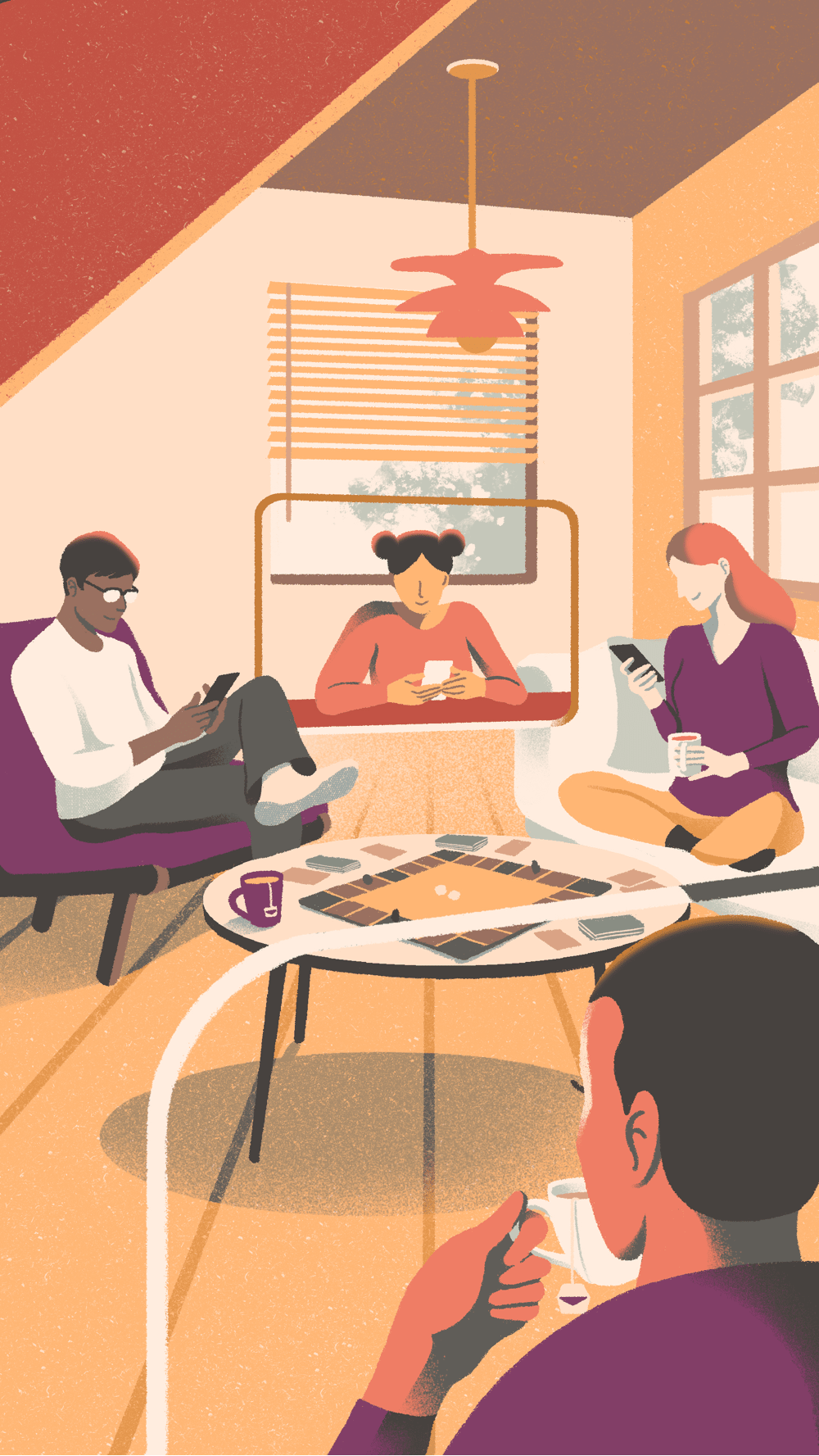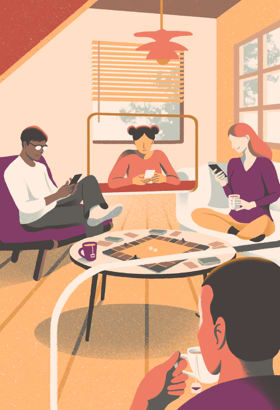 There are two types of people in this world: those who love board games, and those who are lying to themselves. Even though we can't physically be there to roll the dice or hand out fake money, we can still get the full experience of game night through the wonders of modern technology.
Tonight (or today, because what is "time" anymore?), indulge your competitive spirit and virtually gather your friends to play your favorite party game. Trivia, cards, wordplay, or that one about world domination – we'll leave the final decision up to you (and your friend group's level of familiarity). Not sure where to start? The prevalence of virtual board games has exploded since the onset of the pandemic, and there are numerous roundup articles to help you find the best game for you and your crew.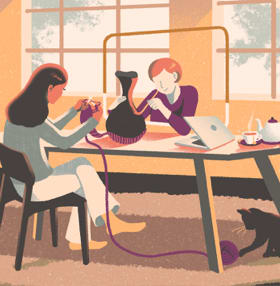 You made it — the end of another week. For many of us, that means you've been stuck in "left-brain mode" since Monday morning: Answering emails, filling out spreadsheets, and never venturing too far from a screen. To end the week on a brighter note, we're challenging you to indulge your creative side.
We're not saying you have to find a slab of marble and a chisel (unless you're into that sort of thing). Creativity comes in all forms, and research even shows that creative outlets can reduce stress and have a positive impact on our overall wellbeing. Need some inspo? How about:
Midday doodle sesh: Break up the monotony of the workday and enlist a friend to join you in some virtual doodling during lunch. Set a timer (10 minutes), show off your work, and relish in the fact that your friend still can't draw a straight line without a ruler (this guy can get you started)
Stay inside the lines: Do your artistic creations need a little more… guidance? Maybe an adult coloring book is more your speed. Extra credit: Turn your creation into a gift using one of these crafty tips.
Snap-n-share: Okay Annie Leibovitz, here's your chance. Photography can be one of the simplest art forms there is. Many of us have a high-quality camera right in our pocket, making photography even more accessible than ever. Grab a friend for a nature walk and capture your surroundings from all angles – and be sure to check out these tips for snapping the perfect shot.