The Beauty Routine Marie von Behrens-Felipe Swears By As Of Late

Beauty & Health Editor
By Jamie Schneider
Beauty & Health Editor
Jamie Schneider is the Beauty Editor at mindbodygreen. She has a B.A. in Organizational Studies and English from the University of Michigan, and her work has appeared in Coveteur, The Chill Times, and Wyld Skincare.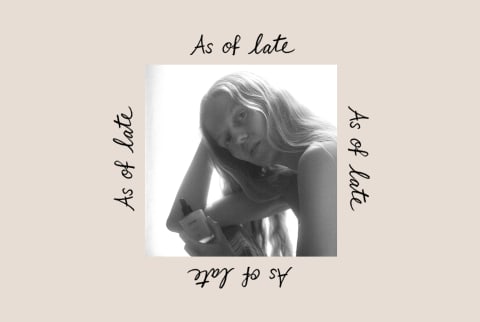 Image by Marie von Behrens-Felipe / mbg Creative
August 15, 2023
We carefully vet all products and services featured on mindbodygreen using our
commerce guidelines.
Our selections are never influenced by the commissions earned from our links.
Beauty routines are never truly stagnant—practices evolve and change like we do. In As of Late, we chat with influential folks about their current products and rituals. Here, we get a snapshot of what they're doing right now: the sacrosanct formulas they use until the last drop, the fresh launches they've got their eyes on, and of course, the why behind it all.
It's no secret that social media can easily become a dark place, which is why it's important to create healthy boundaries (digital hygiene, if you will). Personally, I like to curate my various algorithms by only interacting with accounts that truly inspire me and bring positivity into my life. No "hate following" for me: If they don't make me feel good, they don't belong on my feed. Simple as that.
Why do I bring up my scrolling habits? Well, I've been keeping up with Marie von Behrens-Felipe (aka @mvb) for over five years, and to this day, the Germany-based creator and brand founder remains one of my all-time favorite people to follow.
I'm constantly inspired by her sophisticated yet cozy home decor, her sartorial elegance (or you may call it "quiet luxury"), and her overall approach to slow, mindful living. So when I got the chance to interview the iconic mvb for As of Late, I was practically champing at the bit to hear her latest and greatest beauty tips.
"I truly strive for a minimal routine and look, no matter if it's my hair, skin, or clothes—but I do have special products or pieces that give an extra twist and make me feel good," she tells mindbodygreen. She highlights those special items below.
The tried-and-true: A morning matcha
"The one routine I have consistently stuck to over the years is my morning matcha ritual. It is a daily practice that is really important to me and one I rarely ever skip; it's a moment for me to just focus on making the matcha and nothing else.
"It's part of my self-care, and the health benefits of matcha always make me feel really uplifted—apart from the fact that I also love the actual taste. If you know me well, you know this is my favorite part of the day.
"My favorite [matcha] spot is Lowinsky's! The owner is a friend of ours and has the coziest coffee shop in Hamburg and sources his matcha from Kyoto. All of his matcha is hand-harvested and shade grown for a month before it is picked."
The surprise hit: A versatile blush stick
"I never wore makeup and was never interested in it, but I somehow got introduced to Westman Atelier's blush sticks through a friend. I have to say, they feel so natural on the skin and truly work wonders when your face needs a little extra something to look refreshed."
Westman Atelier Baby Cheeks Blush Stick
$ 48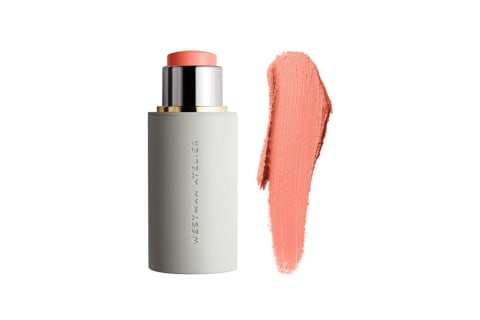 The secret: An overnight mask  
"My routine is very simple, and there is really nothing out of the ordinary about it. I do suffer from quite dry skin, so I really slather myself in body lotion and make sure I use our Multi Moisture Mask as an overnight mask several times a week to keep my skin plump and hydrated."
Sonsie Multi Moisture Mask
$ 48
No matter how minimal your beauty routine seems, you can always use some more moisture. Behrens-Felipe knows this, so she created her elevated hydration mask for super-thirsty skin. Infused with 12% glycerin, hyaluronic acid, and antioxidant-rich prickly pear extract, the confection will leave your skin feeling soothed, silky, and supple.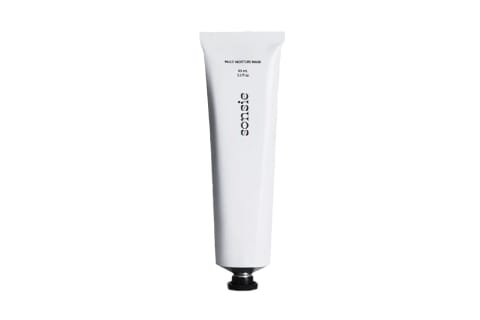 The up-and-coming: Seasonal facials
"I think when it comes to beauty, I move in a different direction than a lot of other people. For me, I realized that doing very little and not trying out too many things works best for my quite young skin.
"Apart from my daily routine, I just get a very basic clean-out at my facialist here in Germany every two to three months to clear out my genetic milia."
The splurge: Organic produce 
"Something that is far more important to me than any expensive beauty product is the food I put into my body. My dad is an amazing chef, and growing up we lived on a street that turns into a farmers market twice a week.
"When I moved to NYC at 21, I wasn't prioritizing healthy food, and it started showing in my skin. I realized what a difference it makes in how I feel. I now care so much about cooking meals at home and sourcing local ingredients and products from organic farms… I think this is something that others would definitely say I splurge on."
"I made a zucchini pasta dish the other night with leeks, garlic, and chili…so simple but delicious."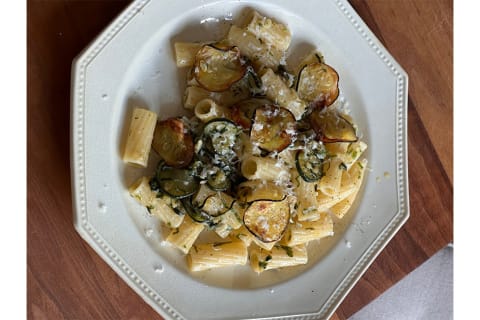 Image by Marie von Behrens-Felipe / mbg Creative
For 2 people:
Chop 2 small or 1 big zucchini into thin slices.
Throw most of it into a pot of salted boiling water while frying around 16 of the thinnest slices in a pan with hot oil (it won't take much oil).
Remove the boiling zucchini from the water after around 1 minute and remove the fried zucchini slices once they're golden brown.
Chop up some leeks into thin, round slices and around 3 cloves of garlic into small pieces.
In the same pan with the oil, add the garlic and some chili, and bloom for around 30 seconds before adding the leek. At the same time, throw your pasta of choice into the still boiling water.
Let the leek get slightly soft and add the boiled zucchini, then season with salt and pepper. Add some olive oil or butter and a splash of the pasta water to emulsify the sauce.
Throw it all together with the pasta, and add the dried zucchini and some Parmesan cheese on top.
The steal: A simple ice roller
"The only beauty tool I use is an $8 ice roller, and I've loved it for years and years. The cold feels so good on the skin and really wakes you up in the morning.
"It's not a very chic product, but it really does the job and lasts forever! Plus, you keep it in the freezer, anyway, and don't have to look at it on your bathroom counter."
What my mom taught me: Less is more
"Early on, my mom taught me that less is more. She never wore makeup, so I never started wearing any when most other teenagers did. I think I knew even then that makeup somehow didn't complement my face, and I was better off keeping it super natural."
The seasonal staple: A pregnancy-safe beauty routine
"Regardless of season, my beauty routine might be one of the simplest ever. Since becoming pregnant, I cut out even more products and am down to a three- to four-product routine.
"I start with a gentle foam cleanser that we've been testing and developing for Sonsie and apply a good pipette of our Sonsie Super Serum on my face and neck. Then I use our mask as a deeply hydrating moisturizer—except on very warm summer days or on vacation, where it would simply be a little too heavy.
"After that, I will use a light SPF (from the German pharmacy), and I'm done. At night, I have the same routine but leave out the SPF, instead applying the mask as a thicker layer around three times a week right before I go to bed. Simplifying my routine has improved my skin dramatically, so I'm not too crazy about trying many new products right now."
The carry-on: Hydrating skin essentials
"I wouldn't enter a plane without our Multi Moisture Mask. I remember flying back and forth between New York and Germany a lot when my now-husband and I just started dating, and my skin would feel like it was breaking apart after the long trip.
"Since we formulated the mask, I smear a thick layer on before I head to the airport and get off the plane with dewy and hydrated skin. It truly works wonders. I also keep it in my bag at all times for my hands."
"The second product I always make sure to have in my hand luggage is our Sonsie Super Serum. It's the ideal product that calms and hydrates after a long trip, but it's also my everyday go-to, no matter what climate I'm in."

Jamie Schneider
Beauty & Health Editor
Jamie Schneider is the Beauty Editor at mindbodygreen. She has a B.A. in Organizational Studies and English from the University of Michigan, and her work has appeared in Coveteur, The Chill Times, and more. In her role at mbg, she reports on everything from the top beauty industry trends, to the gut-skin connection and the microbiome, to the latest expert makeup hacks. She currently lives in Brooklyn, New York.